A simpler all-in-one computer
Compared to Dell's bigger and pricier XPS 27 all-in-one, the 24in Inspiron looks more restrained and businesslike. Instead of an in-your-face multi-speaker grille, you get a neat, dark grey front with elegantly slim bezels and a more conventional grille below the screen, through which the built-in audio sounds decent.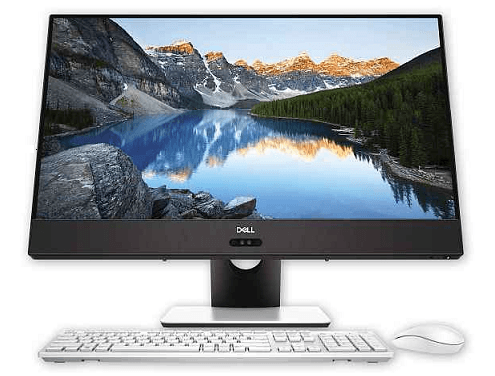 You may also like:
With its white back panel and matching accessories, the Inspiron 24 looks attractive for a relatively affordable PC, and the 24in size is big enough for you to work and watch films comfortably while fitting the snuggest of studies.
One of the better all-in-one PCs we've seen, but multitasking was slow
The range starts at a reasonable price with a Full HD screen, AMD A10-9700E quad-core processor and 1TB hard drive. We tested the top model, though, which came with a touchscreen that could be laid flat using the hinged stand supplied. The touchscreen is standard on this and the mid-range configuration, which both have the faster AMD A12-9800E processor. However, the clever stand costs extra, and Dell is not currently selling it in the UK yet anyway. We're not really bothered, given that anyone who wanted to use their PC like that would probably require a pressure-sensing stylus, which isn't offered. In fact, we'd have preferred the choice of saving a few quid by skipping the touch feature altogether. But the price is also justified by a 128GB SSD, which comes in addition to the hard drive for faster Windows startup and loading, and a 4GB AMD Radeon RX460 graphics card.
That means most 3D games will run smoothly, give or take a bit of fiddling with quality settings for the most demanding. The main processor is the weak point, coming from the previous generation of AMD chips, before the impressive new Ryzen series, and performing similarly to a low-end Intel Core i3. Despite the four cores, we found multitasking was slow, so although everyday tasks didn't pose any problem, the system didn't feel as nippy as we'd have hoped for the money. If games aren't your thing, and you don't need a dedicated graphics card to speed up video effects, the model could offer a better balance of price and performance.
We can't comment on the quality of that machine's screen, but the touchscreen on ours looked fine, covering 91.4 percent of the sRGB color range, according to our meter, with high accuracy. Brightness and contrast are modest, and this wouldn't be our first choice for serious photo editing, but colors are punchy enough regardless of viewing angle, and for general tasks it won't disappoint.
Like other all-in-one PCs, the Inspiron 24 has most of its connectors on the back, but there's a very handy set on the side, too, where they're easier to reach, including USB 3.1, an SD card reader and a headphone jack. As well as an HDMI output for a second monitor, there's an HDMI input, so you can use the built-in screen with another PC – an enormously useful feature that's too often omitted (particularly by Apple).
Annoyingly, although 802.11ac Wi-Fi and Bluetooth 4.1 are built in, the included wireless keyboard and mouse require a separate wireless dongle, taking up one of the three USB 2.0 ports – but that still leaves plenty, including a USB Type-C. The keyboard wasn't our favorite for typing, so you might want to sacrifice the coordinated look for something less spongy.
All-in-one PCs tend to be either overpriced or compromised, and overall this is one of the better efforts we've seen. We'd hope for a processor upgrade soon to make it a really solid buy.
Dell Inspiron 24 5000 SPECIFICATIONS
3.1GHz AMD A12-9800E quad-core processor • 8GB memory • 128GB SSD • 1TB hard drive • AMD Radeon RX560 graphics • 24in 1920×1080-pixel screen • 802.11ac Wi-Fi • Bluetooth 4.1 • USB Type-C port • 3x USB 3.1 ports • 3x USB 2.0 ports • Gigabit Ethernet • HDMI input • HDMI output • Windows 10 Home • 352x540x53mm (HxWxD) excluding stand • 7.5kg
Verdict
Best Dell Inspiron 24 5000 prices ?
$

759.97
16 used from $632.00
11 new from $759.97
in stock


$

949.99
1 new from $949.99
in stock


$

1,049.99
6 used from $799.94
6 new from $1,018.72
in stock

MORE DEALS

Dell Inspiron 24 5000 Review: ALTERNATIVE
Apple's Full HD option is better built but lacks the SSD and CPU. and its i5 processor is also due an update