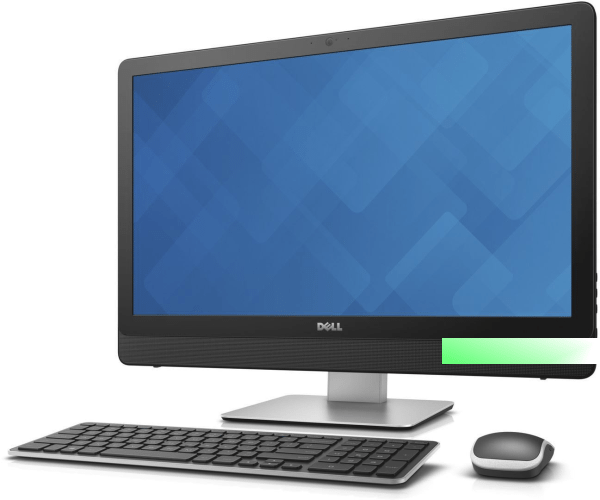 A desktop PC built into a touchscreen
With no boxy system case and a single mains cable, all-in-one PCs are an appealing alternative to desktop PC tower units, even if they lack the scope for expansion. Dell's new Inspiron 24 5000 is a great advert for the concept. Its black plastic case has a pleasingly simple design, even if the bezel around the screen could be slimmer. A sturdy articulated stand lets you position that screen exactly how you want it – even lying almost flat.
This design is intended to complement the multi-touch screen, letting you use Windows 10 in tablet mode. It feels very futuristic, even though you're still tied to a desk. For more conventional use, the supplied wireless keyboard and mouse are fine, although the keys feel a bit spongy when typing. A DVD drive and SD card reader make it easy to watch your film collection or sift through photos from your digital camera, as well as run programs and browse the web.
The display is vibrant, showing plenty of contrast from wide angles. Its Full HD (1920×1080-pixel) resolution isn't as sharp as HiDPI screens, but text and images are crisp enough. As well as an HDMI output to connect an extra monitor, HDTV or projector, there's an HDMI input to use the Inspiron 24 5000 as a display for a satellite TV box or games console. The built-in speakers are quite loud, but with Bluetooth built in you could connect to external ones without wires.
Inside is a quad-core i5 processor from Intel's Skylake series that's more than adequate for general tasks, as long as you don't do anything more ambitious than, say, basic video editing. There's no separate graphics card, so you'd need to use low-quality settings to coax the more advanced games into action.
The 1TB hard drive isn't fast, but should provide enough room for programs and files for the foreseeable future. With two USB 3.0 ports on the side as well as four USB 2.0 on the back (one accommodates the wireless adapter for the keyboard and mouse), you could always add an external drive later. 802.11ac Wi-Fi is built in, or there's an Ethernet port for a network cable if you prefer.
For more advanced tasks, Lenovo's IdeaCentre AIO 700 is better value. You could even buy a conventional PC and basic non-touchscreen monitor for less. But the Inspiron 24 5000 is an adequate PC with an unusual and appealing style.
VERDICT
Thanks to its flexible format, this neat and affordable all-in-one PC should suit a wide range of users.
SPECIFICATIONS
2.2GHz Intel Core i5-6400T quad-core processor • 8GB memory • 1TB hard drive • Intel HD Graphics 530 • 23.8in 1920×1080-pixel screen • Webcam • 802.11ac Wi-Fi • Ethernet • 2x USB 3.0 ports • 4x USB 2.0 ports • HDMI input • HDMI output • Windows 10 Home • 512x690x264mm (HxWxD) • One-year warranty.
This Certified Refurbished product is tested and certified to look and work like new. The refurbishing process includes functionality testing, basic cleaning, inspection, and repackaging. The product ships with all relevant accessories, a minimum 90-day warranty, and may arrive in a generic box. Only select sellers who maintain a high performance bar may offer Certified Refurbished products on Amazon.com
Flagship High Performance 6th Generation Intel® CoreTM i7-6700T processor (Quad Core, 8MB, 8T, 2.8GHz, 35W)
Premium 23.8" Full HD edge-to-edge touch screen with 1920 x 1080 Full HD resolution, Intel HD Graphics 530
Last update was on: 2017-06-26 1:40 am