Entry-level graphics
15.6″ anti-glare display
Backlit keyboard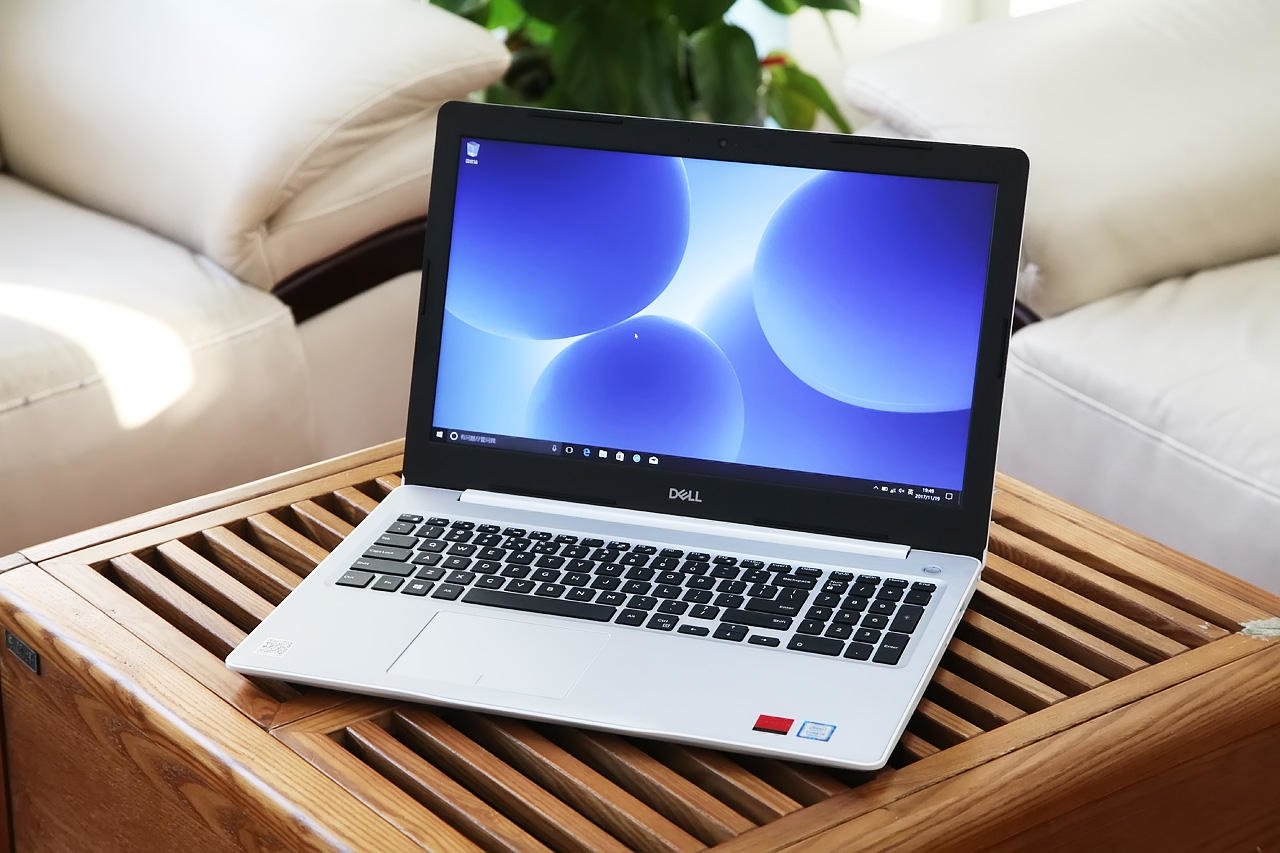 Dell Inspiron 15 5570 Review: Reserved Design
When the Dell Inspiron 15 5570 drop by the PC.com Tested Labs, it put out a simple and straightforward impression, mostly due to its muted design.
The device has a plastic surface that, while shiny, is prone to scratches.
Handling it for the first few minutes immediately show noticeable fingerprints on the chassis, giving a dirty look if not wiped regularly.
Overall, the build quality measures up to what is expected. It's sturdy, with stable hinges, and no noticeable flexing.
As for the keyboard, the 15x15mm keys are spaced slightly from each other.
I appreciate the inclusion of a numeric pad for work purposes, despite this being classified as a multimedia device.
The backlit keyboard isn't noisy when pressed, has rapid feedback, and can illuminate in dark areas.
Dell Inspiron 15 5570 Review: For All Environments
The Dell Inspiron 15 5570 uses a 15.6″ Full HD Anti-glare LED-Backlit display.
Personally, anti-glare displays lead to dull- looking screens.
Indeed, when opening the notebook, reflections can hardly be seen; this somewhat hampers the sleek look.
Colours also appear faded as a result and the screen has poor viewing angles from the sides.
However, it's important to note that this display does handle intense lights well, so this should be good if there is a need to work outdoors often.
In terms of speakers, the sound gets across well, but as with most notebooks, there is not much clarity to get out of it.
For that, the notebook comes with a combined headphone/ microphone port, a must have for those that have a need, or mostly prefer, headphones.
Dell Inspiron 15 5570 Review: Plain Performance
Specs wise, the Dell Inspiron 15 5570 comes with an Intel 8th Generation Core i7-8550U processor, 8GB DDR4 RAM, and a discrete AMD Radeon 530 GPU.
By the looks of it, at the very least, this is an entry-level gaming device.
The performance is often not sufficient to handle modern games in the native resolution, dangling below 30fps for demanding games. This includes Rise of the Tomb Raider and Final Fantasy XV.
Casual competitive games such as DoTA 2 is able to punch at 60fps just fine. Aside from that, video hobbyists can expect the notebook to handle video editing and effects rendering decently.
As a multimedia device, however, the small 128GB SSD is a little unfortunate as the storage cap blew away in no time.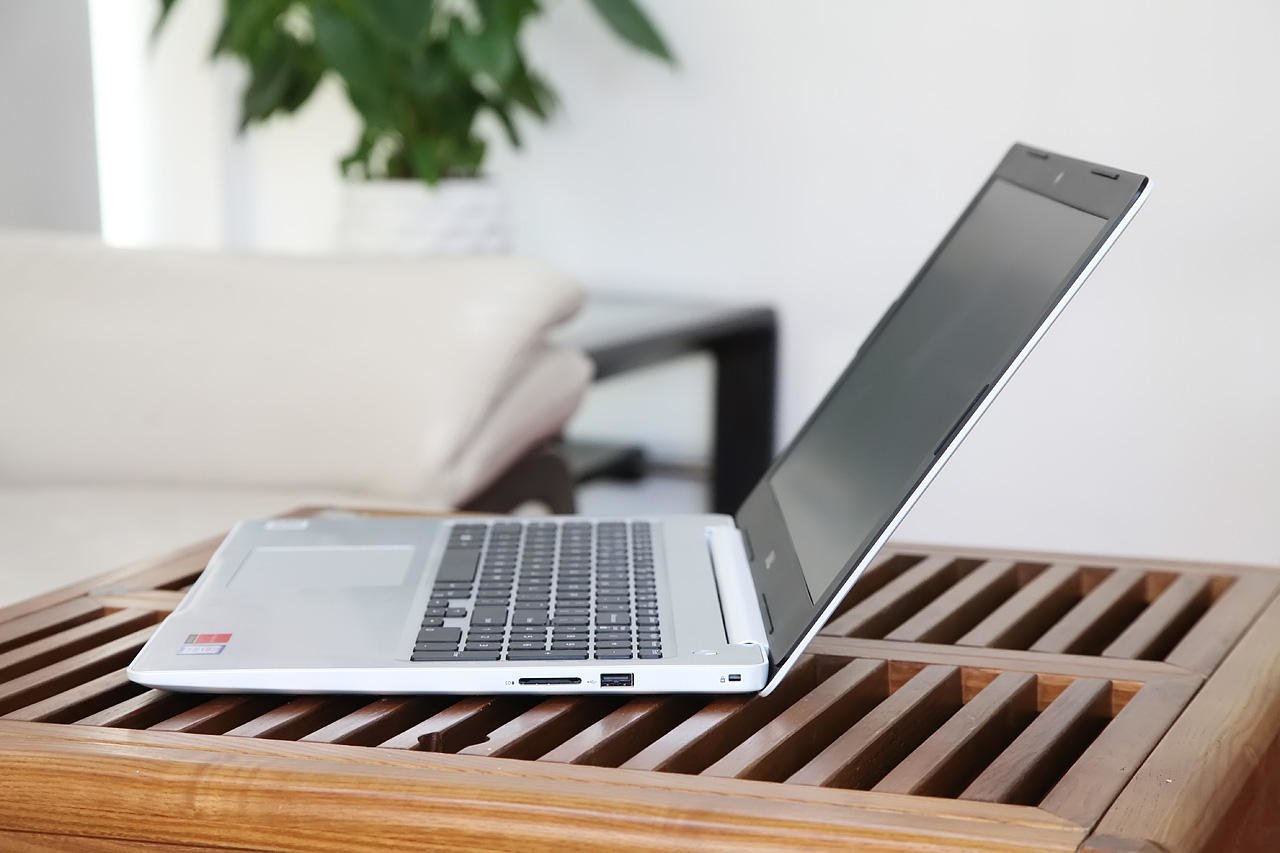 Sturdy build quality
Chassis is easy to smudge
Marathon Runner
Another major highlight that must be shared: the battery life.
On the 'Better Performance' mode, the notebook manages to last a good five hours of continuous word processing and video watching.
This amount of power consumption obviously spikes whilst gaming and will vary.
The length under strain is serviceable, giving some two hours of use, give or take. In any case, this all-new Dell is able to work well, even for its portable size, when under heavy loads.
Unfortunately, when the temperature of this device ramps up, heat gets distributed around central parts of the notebook.
Hence, it should go without saying that it is not good on the lap for long periods. Streaming videos on the desk are a non-issue.
Dell Inspiron 15 5570 Review: Other Neat Things
Let's talk briefly about a few other features. On the right, there is an SD card slot and a USB 2.0 port.
The left side hosts ports for the power connector, USB 3.1 Type-C, HDMI, LAN, USB 3.1 Type-A, and headset/ microphone.
This is all standard fare, but it's good to know that the notebook isn't missing out on connectivity. It also comes with an integrated webcam.
Those planning on using this for content creation, keep in mind the quality is a mess of noise, shimmers, and grainy elements in the video.
Interestingly, the touchpad is awesome to use.
While it does detect up to the peripheral areas, it has a measure of control and is able to ignore finger- slips along its edge.
Dell Inspiron 15 5570 Review: A Tall Order
All-in-all, the next-gen Dell Inspiron 15 5570 is a reliable and functional notebook.
It's a good workstation, handles multimedia viewing well, and can cater to small gaming itches.
The device's specs aren't supreme, but the processor and SSD allow for a more seamless experience.
While it's all good in the user experience department, the price for this all-new Dell Inspiron is on the hefty side – a cool. This is, roughly, up from the older model.
The new notebook includes upgrades to the processor, bigger RAM, slightly more memory for the AMD Radeon 530, and a 128GB SSD.
Still, I'm not feeling the solid jump in price for these few changes. In fact, I might prefer the more affordable configurations over what this review is using.
Dell Inspiron 15 5570 Review: BENCHMARK
3DMark Sky Diver 6,363 3D Mark Firestrike: 1,752
Data 2: 70 fps average (min settings) and 25 fps average (max settings)
FFXIV Stomiblood Benchmark: 4,562 (Performance: High) PCMark 8 Creative: 3,729
Dell Inspiron 15 5570 Review: Specifications
DISPLAY: 15.6″ FHD (1920×1080) Anti­glare LED-Backlit Display
PROCESSOR: Intel Core 8th Generation i7-8550U @ 4GHz
GRAPHICS: AMD Radeon 530 4GB GDDR5 (Discrete) and Intel UHD
Graphics 620 (Integrated)
MEMORY/STORAGE: DDR4 RAM/128GB SSD + 1TB HDD
I/O ports: 1 x SD card, 1 x USB 2.0, 2x USB 3.1 Type-C, 1x HDMI, 1x network, 2x USB 3.1 Type-A, 1x headset/microphone
OS: Windows 10
Verdict
Editor choice
Dell Inspiron 15 5570 Review
"A pricey mid-range notebook that does the job well, but - for most - this should be considered carefully." - Shuqran
Add your review
|
Read reviews and comments
Best Dell Inspiron 15 5570 prices ?

$

131.99
2 new from $131.99
in stock


$

132.00
1 new from $132.00
in stock


$

786.66
8 used from $378.00
2 new from $786.66
in stock

MORE DEALS

See also THE COMPLETE GUIDE TO…OLED laptops