Chillblast's Fusion Panther is the first small form-factor system we've seen for a while, and Chillblast hasn't shied away from installing high-end kit in this modest box, despite its height of just 292mm height. For example, the Gigabyte RTX 3070 card inside this rig overclocks the GPU's original boost speed of 1725MHz to 1810MHz. Read our CHILLBLAST FUSION PANTHER Review.
AMD B550 GAMING PC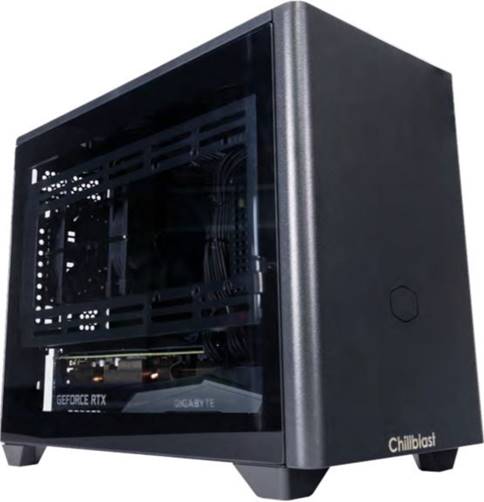 spec
CPU
3.7GHz AMD Ryzen 5 5600X
Motherboard
Asus ROG Strix B550-I Gaming
Memory
16GB Chillblast 3200MHz DDR4
Graphics
Gigabyte GeForce RTX 3070 8GB
Storage
500GB Samsung 980 Pro M.2 SSD, 1TB Samsung 870 QVO SSD
Networking
2.5Gbps Ethernet, dual­band 802.11ax Wi-Fi
Case
Cooler Master MasterBox NR200P
Cooling
CPU: Noctua NH-U9S Chromax Black with 2 x 92mm fans; GPU: 3 x 80mm fans; floor: 2 x 120mm fans; roof: 2 x 120mm fans
PSU
Corsair SF750 750W
Ports
Front: 2 x USB 3.2 Gen 1, 1 x audio; rear: 3 x USB 3.2 Gen 2, 1 x USB 3.2
Gen 2 Type-C, 2 x USB 2, 3 x audio
Operating system
Windows 10 Home 64-bit
Warranty
Two years parts and labour collect and return, followed by three years labour only return to base
The other key component is the AMD Ryzen 5 5600X, which is now overshadowed by Intel's new i5-12600K, but its six SMT-enabled Zen 3 cores and boost speed of 4.6GHz are still perfectly fine for most people's needs.
The Panther has 16GB of dual-channel DDR4 memory clocked to 3200MHz, and storage comes from two solid state drives. A 500GB Samsung 980 Pro PCI-E 4 NVMe drive functions as the boot drive, and delivered great read and write speeds of 6,865MB/sec and 4,959MB/sec, while a 1TB Samsung 870 QVO 2.5in SATA secondary drive offers speeds of 565MB/ sec and 537MB/sec, which still outpaces any hard disk.
It's powered by a mightily impressive SFX PSU – the Corsair SF750 is a small unit with fully modular design and 80 Plus Platinum certification. Chillblast's warranty remains one of the best around too, giving you a five year labour deal with two years of parts coverage.
You get a decent mini-ITX motherboard too. The Asus ROG Strix B550-I Gaming has dual-band 802.11ax Wi-Fi and 2.5Gbps Ethernet, along with two M.2 connectors – albeit only one with PCI-E 4 support. At the rear, you'll also find three USB 3.2 Gen 2 Type-A connectors and a Type-C port alongside a BIOS flashback button.
The board has SupremeFX S1220A audio as well, which sounds great. You lose the usual extras from going for mini- ITX, though, so you only get two (already populated) memory slots, and no PCI-E slots beyond the 16x GPU slot. The rear I/O panel only has three audio jacks as well.
The case itself is a Cooler Master MasterBox NR200P, which is a great choice. The external panels are robust, and the external panels pop free with tool-free mechanisms. The graphics card dominates the bottom half of the build, and above that you'll find a hefty Noctua CPU cooler with two 92mm fans.
The PSU is held in a cage, and behind the front panel, you'll find the 2.5in Samsung SSD and a fan hub. There are pairs of Noctua fans in the floor and roof as well, and Chillblast has kept the interior impressive tidy considering the small space. However, bear in mind that mini-ITX cases have inevitable restrictions. You have to remove loads of components to access the internals, and there's limited room for extra storage.
You'll also have to shell out £ for the Panther, and that's relatively high when compared with conventional systems. You can buy ATX PCs from Chillblast, Scan and Ebuyer with the RTX 3070 and 5600X for prices between £ and £, and for £, you can easily find PCs with the RTX 3070 Ti. If you want a small PC, you have to pay a bit extra for it.
Performance
The overclocked GeForce RTX 3070 zipped through all our game tests at 1,920 x 1,080, maintaining averages between 84fps and 95fps in three of our test games, and averaging a massive 335fps in Doom Eternal, showing great scope for running undemanding games on monitors with high refresh rates.
It also coped well with gaming at 2,560 x 1,440, with a cracking average of 278fps in Doom Eternal and a superb average of 76fps with a 55fps 99th percentile result in Assassin's Creed Valhalla. Its 67fps average in Metro Exodus with High ray tracing is also a decent result. The only game that didn't hit our 60fps average target was Cyberpunk 2077 at Ultra settings, but its 54fps here is still a solid result, as is the 47fps 99th percentile – a little bit of tweaking in the graphics settings will easily see it go higher.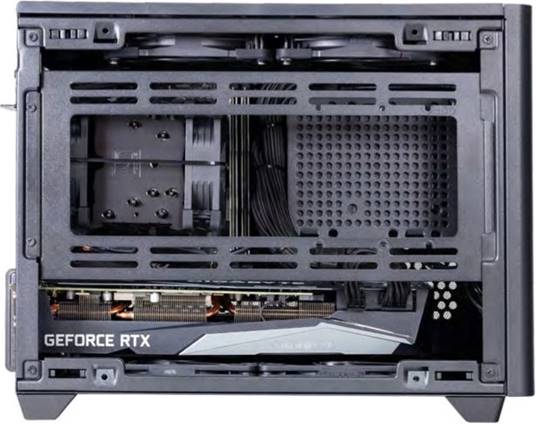 The Ryzen 5 5600X is still a good mid-range CPU as well, with enough pace to avoid gaming bottlenecks and the ability to tackle mainstream content-creation tasks and everyday streaming. That's great, but Intel's new Alder Lake-based i5-12600K is miles better in every metric – the Intel chip was more than 7,500 points quicker in the single-threaded image editing test, for instance, and 226,000 points faster in our heavily multi-threaded Handbrake benchmark.
The tiny Chillblast isn't the quietest PC either. No matter what you do on this rig, there's noticeable fan noise, and it's a little louder than most full-sized gaming systems. The processor is a little restricted too – its all-core turbo during a work benchmark sat at 4.2GHz, and this chip can hit 4.45GHz and beyond in ideal conditions. Happily, the noise levels don't increase if you push the components, and the CPU and GPU delta Ts of 46°C and 49°C respectively are absolutely fine.
You'll never be able to get near silence with this rig though. That's not a problem if you have beefy speakers or use a headset for gaming, but it's not ideal if you want a quiet machine for work as well.
Conclusion
Chillblast has done a great job with building this small, powerful PC – it's fast enough in games and applications, it's neat and compact, and its memory, storage, power supply and warranty all impress. If you want a small and powerful gaming system, it largely delivers the goods. However, it's also loud, Intel's latest processors are far faster and it's expensive for the spec on offer.
MIKE JENNINGS
VERDICT
CHILLBLAST FUSION PANTHER Review
A powerful small form factor gaming rig, although it's noisy and a bit pricey for the spec on offer.
PROS
Impressive gaming power
Small, robust case
Excellent warranty
Good components throughout
CONS
Tricky case access
Loud operation
Intel's new CPUs are faster
Relatively expensive
Add your review
MORE DEALS