Good computer, great monitor
Yes, it's expensive, and only gets you 8GB of memory and a 1TB Fusion Drive – boosted by a 32GB SSD – which is unlikely to satisfy users spending this kind of money. Doubling either of those adds a frankly outrageous. Just as well you can still pop in your own memory chips (two 8GB modules would cost under £140 from Crucial or Kingston, giving a sensible 24GB) or plug in fast external drives.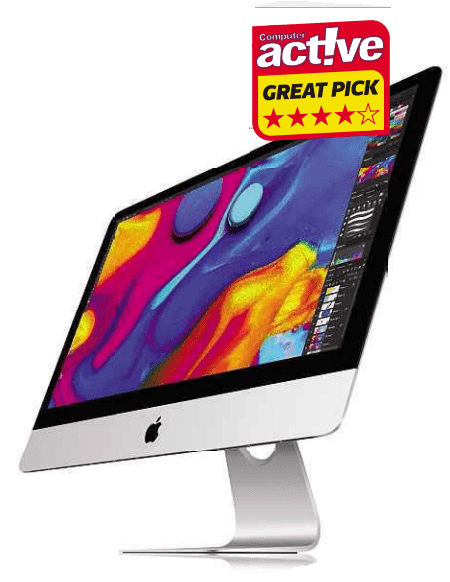 So why even consider the iMac? Because you're paying for the fantastic monitor.
Apple's 5K display is ridiculously sharp and bright, and covers the DCI-P3 color space, as used to edit Hollywood films, which encompasses 25 per cent more colors than sRGB. You'll need compatible programs such as Lightroom (£10 a month with Photoshop from Adobe) to take advantage, but other programs appear correctly in sRGB. You'd pay £1,000 or more for a similar monitor alone. It 's a shame there's no in put to use the 5K screen with a laptop, but the iMac can be used with two additional 4K monitors or one 5K.
Intel's 3.4GHz Kaby Lake i5-7500 processor is standard, and not especially impressive for a top-end system. But macOS, Apple's answer to Windows, is efficient enough to feel speedy, and even tasks like video editing are do-able, helped by the Fusion Drive, which gave us fast read speeds, and a 4GB AMD Radeon Pro 570 graphics card. The 570 is comparable to an Nvidia GeForce GTX 1060, except here it 's been underclocked to stop it overheating. It 'll cope with the few games available on macOS, and gives compatible features such as video effects a good boost. If you need more, though, an i7 and 8GB Radeon Pro 580. The iMac can also run Windows 10, but you'd have to buy your own copy.
The four USB ports on the back (pictured below left) are all USB 3.0, not the faster 3.1, so you'd want to daisy-chain external storage from the two Thunderbolt 3 Type-C ports. These connect USB 3.1, Thunderbolt drives and DisplayPort monitors with simple cables or HDMI, DVI and VGA screens with adapters. There's also a GigabitEthernet port and 802.11ac Wi-Fi.
Apple's flat Magic Keyboard comes without a numeric keypad – that's an extra – and if you want a Magic Trackpad instead or the gesture-sensing Magic Mouse.
SPECIFICATIONS
S3.4GHz Intel i5-7500 quad-core processor • 8GB memory • 1TB Fusion Drive • 4GB AMD Radeon Pro 570 graphics card • 27in 5120×2880-pixel screen • 802.11ac Wi-Fi • FaceTime HD camera • 2x Thunderbolt 3 Type-C ports • 4x USB 3.0 ports • Gigabit Ethernet • MacOS Sierra • 516x650x203mm (HxWxD)
VERDICT:
It's even more expensive than it looks, but if you need a PC and monitor for serious creative work, the iMac does justify the cost
ALTERNATIVE:
iMac 21.5in (2017)
This small er i5 Intel system is good value with a 4K screen and Radeon Pro 555; a basic Full HD version.