It's been a long time coming, but Intel has finally deployed its first 10nm desktop CPUs, and Scan's 3XS Vengeance Ti is the first system we've seen with the barnstorming Core i9-12900K. Intel's new Alder Lake processors have two types of cores – P-Cores for performance and more power-efficient E-Cores, which take an intelligent approach to power management and thread direction. Read our SCAN 3XS VENGEANCE TI Review.
INTEL Z690 GAMING PC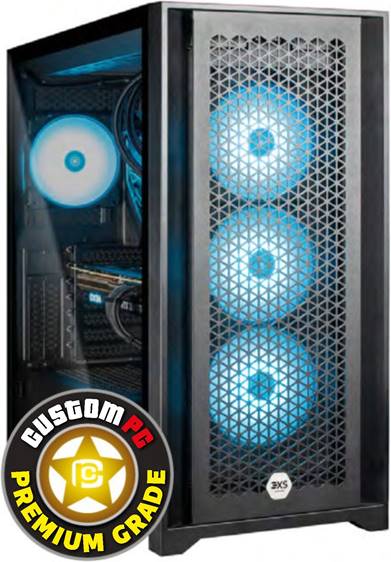 spec
CPU
Intel Core i9-129GGK
Motherboard
Asus ROG Strix Z69G-F Gaming WIFI
Memory
32GB Corsair Dominator Platinum 52GGMHz DDR5
Graphics
EVGA GeForce RTX 3G8G Ti 12GB
Storage
2TB Samsung 98G Pro M.2 SSD
Networking
2.5Gbps Ethernet, dual­ band 8G2.11ax Wi-Fi
Case
Corsair 5GGGD Airflow
Cooling
CPU: Corsair Hydro H15Gi Pro RGB with 3 x 12Gmm fans; GPU: 3 x 9Gmm fans; rear: 1 x 12Gmm fan
PSU
Corsair RM85Gx 85GW
Ports
Front: 2 x USB 3.2 Gen 1, 1 x USB 3.2 Gen 1 Type-C, 1 x audio;
rear: 1 x USB 3.2 Gen 2×2 Type-C, 1 x USB 3.2 Gen 2 Type-C, 2 x USB 3.2 Gen 2, 4 x USB 3.2 Gen 1, 2 x USB
2, 1 x optical S/PDIF, 5 x audio
Operating system
Windows 11 Home 64-bit
Warranty
Three years parts and labour. First year on site, then return to base
As a result, the Core i9-12900K has eight P-Cores with base and boost speeds of 3.2GHz and 5.2GHz, along with eight E-Cores that run at 2.4GHz and 3.9GHz. Only the P-Cores support Hyper-Threading, so this chip supports 24 threads rather than 32. Scan has paired the new CPU with new memory too – the 3XS includes 32GB of Corsair Dominator Platinum DDR5 memory that zips along at a rapid speed of 5200MHz.
Meanwhile, the Asus ROG Strix Z690-G Gaming WiFi motherboard handles its job ably. It has a monster total of four M.2 slots, all of which support 4x PCI-E 4, and the board has a USB 3.2 Gen 2×2 port at the rear and another on the board. Three USB 3.2 Gen 2 ports and four USB 3.2 Gen 1 connectors bolster the rear, and the excellent connection options continue with 2.5Gbps Ethernet and dual­band 802.11ax Wi-Fi.
The board's top 16x PCI-E slot for the graphics card also supports PCI-E 5, although no GPUs support this standard yet. The board has a new Realtek ALC4080 audio codec too, and you even get an on-board cable organiser.
The main star of the show in terms of gaming, though, is the Nvidia GeForce RTX 3080 Ti GPU, which has 12GB of memory and 10,240 stream processors, plus the EVGA card used here ups the original 1665MHz boost speed to 1725MHz. Storage comes from a 2TB PCI-E 4 Samsung 980 Pro SSD, which offers superb read and write speeds of 7,066MB/sec and 5,221MB/sec. It's all powered by a Corsair RM850x PSU, which has a modular design and 80 Plus Gold certification.
It's all housed in a Corsair 5000D Airflow chassis, which is big and robust, with a PSU shroud, dust filters, smart cable management and plenty of room to work with, along with a tempered glass side panel and meshed front. The front of the chassis houses the radiator for the hefty 360mm Corsair H150i all-in-one liquid cooler and its three RGB fans, and around the rear, there's room to add pairs of 2.5in and 3.5in drives, alongside a fan hub with spare connectors. As usual, Scan's cable tidying is the best around – the build is immaculate.
You get a decent warranty too, with a three year deal that covers both parts and labour, plus a year of on site service. That's generous, and Scan has also secured stock for 50 of these builds in order to avoid part shortages.
Intel's new processor is a beast. In Scan's machine, the Core i9 chip scored 78,169 in our image editing test and 1,126,691 in our heavily multi-threaded video encoding benchmark. Both results are a little bit behind the results from our review last month, but they both trounce any results from AMD CPUs, including the 16-core Ryzen 9 5950X.
The Scan's overall score of 399,483 is miles better than any AMD-based PC and more than 130,000 points ahead of systems based on the Core i9-11900K. The Intel chip couldn't quite overhaul AMD's CPUs in our heavy multi-tasking test, but that's the only minor issue and the Core i9-12900K was never far behind. This CPU will do practically any job, from high-end content creation to flawless streaming.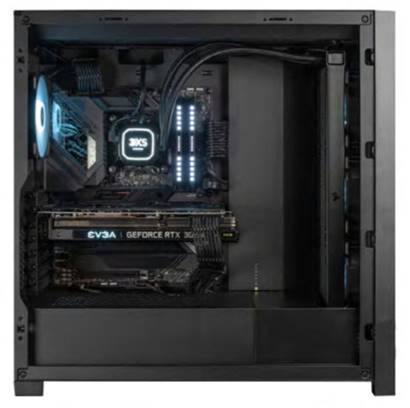 Intel's new processor combines with the overclocked RTX 3080 Ti to deliver stellar gaming performance. This machine happily plays Assassin's Creed Valhalla and Metro Exodus at top settings at 4K, including High ray tracing in the latter if you enable DLSS. You ideally want a 99th percentile result of at least 45fps and an average of 60fps in these games, and the Scan does that fine.
The Scan couldn't quite pull of the same feat in Cyberpunk 2077 at 4K, but its 99th percentile of 41fps and average of 45fps with Medium ray tracing and DLSS isn't a terrible result either – some tweaking in the settings will make it playable at 4K. The Scan can handle games superbly at 2,560 x 1,440 as well, and its whopping average of 379fps in Doom Eternal at this resolution shows it can really deliver the goods when it comes to running less demanding games on monitors with high refresh rates.
The Scan does a good job in thermal tests too. It only ever emits modest fan noise, and the E-Cores hit their peak speed of 3.9GHz, while the P-Cores peaked at 4.9GHz and 5GHz in multi- and single-threaded tests respectively, which is barely behind the chip's theoretical pace. The CPU's delta T of 74°C in stress tests is a tad high, but it's not in danger territory either.
Intel's Core i9-12900K is the best choice available for both content creation and gaming, and Scan has paired it with tremendous components in a tidy and quiet build. The 3XS offers decent value too – it's barely pricier than machines that combine the RTX 3080 Ti with AMD Ryzen 9 chips. This CPU is overkill for gaming, of course, but if you want the best multi-threaded ability alongside lashings of gaming power, this is a superb PC.
MIKE JENNINGS
Editor choice
SCAN 3XS VENGEANCE TI Review
Incredible processing power paired with excellence in every other department.
PROS
Fantastic processing power
High-end gaming ability
Great storage, PSU and motherboard
Tidy and quiet build
CONS
CPU is overkill for many
It's still £
Add your review
MORE DEALS