Portable ssds have become faster and more affordable over the past couple of years, but are they still too flashy for your average consumer?
[JOEL BURGESS]
PRIOR TO SAMSUNG releasing its T1 external hard drive, portable solid state drives (SSDs) were a little expensive to be a particularly appealing alternative to portable external hard disk drives (HDDs). But it's been a few years since then and the portable SSD market has matured into an appealing category, attracting the efforts of big hard drive players like WD and LaCie, and even sporting a few second- or third-generation drives from SanDisk and Samsung, respectively.
The latest external SSDs benefit from some hardware innovations that give sequential read and write speeds of 400-500MB/s — some 100-200MB/s faster than the first generation fast flash drives. That's an increase of roughly 25%!
While this isn't quite enough to make RAIDed fast drives obsolete just yet, the traditional, spinning-plate 250MB/s dual HDDs will only be around for another few years at most. What's perhaps even better for consumers, though, is that this competition is driving prices down, making fast storage something that anyone can have.
HOW WE TESTED
The external SSDs and fast USB flash drives were tested in both CrystalDiskMark 5.1.2 and the earlier CrystalDiskMark 3.0.4 in 64-bit mode with five repeats and 500MB file sizes. All benchmarks were performed on a Surface Pro 4 using a USB 3.0 interface.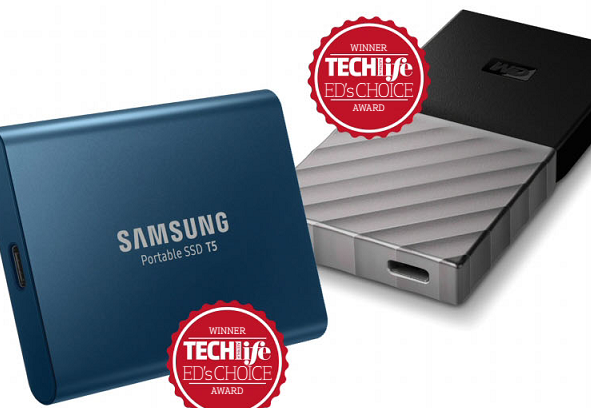 Samsung T5 Portable SSD
High five for samsung's new solid state drive.
SAMSUNG'S T1 AND T3 drives were some of the first portable SSDs to get the company's V NAND layering technology, pushing read and write speeds above the 200-300MB/s threshold of traditional flash-based storage. While a lot of the market has now caught up and LaCie's new Rugged SSD is actually even faster, the T5 is still well above average and isn't as expensive as the top player.
While the 437 and 444MB/s sequential Q32T1 read and write speeds are still impressive, the T5 is also exceptionally compact, lining up with the footprint of WD's SSD offering. The card-sized unit actually manages to pass the 2m shockproof drop test, at least under controlled conditions in Samsung's lab, competing with some of the durability features of LaCie's rugged offering.
The T5 is barely 10% faster than the T3, so if you can buy the older model at a discount, do so. That said, Samsung's latest SSD still leads the market when it comes to value.
4.5/5
CRITICAL SPECS
250GB, 500GB, 1TB and 2TB models; USB 3.1 Type C to A, and C to C cables; 7.4 x 5.7 x 1.1cm; 51g
WD My Passport SSD
Your ticket to speedier storage.
WD HAS LONG since been a dominant player in the portable hard drive space. Although it's late to the party with its My Passport SSD, this flash drive comes in strong to create genuine competition at the top of the market. It isn't quite as fast as Samsung's T5 getting read and write speeds of 390.1 and 385.4 MB/s in the SSD-oriented sequential Q32T1 speed tests, but the My Passport is only about 10% slower, and is actually faster than the T5 in the older non-queued sequential speed tests.
In real-world use, the difference would be unnoticeable. The two are also about the same size; the My Passport is slightly narrower and longer than the T5 and weighs a mere 40g, sans cable. The My Passport SSD borrows the dual textured exterior of the larger My Passport range and offers both USB 3.1 Type A and C cables to connect to a range of modern devices. On average, street prices are $20 more for the WD My Passport SSD, but it's as close a competitor to Samsung's T5 as we've seen.
4.5/5
CRITICAL SPECS
256GB, 512GB and 1TB capacities;
USB 3.1 Type C to A, and C to C cables; 9 x 4.5 x 1cm; 40g
Samsung Portable SSD T3 1TB
The first of a new generation of portable SSDS.
SAMSUNG'S VERTICAL-NAND BREAKTHROUGH was one of the biggest advancements SSD technology has seen in recent years, and it's fair to say that the company's investment in this research has trickled down into its portable SSD range. Encased in a metal and powdery plastic coating, the compact but weighty T3 Portable SSD borrows from Samsung's broad design portfolio, resulting in arguably one of the most visually interesting portable drives available. The T3 was ahead of the game in terms of speeds, netting sequential Q32T1 read and write speeds of 433.5MB/s and 412.1MB/s respectively, which is pretty much on par with Samsung's updated T5 drive. Technically these T3 drives are end of life, but there are more than a few vendors still selling them and you can sneak a price as much as $ less than an equivalent sized T5. Considering they're equally fast and similarly sized we'd recommend doing this if you can.
CRITICAL SPECS
Available in 250GB, 500GB and 2TB; USB 3.1 Type-C to A interface, AES 256-bit encryption, 7.4 x 5.8 x 1.1cm, 51g.
Kogan 120GB Waterproof Portable SSD
A water-tight SSD offering.
SEAGATE DITCHED THE bulky shell of its Seven portable HDD a few years back, opting to use a thin metal case that hugged the hardware for a 7mm profile. Kogan's 120GB Waterproof Portable SSD continues this trend with the first external SSD that's as thin as the adapter plate that inserts in a USB Type A connection (or about the thickness of 30 pages of the print version of this magazine). It also occupies a footprint no bigger than a Tile bluetooth tracker with the accompanying USB 3.1 male-A to female-A connection being more bulky than the drive itself. While it's pretty much just the paint protecting it, you can actually see the contours of the flash drive's underlying architecture, the white hydrophobic coating seems to provide ample resistance for flash memory. The Waterproof Portable SSD is middle of the road in terms of speed with Sequential Q32T1 read speeds of 319.9MB/s and write speeds of 207.1 on CrystalDiskMark 5. It might not be the fastest portable drive available but with an RRP of $99, it is hard to beat for value.
4/5
CRITICAL SPECS
USB 3.0, IP68 water and dustproofing, 4.65 x 3.55 x 0.05cm, 8g.
Sandisk Extreme Pro USB 3.1 Solid State Flash Drive
Usb stick it to the man.
WHILE SAMSUNG SEEMS to still have the edge in the portable SSD market, the Sandisk Extreme 500 was a close second in our previous tests, but this device's speeds have dated since then. In response to this SanDisk have added the new Extreme Pro USB 3.1 Drive to its range. By calling it a solid state flash drive, Sandisk wants to convey that even though it takes the form factor of a USB flash drive, it actually has the speeds of a larger SSD. And Sandisk isn't lying: the drive pulls Sequential Q32T1 Read and Write speeds of 311.4/ 287.7 MB/s in CrystalDiskMark 5, a score that is well above any USB flash drive we've tested and beats the Extreme 500 by at least 10% across all speed tests. While it's hardly novel, the retractable USB stick form factor is convenient if you want to carry it in your pocket, and comes with a plastic loop to attach it to your keychain. 256GB is a good amount of space, and the price isn't over the top, but if you don't have to have your SSD attached to your keys opt for the Samsung's T5 and enjoy about 30% faster speeds.
4/5
CRITICAL SPECS
256GB or 128GB, USB 3.1, 128-bit AES file encryption 1.1 x 2.1 x 7.1cm, 16g.
SanDisk Extreme 500
A solid state diamond in the rough.
WE GAVE THE SanDisk Extreme 500 a score of 4.5 back in 2016 (see TechLife#56, p48), but its slower read and write speeds drag it down against newer offerings. The flat, diamond-shaped SanDisk Extreme 500 might have been overtaken by a slew of portable SSDs, but its still significantly faster than any dual HDD fast drive we've seen. It's also still rather thin compared to the competition, measuring a little over a centimeter thick. Sandisk was one of the first to market the shock resistant characteristic inherent in SSDs by pitching the Extreme 500 as an ultra portable rugged drive. This pocket sized portable drive performs in line with what should be expected from real world tests of fast flash drives recording sequential read speeds of 335MB/s and write speeds of 283.6MB/s. Unfortunately these speeds slow to around the 200MB/s mark using the modern Q32T1 sequential speed tests, and the drive hasn't dropped in price at all since launch.
3.5/5
CRITICAL SPECS
Available in 120GB, 240GB and 480GB, SanDisk Secure encryption software, external SSD with USB 3.0 Micro-B interface, 7.6 x 7.6 x 1.1cm, 79g.
LaCie Rugged Thunderbolt USB-C
Taking tech into the wild.
LACIE'S RUGGED RANGE has been around a while and although you've always paid a premium for its Mac focused portable drives the company's new 500GB SSD, the Rugged Thunderbolt USB-C, is even more expensive. At close to double the price of Samsung's 500GB T5 portable SSD it's a long way from a bargain, but this tough portable storage unit is also pretty bulky when you line it up next to the competition. Weighing in at 400 grams it's almost eight times the mass of the T5, more than twice as thick and has close to double the footprint. This additional bulk does afford it extra durability, bundling in a 2m drop resistance, IP54 splash resistance and a 1000kg pressure durability to make it a good drive for people who need to carry it in unpredictable circumstances. It also happens to be the fastest SSD we have on record getting Sequential Q32T1 read speeds of 533.1MB/S and writes at 484.7 MB/s.
3.5/5
CRITICAL SPECS
Thunderbolt, USB 3.1 type A and C connections, 14 x 8.9 x 2.5cm, 400g.
WHAT TO LOOK FOR
What you need to keep an eye on when shopping for a solid state hard drive.
INTERFACE
All of the drives tested here are either USB 3.0 or 3.1, but there is no reason thunderbolt adaptors couldn't work equally as well for devices aimed at Mac users. Be careful not to buy anything with USB 2.0 as it won't be able to transfer faster than 60MB/s (practical transfers of around 40MB/s).
CONNECTION
This is generally related to the interface but the two main connections to be aware of are USB Type-A (the most common USB connection) and USB Type-C. You'll need to check it'll be compatible with the ports in the devices you wish to use it with.
SSDs and flash USB drives still have distinct form factors as a matter of habit. Decide if you want a compact portable hard drive shape, or you would prefer to plug in an oversized USB flash drive.
SSD VS FLASH USB
The difference here is largely semantic and historical. SSDs were originally made from DRAM memory chips (what your computer uses as memory), but these days any affordable SSD will be made from NAND Flash technology.