BEST FOR SPEED
Corsair MP600 Pro LPX – From £ from https://amzn.to/3KbgHob

Our current 'Buy It' choice for SSDs requires an M.2 slot on your motherboard and is compatible with the latest PCIe 4.0 standard, so it will work best with PCs bought in the last few years. It's available in various capacities, with the cheapest model (500GB) recently reduced to £ while the 1TB version now costs only £ In our tests, the Corsair MP600 Pro LPX was blazingly fast, delivering a sequential read speed of 7,364MB/s and a write speed of 6,870MB/s. This makes the drive ideal for huge file transfers and to use as your main boot drive. Read our Best SSDs you can buy now.
BEST FOR CAPACITY
Sabrent Rocket 4 Plus – From £ from https://amzn.to/3nEROcW
If you want as much storage as possible, and money is no object, you can now buy multi-terabyte drives to set you up for life. The Sabrent Rocket 4 Plus may be tiny (and rather fancy in design) but its maximum capacity is 8TB. That size will set you back over £ – more than many high-end PCs – but the steep price is justified by its impressive read and write speeds of 7,000MB/s and 5,300MB/s via PCIe 4.0. If you can make do with half that space, the 4TB model (pictured) costs less than half the price and offers the same amazing speeds. There are also 500GB, 1TB and 2TB versions.

BEST FOR PORTABILITY
Samsung T7 Portable – From £ from https://amzn.to/3KAiQez
Available in grey, blue or red, and in sizes ranging from 500GB to 2TB, the Samsung T7 Portable packs a lot of storage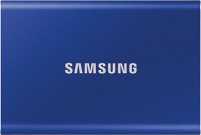 into a compact, colourful and lightweight (58g) device. It uses USB 3.2 Gen 2, which enables it to deliver read and write speeds of 1,000MB/s, and comes with USB-A and USB-C cables to quickly connect it to any PC. The SSD can be protected using AES 256-bit encryption, which means it's both secure and fast. If you're the clumsy type, there's also a pricier T7 Shield version, which is encased in rubber to protect it against knocks and drops.
BEST FOR OLDER PCs
Crucial MX500 From £ from https://amzn.to/3GnKEQT
As the price of slimline M.2 SSDs comes down, the cost of SATA-powered 2.5in drives has gone up, due to the cost of manufacturing them. However, if you want to fit an internal SSD into an older PC, there are still some great bargains around, and this Crucial drive is arguably the best. Its read and write speeds are only 560MB/s and 510MB/s respectively, but this is to be expected from a SATA device and is still much faster than a mechanical hard drive. What's more, it's reliable, affordable (the 1TB model costs only £) and comes with a five-year warranty. El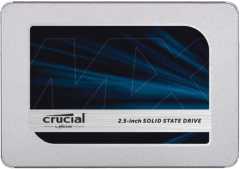 BEST FOR VALUE
WD_Blue SN570 – From £ from https://amzn.to/3ZH2TYw
Although this M.2 SSD from Western Digital uses PCIe 3.0 rather than the newer 4.0 standard, it's still significantly faster than SATA and USB drives, and offers incredible value for money. Its read and write speeds of 2,400 MB/s and 1,950 MB/s respectively are certainly not to be sniffed at and you can choose the capacity that best suits your storage needs. The 250GB model currently costs less than £ on Amazon, and even the 1TB drive is only £

What to look for in an SSD
Know your computer
Check that your motherboard has slots for M.2 drives and that your PC supports NVMe/ PCIe. If so, you can buy a drive that will offer excellent speeds. If not, you may need to buy a 2.5in SATA drive, which will be slower but will at least be compatible with your PC and still manage everyday tasks.
Buy the right capacity
Don't buy a drive that has less than 250GB of storage. 500GB offers a good balance between price and capacity, but as many 1TB drives now cost less than £ they're increasingly good value, and ensure you won't run out of space.
Don't buy a hard drive
Any SSD is better than a mechanical hard drive, and at least three times as fast. With prices so cheap these days, there's no excuse for falling back on an HDD.