If you thought PCI-E 4 SSDs had already had their last hurrah you'd be mistaken, as several manufacturers have released new high-speed flagship models despite PCI-E 5 SSDs looming on the horizon, including both WD and Samsung (opposite). Of course, you'd need a new PC with a compatible motherboard in order to use a PCI-E 5 SSD anyway, so the WD Black SN850X is certainly a contender if you want to give your current system a speed boost. Read our WD BLACK SN850X Review.

M.2 PCI-E 4 NVME SSD
ANTONY LEATHER
Despite only being on the shelves for a short while, the WD Black SN850X has already received a price cut, retailing for just £ in a heatsink-less 2TB version, with our sample including an RGB lighting-equipped heatsink for an extra £ The lighting is controlled using WD's Dashboard software, but only includes a small section of lighting next to the printed logo on the heatsink.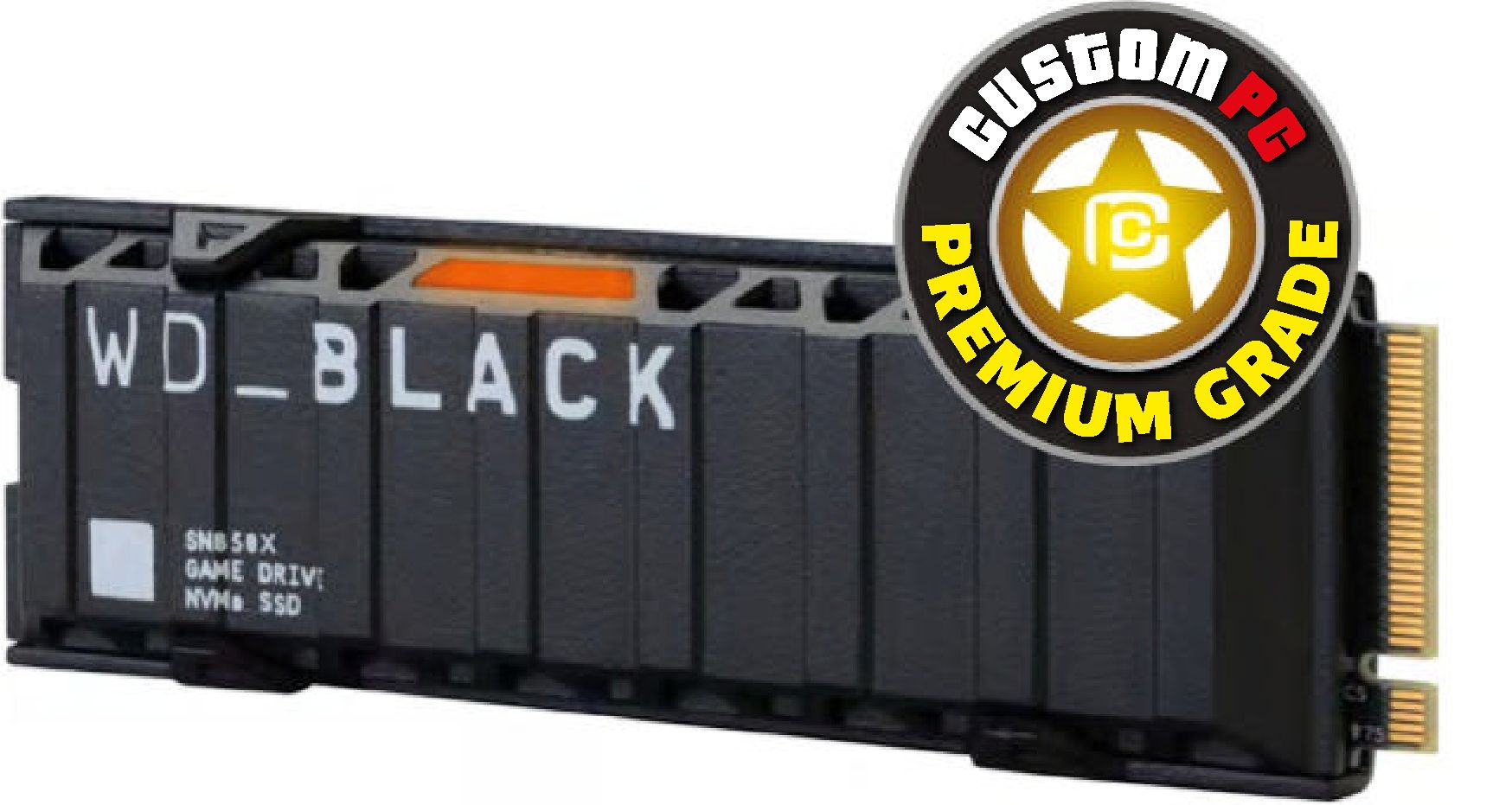 While still hideously expensive, the 4TB model has also seen a huge £ price cut and now retails for £ with many other models demanding far more than just double the 2TB price. Meanwhile, the 1TB version, which is likely to be a favourite among system builders and upgraders alike, currently goes for just £ inc VAT.
With the ability to dish out read speeds of up to 7,300 MB/ sec, you'll need that heatsink on the SN850X too, or at the very least, you'll need to use a heatsink that comes with your motherboard. Even with this chunky slab of illuminated metal attached to it, the SN850X still topped out at 69°C in our tests.
Unless you're dead-set on having an RGB-enabled SSD, we'd suggest opting for the heatsink-less version, saving some cash and using a larger motherboard heatsink, but bear in mind that this temperature was recorded as a worst-case scenario in our extended stress test.
SPEC
| | |
| --- | --- |
| Full capacity | 2TB |
| Formatted capacity | 1.81GB |
| Heatsink | Yes |
| NAND | TLC |
| Controller | WD 20-82-20035-B1 |
| Endurance | 1,200TBW |
| Warranty | Five years |
The SN850X is equipped with WD's own 20-82-20035-B1 controller and triple-level cell (TLC) NAND flash memory. It also comes with a solid five year warranty, and the endurance ratings are excellent, with a rating of 1,200 terabytes written (TBW) for our 2TB sample, although this is fairly standard now, with the Samsung 990 Pro (opposite) offering the same endurance rating.
In terms of performance, the SN850X's 4K single-thread, single-queue-depth random read and write speeds of 83MB/sec and 221MB/sec respectively in CrystalDiskMark were excellent, offering small advantages over the 990 Pro. The latter managed higher sequential speeds, with the SN850X only hitting 6,300MB/ sec read and write compared to 7,198MB/sec and 6,754MB/ sec for the Samsung SSD.
The SN850X also has another trick up its sleeve, though, with a Game Mode in its software that can prioritise the loading of game files in order to cut load times.
In the new 3DMark game load time and access time tests, the SN850X was noticeably quicker than the Samsung SSD here.
For example, the WD drive has a load speed of 965MB/ sec in Call of duty: Black Ops 4, compared to 739MB/sec for the Samsung drive, and the SN850X's latency of 70 muys was tighter than the Samsung's 87 muys. In Battlefield V, it peaked at 1,154MB/sec compared to 1,025MB/sec for the Samsung 990 Pro; again, the Black SN850X managed a lower latency of 62 muys versus 71 muys.
Conclusion
It might not have the absolute fastest sequential speeds available, but the technology under the hood of the Black SN850X, as well as its quick game load times, help it to edge out Samsung's 990 Pro in game-focused tests. We suggest saving a few quid and using your motherboard's M.2 heatsinks instead of paying for the WD one, but even with the heatsink, the current pricing for the SN850X range is superb for the performance on offer.
VERDICT
Editor choice
WD BLACK SN850X Review
Very fast but, more importantly, much cheaper than the competition.
PROS
Excellent speeds
Competitively priced
4TB model available
CONS
Sequential speeds aren't chart-topping
Cheaper SSDs won't feel much slower
Toasty peak temperatures with stock heatsink
Add your review
Best WD BLACK SN850X prices ?
MORE DEALS