High-capacity NAS OptiNAND on a platter impresses Shane Downing. Read our WD Red Pro 20TB Review.
SPECS
Model:
WD201KFGX
Capacity:
2TB-22TB
Interface:
SATA 6Gb/s
Form: 3.5-inch
Tech: CMR (ePMR),
OptiNAND
RPM: 7,200
Rate: 272MB/s
Cache: 512MB
Power:
6.9W average
Noise:
32dBA average
Limit:
300TB/year
MTBF:
1.0 million hours
Warranty:
Five-year
The 20TB Red Pro comes from Western Digital's NAS line of hard drives, utilizing its unique OptiNAND technology. This marries mechanical and flash storage technologies to achieve higher capacity with a form of conventional magnetic recording (CMR) that's much faster than competing shingled magnetic recording (SMR) drives.
Western Digital (WD) uses nine platters at 2.2TB each for the 20TB model, with extra capacity made possible by storing the necessary metadata on the onboard flash. WD's vision is to use energy-assisted perpendicular recording (ePMR) to keep the benefits of CMR technology while offering unique advantages to OptiNAND. Many of the new features are only on the 22TB WD Gold so far, and while leveraging Flash is a net benefit for WD, there is added complexity versus Seagate's solution.
Available between 2TB and 22TB in 2TB intervals, we're looking specifically at the 20TB model here. Low pricing at the time of review is £ or £ per TB, which is not unusual for the highest-capacity drives, on a par with the £ 22TB IronWolf Pro. The drive runs at 7,200rpm with a sustained transfer rate of up to 272MB/s. The cache is 512MB on this model, double the base model IronWolf Pro 20TB and Exos X20.
WD rates the average read/write power draw at 6.9W while producing an average of 32 A-weighted decibels of sound. This is relatively quieter than lower capacities, but it does pull more power. WD warranties the Red Pro lineup for five years with a workload rate of 300TB per year. This is less than the 1.2-2.5 million hours of the competition.
Under control
The drive has a Broadcom main controller, a spindle controller, and 4Gb or 512MB of DDR4 for its DRAM write cache. The controller system on a chip (SoC) has to be designed to work with Flash for OptiNAND functionality. The cache is a step up over the 256MB found on some competing drives, possibly a benefit of cost savings realized by OptiNAND.
On board is also 64GB of SanDisk-labelled, 64-layer BiCS3 NAND flash. This is actually iNAND, or industrial NAND, designed for embedded environments, integrated as a universal flash storage (UFS) embedded flash drive (EFD). Such flash can operate in pSLC and TLC modes, depending on the workload. Write workloads benefit from pSLC, while TLC is more effective for reading workloads.
This implementation is not the same as a solid-state hybrid drive (SSHD), but rather the flash is used to improve performance and capacity, primarily by handling drive metadata. WD's current approach to high-capacity drives is potentially cheaper and OptiNAND allows for some nice features, such as ArmorCache for emergency power-off scenarios.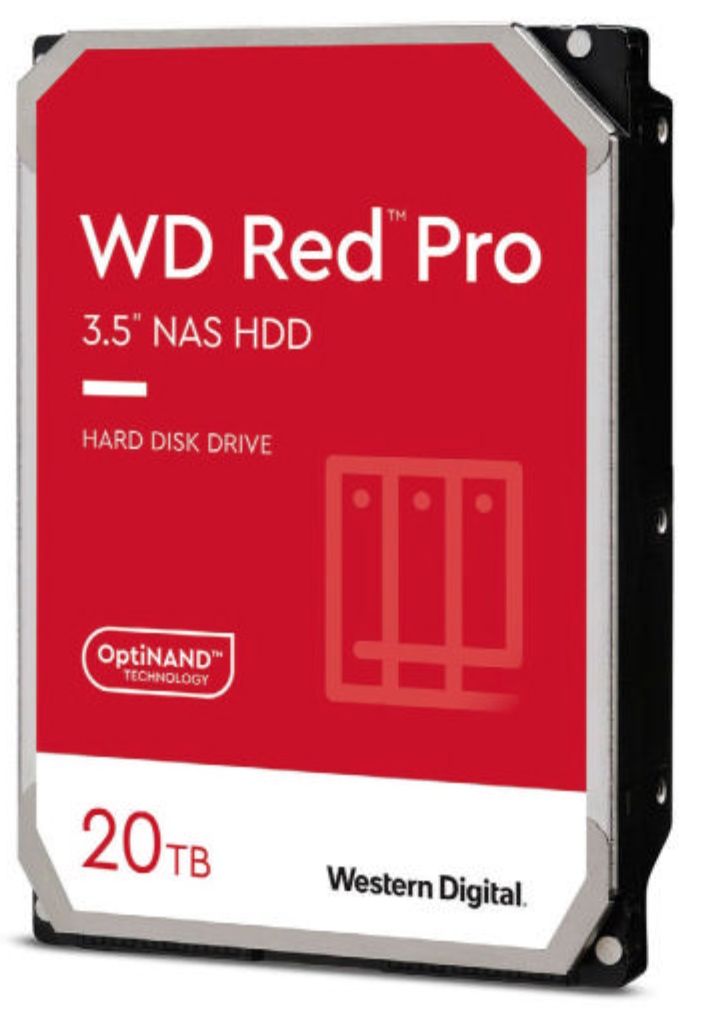 If you need a big, red hard drive, Western Digital has your back.
For real-world testing, we read a 6.5GB ZIP file that transferred at 211MB/s and wrote a 50GB data set of over 31,000 files of various types at 108MB/s, both only slightly slower than Seagate X20 models. Synthetic tests put a peak write of 276MB/s and read of 275MB/s, again slightly behind Seagate X20 and SkyHawk. The Red Pro fared better with 4K random reads, with 930 IOPS but an average write result of 1,028 IOPS. The Red Pro stands out against its 20TB competitors and it could be the OptiNAND bringing latency benefits to larger I/O access in certain write cache scenarios – although, for now, that is only on the 22TB WD Gold.
The 20TB WD Red Pro performs as expected and the price per TB is comparable to the alternatives. Beyond the bump in 4KB performance that the Red Pro displays, it also has a larger DRAM cache. If the price is right, this may be the selling point to you that puts the drive ahead of the competition.
VERDICT
DEVELOPER: Western Digital
WEB: www.westerndigital.com
PRICE: £
WD Red Pro 20TB Review
OptiNAND offers a compelling way to hit 22TB without SMR tech. Performance is as expected, but you pay a premium.
Add your review
Best WD Red Pro 20TB prices ?

$

348.56

$499.99
3 used from $450.00
43 new from $348.56
in stock


Designed specifically with medium or large scale business customers in mind, WD Red™ Pro NAS HDDs are available for up to 24-bay NAS systems. Engineered to handle high-intensity workloads in 24x7 environments, WD Red™ Pro is ideal for archiving and sharing, as well as RAID array rebuilding on...

MORE DEALS