While AMD's new WX-series CPUs focus on giving Intel a run for its money in workstation software. AMD is also beefing up its credentials in the more traditional HEDT CPU market space, replacing both the Threadripper 1950X and 1920X with the new 2950X and 2920X. These chips will be the only new X-series models, with the 8-core 1900X not getting a replacement. The two new CPUs sport the same number of cores as their predecessors – 16 and 12 with 32 threads and 24 threads respectively, so they're going head to head with Intel's HEDT CPU line-up in terms of both core count and price. Read our AMD Threadripper 2950X Review.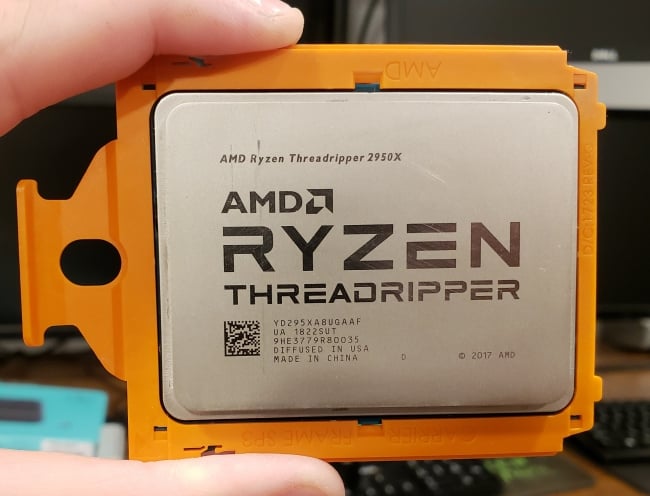 It made a mockery Of the Core i9-7900X in Blender, POV-Ray and Cinebench
We're looking at the Threadripper 2950X here, and like all 2nd Gen plus AMD's enhanced boosting             algorithms. It's a setup that should allow for better lightly threaded and multithreaded performance, while the new Zen+ architecture enables the Threadripper 2950X to reach a maximum boost frequency of 4.4GHz, with a base frequency of 3.5GHz. Latencies have been lowered too. Not surprisingly, the 2950X also has half the L3 cache of its bigger sibling over the page, at 32MB, and each core has 512KB L2 cache.
Unlike the Threadripper 2990WX, the 2950X's TDP remains the same as the original 16-core Threadripper chip at 180W, putting its cooling demands within reach of a larger number of coolers, including air coolers from the likes of Noctua. Unlike the 32-core model, both the 2950X's dies also have access to the memory and PCI-E buses, so the Threadripper 2950X should offer much better performance than the 2900X outside of workstation applications, including games.
We managed to overclock our 2950X all the way to 4.2GHz on all cores using a 1.425V vcore, which is our safe limit for an everyday overclock – that's 400MHz higher than we managed with the equivalent first-generation CPU. It was usually best to leave the likes of the Threadripper 1950X at stock speed, as an all-core overclock of 3.8GHz would see a substantial hit on lightly threaded workloads, given that the CPU could otherwise reach 4.2GHz on a couple of cores using boosting. With the Threadripper 2950X, though, if you can overclock it to around 4.2GHz across all cores, you'll lose little in terms of lightly threaded performance, while gaining a huge amount of multi-threaded performance.
Meanwhile, stock speed performance was excellent, and the 2950X managed to better the Core i9-7980 XE in our image editing test, adding nearly 2,000 points to the score of the 1950X. It came a respectable second in the video encoding test, but beat the similarly priced Core i9-7900X by a huge 40 percent. The AMD CPU also made a mockery of Intel's Core i9-7900X in Blender, POV-Ray and Cinebench, where only the Threadripper 2990WX and Core i9-7980XE were faster.
Games still aren't Threadripper's strong point out of the box. but as we saw with the likes of the Ryzen 7 2700X, using faster memory than our 3000MHz kit can yield big improvements, as can switching to Game Mode in Ryzen Master. Its minimum frame rate was otherwise 10fps adrift of the Core i9-7900X in Deus Ex: Mankind Divided, but not too far behind in Ashes of the Singularity and Fallout 4.
AMD Threadripper 2950X Review: Conclusion
Intel's Core i9-7980 XE is still an enviable CPU, being faster almost across the board than the Threadripper 2950X, but the latter costs half the price, making it superb value for money, especially against Intel's Core i9-7900X. Faster memory can help to close the gap in games, as can switching to Game Mode, but the 12 nm manufacturing process has yielded tangible results that make the Threadripper 2950X fantastic value for content creators or anyone investing in a high-end desktop system.
ANTONY LEATHER
AMD Threadripper 2950X Review: Verdict
Editor choice
AMD Threaddripper 2950X Review
A stunning high-end CPU for content creators that offers superb value for money, but make sure you pair it with fast memory for best results.
Add your review
Best AMD Threadripper 2950X prices ?
$

979.99
1 used from $850.99
5 new from $979.99
in stock


£

1,083.00
2 new from £1,083.00
in stock

MORE DEALS

AMD Threadripper 2950X Review: SPECIFICATIONS
Base frequency 3.5GHz
Max boost frequency 4.4GHz Core Zen
Manufacturing process 12nm
Number of cores 16 x physical (32 threads)
Simultaneous Multithreading (SMT) Yes Cache 32MB L3 cache, 16 x 512KB L2 cache
Memory controller Quad- channel DDR4, up to 2933MHz
Packaging Socket TR4
Thermal design power (TDP) 180W
Features Precision Boost 2, XFR 2, Precision Boost Overdrive, FMA3, F16C,  SHA, BMI / BMI1 ♦ BMI2, AVX-512, AVX2, AVX, AES, SSE4a, SSE4, SSSE3, SSE3, SSE2, SSE, MMX