The best gaming CPU, but not quite the one chip to do it all. Read our Ryzen 9 7950X3D Review.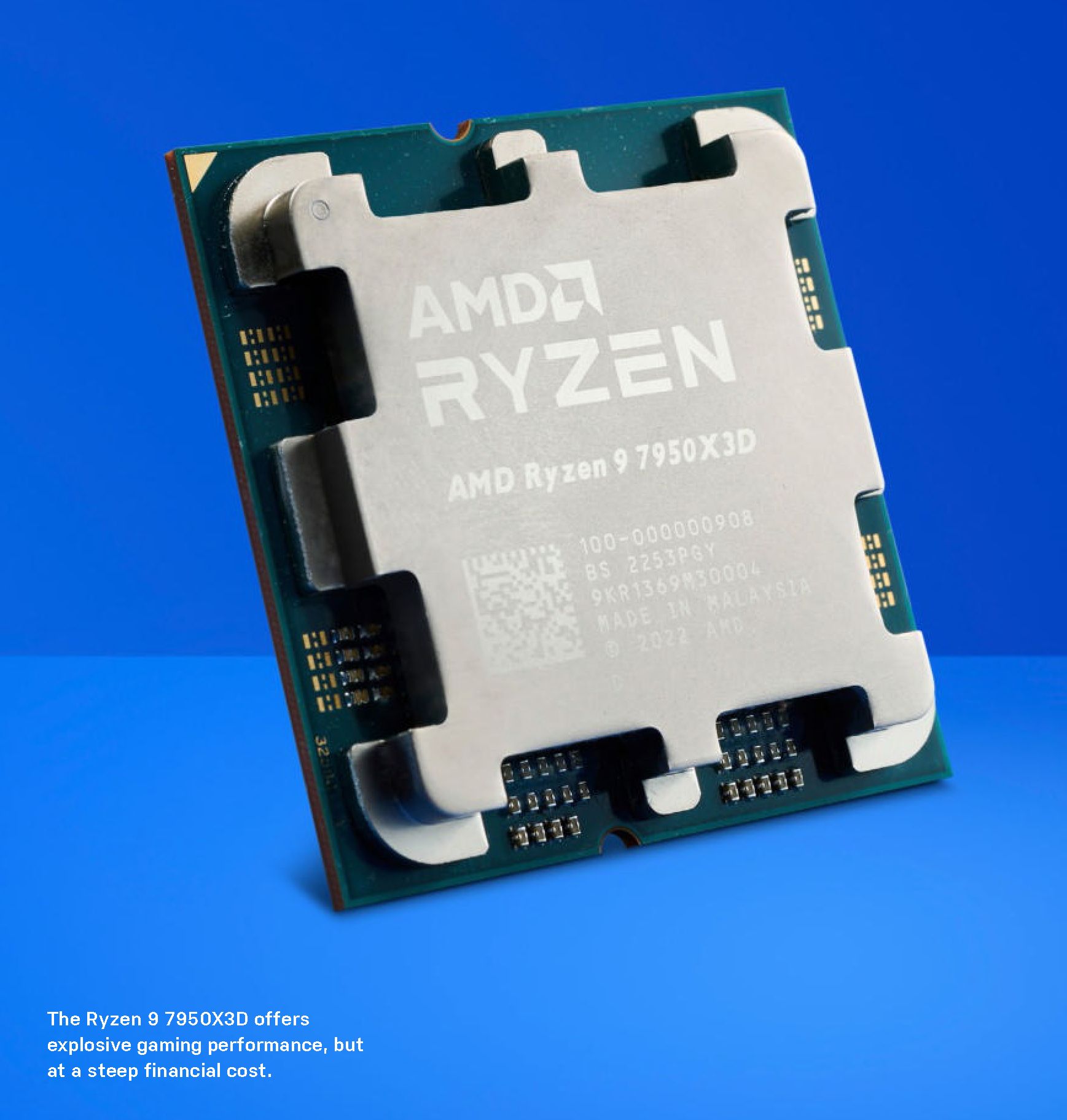 AMD'S attempt to create the ultimate gaming and productivity chip has almost worked with the Ryzen 9 7950X3D. It has once again proven the power of the 3D V-cache technology when it comes to squeezing higher gaming performance out of its processors, and has married that to an asymmetrical chiplet layout that can deliver the goods in productivity. The price and small gains in 4K games are the only things spoiling the party.
Once again, AMD has bonded an extra 64MB of L3 cache to an eight-core chiplet (this time a Zen 4 one) to double its lastlevel cache, for a total of 128MB. It has to limit the clock speed of that chiplet, too, as it's important that it's the same height as a standard Ryzen 7000-series CPU.
That's challenging, because this time there are two chiplets in the package. But AMD has taken the smart move of limiting the 3D V-cache to just one of them, leaving the second in exactly the same state as it is on the standard Ryzen 9 7950X. It's cheaper to do, but also means that it can have one side of the CPU with eight Zen 4 cores that can operate best for applications that benefit most from low latency memory, and another eight cores that will run at a peak clock speed frequency the others can't manage.
To that end, AMD's got its 3D V-cache Performance Optimizer and PPM Provisioning File drivers in its latest chipset software package. The first works in real time to modify what cores Windows can see, highlighting either the standard die or the 3D V-cache chiplet, depending on the workload it detects.
The final thing to note about the newer Ryzen 7000-series chips is their lower TDP. They're rated at 120W, as opposed to 170W, and are more efficient in operation than the Zen 4 vanguard. The gaming lead is even more impressive when you look at performance per watt and the heat it generates. Taking our standard Far Cry 6 benchmark for frame rates per watt, the 7950X3D is 86 percent more efficient than the previous top AMD processor, and 54 percent more efficient than the 13900K.
Its gaming prowess is highlighted at lower resolutions, but it's not just at 1080p and below where you'll see the difference. Even strapped to an Nvidia RTX 4090, the Ryzen 9 7950X3D is able to encourage higher frame rates from the system as a whole compared to either AMD or Intel rivals at top 1440p settings.
At 4K, however, the upper echelons of gaming where such a high-end rig will largely reside, there is little difference between this new AMD chip and Intel's i9 13900K. That's at a point where the onus is almost entirely on the graphics card to deliver. But it's enough to know that of all the CPUs around, this is the one most likely to deliver the best performance from an expensive graphics card.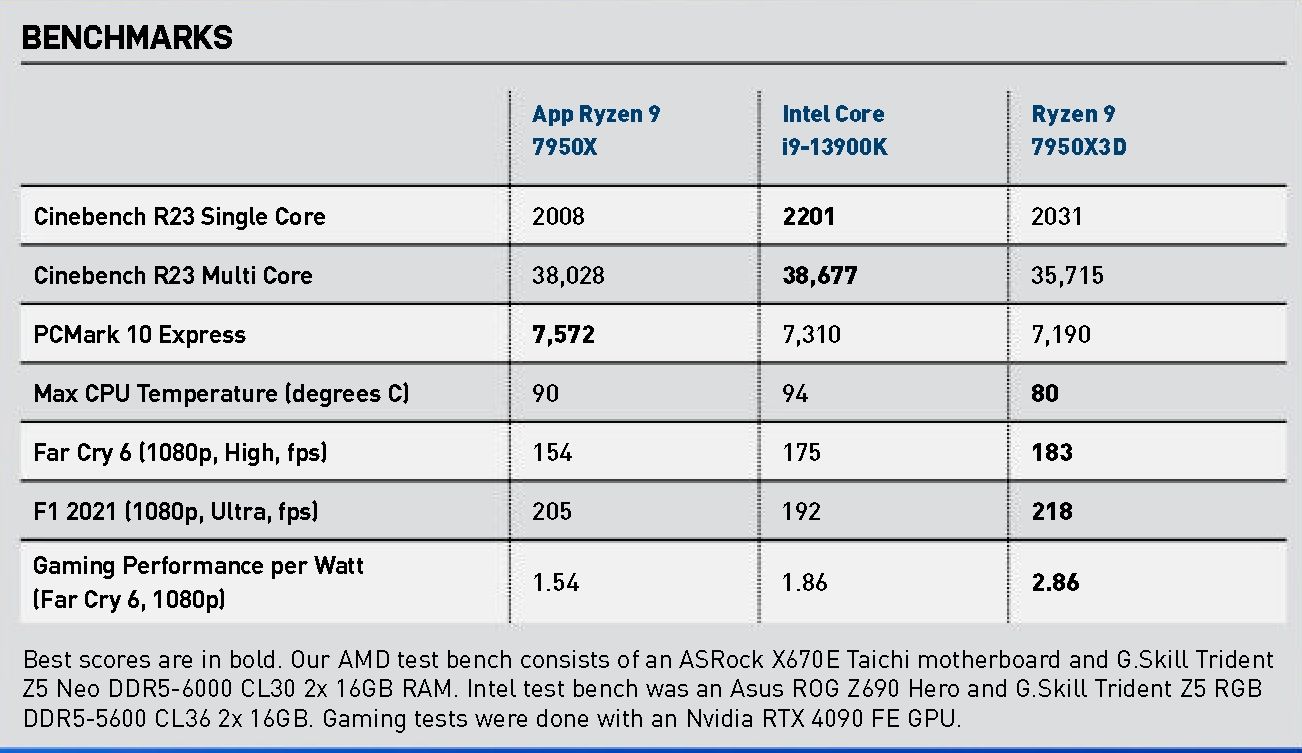 As a high-end gaming processor, it's a win in both raw performance and efficiency. The 7950X3D doesn't consume anywhere near the same amount of power as its non-cached Zen 4 7950X sibling, or the super-thirsty Intel Raptor Lake chips, and smashes both it and the Intel Core i9 13900K when it comes to frames rate per watt.
But the end result isn't quite the AMD line of "one processor can do it all." The Ryzen 9 7950X3D is an expensive gaming processor that falls just a little short of its now-cheaper 16-core forebear when it comes to specifically CPU-intensive tasks, even if it can demonstrably top it in the gaming frame rate stakes.
In the end, the AMD Ryzen 9 7950X3D is just about the best gaming CPU on the market, even if that moniker retains some questionable real-world relevance. There are two cheaper X3D chips coming from AMD, likely with the same efficiency increase, but for a lower price. That makes this $ processor of maybe rather niche interest, with slightly compromised raw CPU performance outside of games. -dave james
VERDICT
+ RYZEN HIGH Tangible gaming performance lead; remarkable efficiency.
– RYZEN DAMP Lower raw CPU performance; costly compared to the competition…and AMD's other X3D chips.
Best Ryzen 9 7950X3D prices ?
MORE DEALS

SPECIFICATIONS
| | |
| --- | --- |
| Cores | 16 |
| Threads | 32 |
| Socket | AMD AM5 |
| CCD lithography | TSMC 5nm |
| CCD die size | 70mm2 |
| CCD transistor count | 6.5 billion |
| IOD lithography | TSMC 6nm |
| IOD die size | 122mm2 |
| IOD transistor count | 3.4 billion |
| Max boost clock | 5.7GHz |
| Base clock | 4.2GHz |
| L2 cache | 16MB |
| L3 cache | 128MB (inc. 64MB L3D) |
| Memory support | DDR5-5200 (non-OC) |
| TDP | 120W |