Un believably, the Ryzen 9 7950X costs nearly £ less than it did at the time of launch a few months ago. The fact that its launch price was a whopping £ inc VAT means it now costs 40 per cent less. Not surprisingly, it now sits in line with the Core i9-13900K, so both CPUs are ready for a scrap. Read our AMD RYZEN 9 7950X Review.
The Ryzen 9 7950X still has 16 cores and 32 threads, so there's been no core count increase over its predecessor, unlike the Core i9-13900K, which has more E-Cores than the Core i9-12900K. However, like other Ryzen 7000-series CPUs, its received a hefty TDP bump to VOW compared to 105W for the Ryzen 9 5950X.
One of the benefits of all that thermal headroom, though, is that the Ryzen 9 7950X now has a 5.7GHz peak boost frequency, compared to 4.9 GHz for the older CPU. The all-core boost increase is the star of the show, though, as it's increased from around 4GHz all the way to 5.2GHz. This should offer a huge benefit in multi-threaded workloads, while the L2 cache has doubled in size to 16MB too.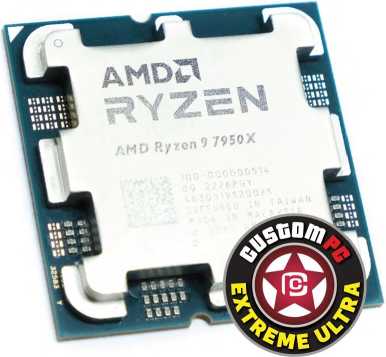 SPEC
| | |
| --- | --- |
| Base frequency | 4.5GHz |
| Max boost frequency | 5.7GHz |
| Core | Zen 4 |
| Manufacturing process | 5nm |
| Number of cores | 16 x physical (32 threads) IGP AMD Radeon Graphics |
| Simultaneous Multithreading (SMT) | Yes |
| Cache | 64MB L3,16MB L2 |
| Memory controller | Dual-channel DDRS, up to 5200MHz |
| Packaging | AMD Socket AM5 |
| Thermaldesign power (TDP) | 170W |
| Features | Precision Boost 2, Precision Boost Overdrive 2, FMA3, F16C, SHA, BMI / BMI1 + BMI2, AVX-512, AVX2, AVX, AES, SSE4a, SSE4, SSSE3, SSE3,SSE2,SSE |
The downside is that temperatures were right on their limits during testing, with the CPU sitting above 90°C with multi-threaded workloads, and that's under our custom water-cooling loop. One option here is to use AMD's Eco mode, which enables you to force the CPU to sit at 105W or 65W TDPs in the BIOS. The all-core boost fell to 4.7-4.9GHz at 105Wand3.6-3.8GHz at 65W.
Even at 65W, its Cinebench multi-threaded score of 29,821 was still faster than that of the Core i9-12900KS and Ryzen 9 5950X, and with dramatically lower temperatures. At the 105W profile, the 7950X scored 31,165, which is still far from matching the monstrous 38,422 achieved by the CPU at stock speed, but sadly the latter result is also beaten by the Core i9-13900K, which managed to top 40,000 points.
It was a close battle in the RealBench tests too, with the AMD CPU emerging victorious with a score of 495,461 compared to 486,267, while the Intel CPU had a faster singlethreaded Cinebench result and was quicker in our game tests too.
The Ryzen 9 7950X failed to offer much benefit over cheaper Ryzen 7000-series CPUs in games, though, and was also noticeably slower than the Ryzen 7 7700X in Watch Dogs: Legion. Anyone concerned about power consumption during multithreaded workloads may favour the AMD CPU, however, as Its peak draw of 376W for the system was far lower than the 546W for the Intel CPU.
Conclusion
There's no doubt that the Ryzen 9 7950X now sits at a far more competitive price tag and offers some real competition to the Core I9-13900K. The two chips trade blows In content creation software, while the Intel CPU was slightly quicker In games. Power consumption Is significantly lower on the AMD chip too, plus It has the advantage of low-power Eco modes that reduce power further and offer fantastic performance perwatt.
It's still a CPU most of us can only dream of owning, but If you need a CPU for content creation first with a smattering of casual gaming on the side, and you're also looking for power efficiency, the Ryzen 9 7950X Is stunning example of the Zen 4 architecture's capabilities.
VERDICT
Editor choice
AMD RYZEN 9 7950X Review
Monstrous multi-threaded power from this power-efficient chip, although there are better value options for gamers.
PROS
Fantastic multithreaded performance
Eco mode can drastically cut power and thermals
Great efficiency
CONS
Gets hot in multithreaded workloads
Matched by Ryzen 7 7700X in games
Still expensive
Add your review
|
Read reviews and comments
Best AMD RYZEN 9 7950X prices ?
£

560.99

£769.99
1 used from £521.72
54 new from £560.99
in stock


$

1,069.99
1 new from $1,069.99
in stock

MORE DEALS