The fact we now have a 32-core desktop CPU in the shops is a remarkable achievement for AMD.
Of course, the dies were essentially already in place to spring from 16 cores to 32 cores under the huge heatspreader, but the Zen+ architecture and its 12 nm manufacturing process has lowered power consumption and allowed higher frequencies too. Read our AMD Threaddripper 2990WX Review.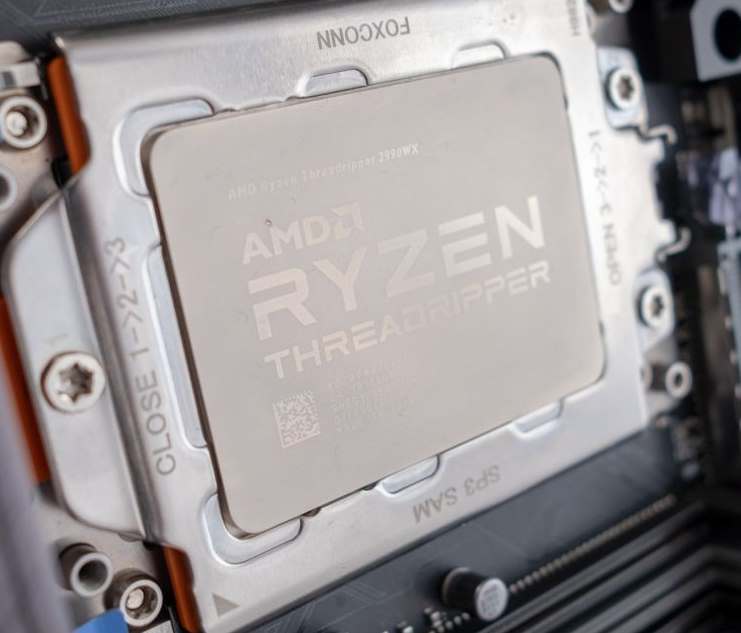 Despite having 32 cores and 64 threads, the Threadripper 2990WX can reach a peak boost speed of 4.2GHz and multi-threaded workloads will see an all-core frequency of at least 3 GHz. Both these figures can rise further too, thanks to the introduction of AMD's Precision Boost Overdrive and other SenseMI technologies, which allow frequencies to rise above the specification if cooling and the motherboard's power delivery are capable enough.
You also get 64MB of L3 cache and a CPU that's compatible with current X399-chipset motherboards, so there's no need to invest in new hardware. There is one extra consideration, though, which is the increased TDP. At 250W, its thermal requirements are out of the range of most air coolers, although AMD and Cooler Master have teamed up to create one. If you even touch those overclocking controls, though, you'll be needing a decent all-in-one liquid cooler at the very least.
Under the Threadripper 2990WX's hood are four Zeppelin dies, each with two Core Complexes (CCX) and eight Zen cores a piece. However, unlike its EPYC 32-core server sibling, only the dies active in the 16-core models can access the memory and PCI-E bus directly. The other two dies communicate via the other dies using Infinity Fabric. As a result, the Threadripper 2990WX is very workstation- focused, with memory-intensive multi-threaded workloads likely to fall foul of higher latencies as those extra dies are activated.
The upshot of this setup is highly varied performance – it's very clear that the Threadripper 2990WX is designed almost entirely for workstation workloads. In POV-Ray, it wiped the floor with the Intel Core i9-7980XE. knocking a third off its benchmark times at stock speed and when overclocked to 4.1GHz across all cores.
It got decidedly toasty when overclocked too. with our test rig drawing over 700W from the wall, and while we managed to get a Cinebench run at 4.2GHz, it proved too hot for benchmarks lasting more than a minute. The 2990WX managed the fastest Cinebench score we've ever seen when overclocked, though, with the result of 6.182 being triple the stock speed score of Intel's Core i9-7900X, and its 5.120 stock speed score was still nearly 1,000 points clear of the overclocked Intel Core i9-7980XE as well.
However, our system score of 226,926 was second from last in the graphs, revealing some poor performance in standard desktop software across the board. Even in our heavily multithreaded Handbrake test, the 2990WX was slower than the Threadripper 2990WX, and gaming performance was disastrous.
Thankfully, we did manage to coax out more performance by using Ryzen Master to cut the core count to 16 or to disable Simultaneous Multi-Threading, enabling the 2990WX to match the Threadripper 2950X in Deus Ex. with the minimum frame rate rising from 39fps to 57fps.
Conclusion
Ultimately, the Threadripper 2990WX is a very niche CPU that's only fast in specific circumstances, and that's as much down to its design as the scaling of software to 32 cores.
Sadly, traditional desktop workloads such as gaming and content creation aren't its forte, so if you use your PC for all manner of tasks, but still need a powerful CPU. The Threadripper 2950X or Core i9-7980XE are much better bets. However, when all its 32-cores are used properly, the Threadripper 2990X is monstrously powerful and offers great value compared with Intel's flagship – it's just a shame not all applications can call upon its epic power.
ANTONY LEATHER
Verdict
Editor choice
AMD Threaddripper 2990WX Review
The most powerful multi-threaded desktop CPU ever, but only in limited scenarios.
Add your review
Best AMD Threaddripper 2990WX prices ?
$

1,379.99

$1,799.00
26 new from $1,199.00
in stock

MORE DEALS

SPECIFICATIONS
Base frequency 3GHz
Max boost frequency 4.2GHz Core Zen+
Manufacturing process 12nm
Number of cores 32 x physical(64 threads)
Simultaneous Multithreading (SMT) Yes
Cache 64 MBL3 cache, 32 x 512KB L2 cache
Memory controller Quad- channel DDR4, up to 2933MHz
Packaging Socket TR4
Thermal design power (TDP) 250W
Features Precision Boost 2, XFR 2, Precision Boost Overdrive, FMA3, F16C, SHA, BMI / BMI1 ♦ BMI2, AVX-S12, AVX2, AVX, AES, SSE4a, SSE4, SSSE3, SSE3, SSE2, SSE, MMX
In POV-Ray, it wiped the floor with the Intel Core i9-7980 XE