Another addition to AMD's line-up this month comes in the form of the Ryzen 9 7900, which is a TDP-trimmed version of the 12-core Ryzen 9 7900X. Like its cheaper non-X sibling, though, it doesn't save much cash compared with the X-edition CPU, sitting at £ while we could find the Ryzen 9 7900X going for just £ more. Read our AMD RYZEN 9 7900 Review.
Both CPUs have 12 cores and 24 threads (via SMT), which is the same as the Ryzen 9 5900X, but the Ryzen 9 7900 also benefits from the strength of the Zen 4 architecture and a 5nm manufacturing process, as well as double the amount of L2 cache. The Ryzen 9 7900 also includes AMD's Wraith Prism cooler, which is fine for cooling this CPU at stock speed, where it has a TDP of just 65W.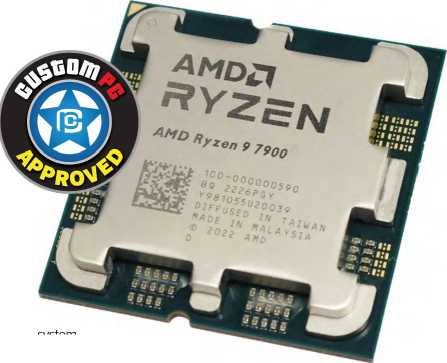 This is much more significant than the drop from 105W to 65W with the Ryzen 7 7700, though, because the Ryzen 9 7900X's TDP is a whopping VOW. The impact was profound in our thermal tests too, with the new CPU barely topping 61°C under load and having the second lowest peak power draw on test – the total system power consumption was half that of our LGA1700 rig with Intel's similarly priced Core I7-13700K Installed.
SPEC
| | |
| --- | --- |
| Base frequency | 3.7GHz |
| Max boost frequency | 5.4GHz |
| Core | Zen 4 |
| Manufacturing process | 5nm |
| Number of cores | 12 x physical (24 threads) ICP AMD Radeon Graphics |
| Simultaneous Multithreading (SMT) | Yes |
| Cache | 64MB L3,12MB L2 |
| Memory controller | Dual-channel DDRS, up to 5200MHz |
| Packaging | AMD Socket AM5 |
| Thermaldesign power (TDP) | 65W |
| Features | Precision Boost 2, Precision Boost Overdrive 2, FMA3, F16C, SHA, BMI / BMI1 + BMI2, AVX-512, AVX2, AVX, AES, SSE4a, SSE4, SSSE3, SSE3,SSE2,SSE |
Despite this limit, the Ryzen 9 7900 was still able to hit a peak boost of 5.45GHz, which was just 200MHz slower than that of the Ryzen 9 7900X. However, not surprisingly, the allcore boost was dismal at just 4.3GHz. That's a whole 1GHz lower than the X-edition chip.
As you'd expect, it was slower than the 7900X in benchmarks, but it was still faster than the Core i7-13700K in our RealBench image editing and multi-tasking tests, and its total system score of 393,508 was only just short of the latter's 420,310. There was a bigger gulf between the Ryzen 9 7900 and the Core I7-13700K in Cinebench, though, with a multi-threaded score of 24,689 compared to 30,137, and the Intel chip was also quicker In games.
With a decent amount of thermal headroom at our disposal, we also had a go at tweaking the 7900, but we could only hit an all-core manual overclock of 5.2 GHz and even applying a vcore of 1.2V resulted In very high temperatures. With this clock frequency falling well short of the peak boost at stock speed, we applied PBO and Automatic Overclocking, and while the peak boost didn't go higher, the all-core boost rose by a massive 700MHz, albeit with a corresponding Increase In total system power draw, from 200W to 304W.
This wasn't enough clock speed to topple the Ryzen 9 7900X, but It did allow it to beat the Core i7-13700K's system score, nearly match Its video-encoding score and cut Its Cinebench deficit In half.
Conclusion
The Ryzen 9 7900 Is an Interesting CPU, as It makes great use of Zen 4's amazing efficiency and provides premium performance for a huge amount less power and lower temperatures than practically any other CPU on test. While It was a fairway behind the similarly priced Core i7-13700K in some tests, It drew half the power and will require far less potent cooling too. If you want to build a cool and quiet Socket AM5 system without going overboard on cooling and power use, the Ryzen 9 7900 Is a solid choice.
VERDICT
Editor choice
AMD RYZEN 9 7900 Review
Incredible efficiency and super-low temperatures make the Ryzen 9 7900 a solid choice for its niche.
PROS
Incredible efficiency
Easy to cool
Very low power consumption
CONS
Slower in games than cheaper CPUs
Poor multi-threaded performance out of the box
Core i7-13700k offers better value
Add your review
|
Read reviews and comments
Best AMD RYZEN 9 7900 prices ?
Enjoy serious speed and the ultimate power efficiency for gaming and creating. This processor comes fully unlocked, overclockable, and will remain cool and quiet with an included AMD Wraith Prism cooler with RGB LED lighting


$

448.00

$549.00
48 new from $447.99
in stock


£

411.72

£599.99
1 used from £407.60
56 new from £409.88
in stock

MORE DEALS