As if Intel's Core I5-13600K wasn't already attractive enough when we first reviewed this chip, it's also received a price cut since our first review, meaning it now sits at just £ inc VAT. Both the Ryzen 7 77OOX and Ryzen 7 7700 cost about the same amount, while the Ryzen 5 7600X costs significantly less and the Core i7-13700K costs £ more, so these three CPUs are very much up against each other at the moment, courtesy of AMD's recent price cuts. Read our INTEL CORE i5-13600K Review.
As well as having a peak stock-speed P-Core frequency of 5.1GHz, which is a 200MHz advantage over its predecessor, we found it could also achieve this frequency over all its P-Cores in multi-threaded workloads, while the peak 3.9GHz E-Core boost clock was being applied over all those cores too.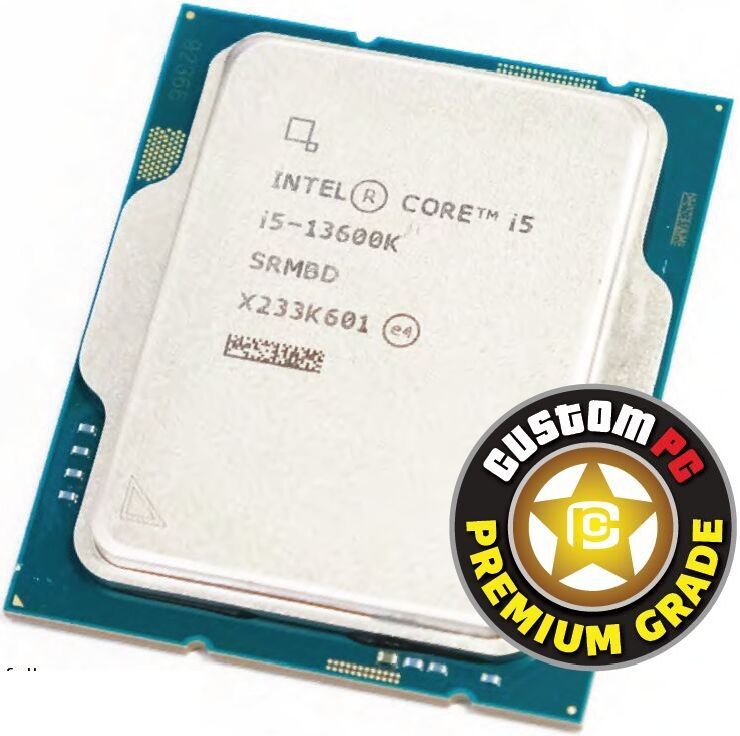 SPEC
| | |
| --- | --- |
| Base frequency | P-Core3.5GHz, E-Core2.6GHz |
| Max boost frequency | P-Core 5.1GHz, E-Core 3.9GHz |
| Core | Raptor Lake |
| Manufacturing process | 10nm (Intel 7) |
| Number of cores | 6 P-Cores, 8 E-Cores, (20 threads) |
| Hyper-Threading | Yes |
| Cache | 24MB L3,20MB L2 |
| Memory controller | Dual-channel DDR4 and DDRS |
| Packaging | LGA1700 |
| Maximum turbo power | 181W |
| Features | Turbo Boost 2, FMA3, F16C, SHA, BMI / BMI1 + BMI2, AVX2, AVX, AES, SSE4a, SSE4, SSSE3, SSE3, SSE2, SSE, MMX |
The Core i5-13600K is also a fullfat Raptor Lake CPU, with 20MB of L2 cache, plus has four more E-Cores than the Core i5-12600K, as well as 4MB of extra L3 cache.
Not only that, but this chip is becoming a favourite among enthusiasts, as its also a decent overclocker, hitting 5.7GHz across all its P-Cores with 1.35V, although temperatures and power consumption do rise as a result. Still, it wasn't particularly hard to cool at stock speed, with our water-cooling system returning temperatures in the mid-70s (°C) under load, showing there's plenty of headroom for using less powerful coolers.
Starting with the RealBench tests, the Core i5-13600K was outdone by all the Ryzen 7000-series CPUs in the image editing test, which stresses lightly threaded performance. However, it came out swinging elsewhere, beating both the Ryzen 7 77OOX and Ryzen 7 7700 in our heavily multi-threaded video encoding test and coming close to matching the more expensive Ryzen 9 7900 too. The system score of 372,186 again beat the two Ryzen 7 chips and satjust below the Ryzen 9 7900's result.
It nearly matched the latter in Cinebench too, and massively outstripped the Ryzen 7 7700X here, offering massively more performance than the Core i5-12600K in the process. It was also fasterthan any of AMD's chips short of the Ryzen 7 5800X3D in Far Cry 6, and only the Ryzen 7 7700X was quicker in Watch Dogs: Legion too.
Once overclocked, it was a convincing win for the Core i5-13600K over the Ryzen 7 7700X, and it even beat the Ryzen 9 7900's stock speed Cinebench score in addition to bettering it in games and image editing. It also beat the similarly priced Ryzen 7 5800X3D in our game benchmarks. On the downside, power consumption was high at stock speed, eclipsing the Ryzen 9 7900X and even the Ryzen 9 7950X once overclocked.
Conclusion
While it might not be the most power-frugal option, the Core i5-13600K is one of the fastest chips available in many tasks, despite its reasonable price tag. Its quick out of the box, matching or bettering AMD's Ryzen 7-series CPUs, and once overclocked, its a monster that punches well above its weight.
The most attractive quality is its versatility. It's good at every task, and rarely far behind more expensive options, fulfilling the remit of a Core i5 chip brilliantly. If you need an affordable gaming CPU, that's also a multithreaded performance beast when you need it, this is the best all-round option.
VERDICT
Editor choice
INTEL CORE i5-13600K Review
Great at stock speed, and even better when overclocked. This is a superb all-round CPU for both gaming and multi-threaded workloads.
PROS
Excellent overclocking potential
Great all-round performance for the cash
Reasonable temperatures
CONS
Can be power-hungry
New AMD chips are faster in some lightly threaded loads
Ryzen 7 5800X3D quicker in some games
Add your review
|
Read reviews and comments
Best INTEL CORE i5-13600K prices ?
$

319.84
1 used from $538.68
46 new from $303.88
in stock


Power up your productivity gaming and content creation with the Intel Core i5-13600K 3.5 GHz 14-Core LGA 1700 Processor. This 13th generation desktop processor builds upon the Hybrid Core architecture and Intel 7 process by fitting 14 cores— four more than the previous generation— onto a single...


£

319.99
63 new from £314.99
in stock

MORE DEALS