Intel Core i7-8086K Limited Edition
Four decades ago, Intel released the 8086 processor, the first CPU to adhere to the x86 design and laying the foundations for the CPU industry as we know it today. It's clearly an important anniversary – even more so than that of the Pentium brand, which celebrated 20 years with the introduction of Intel's Pentium G3258 Anniversary Edition a few years ago – the cheapest overclockable CPU since Intel restricted multiplier-based overclocking to its K-series models. It's now made a similar move, this time at the other end of the mainstream processor market, with its first 5GHz CPU – the Core i7-8086K.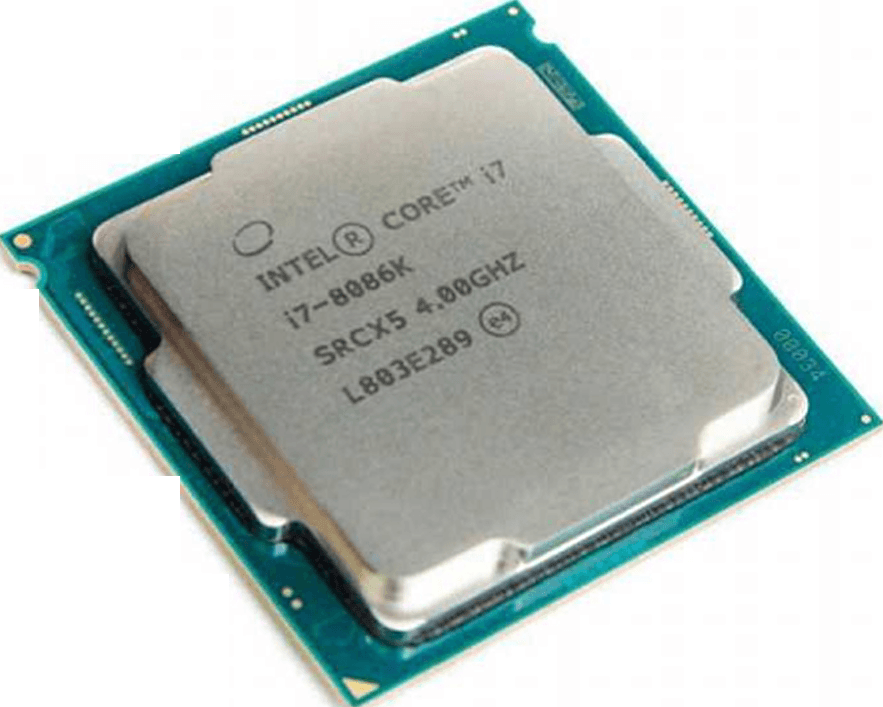 Of course, when Intel says 5GHz. this frequency only refers to its single-core, turbo-boosted limit which has been raised from 4.7GHz with the Core i7-8700K to 5GHz. Nevertheless, it's a welcome 300MHz bump to lightly threaded workloads at stock speed. However, it won't do much for loads that use more than one core, as the frequency limits on these cores match those of the Core i7-8700K. For example, both CPUs hit 4.5GHz in 3-core loads and 4.3GHz when all their six cores are loaded. Both CPUs also sport the same six cores and 12 threads, have the same 95W TDPs, 12MB of L3 cache, 14nm manufacturing process and Coffee Lake core.
The 5GHz figure, then, is more of a headline grabber, although it's certainly a milestone in itself. Combined with the fact that Intel just happened to be in the 8000-series naming scheme at the moment, both factors made it a good time to commemorate the 8086 processor. Of course, while this CPU likely has the highest single-core performance of any desktop CPU at the moment, you'd be silly to buy one if you don't intend to overclock it.
There's a reason for overclockers to be excited by the Core i7-8086K too, as many people suspect that Intel has created it by speed- binning Core i7-8700Ks in order to get that single-core boost to a solid 5GHz. As such, on average, the new CPU could offer more overclocking headroom than the Core i7-8700K. It's unlikely to be a huge amount though, and coupled with the slim gains at stock speed, the biggest draw here is to own a limited-edition CPU and be part of Intel's celebration, as well as potentially owning a future investment for eBay.
However, it's perhaps a dubious investment.
Of course, with the Core i7-8700K snapping at the heels of AMD's 8-core CPUs thanks to its massive overclocking headroom, the Core i7-8086K could also close the gap towards AMD in multi-threaded workloads, despite its 2-core, four-thread deficit, plus Intel already has enviable performance in lightly threaded workloads, including some games. The trouble is the price. The 8086K is a fair bit more expensive than the Core i7-8700K. so it needs to offer substantial overclocking headroom compared with the latter to be worth the extra cash.
Overdocking
We started with overclocking, and plumbed our usual 1.3V vcore into our motherboard's EFI, as this voltage has been enough to find the limits of our Core i7-8700K, while keeping temperatures in check using decent all-in-one liquid coolers. Typical all-core overclock limits for the 8700K range from 4.8GHz to 5.1GHz, with our CPU hitting 5GHz. and thankfully, this frequency was perfectly stable with the Core i7-8086K as well. We then notched up the multiplier by one step to 5.1GHz and again found it passed all our benchmarks and a run in Prime95's small test. However, pushing the frequency to 5.2GHz proved a step too far. prompting Cinebench to crash, even if we increased the voltage by another 0.02V to 1.32 V, which saw the CPU temperature approach 90'C.
Performance
The boost to the stock-speed, single-core frequency from 4.7GHz to 5GHz did have an impact in some benchmarks, with our image editing test score rising from 59,108 with the
It's a welcome 300MHz bump to lightly threaded workloads
SPECIFICATIONS
Base frequency 4GHz Max boost frequency 5GHz Core Coffee Lake
Manufacturing process 14nm
Number of cores 6 x physical (12 threads) Hyper-Threading Yes Cache 12MB L3 cache, 1.5MB MB L2 cache
Memory controller Dual- channel DDR4, up to 2666MHz
Packaging LGA 1151-V2 (Coffee Lake)
Thermal design power (TDP) 95W
Features Turbo Boost 2.0. FMA3, F16C, SHA, BMI/ BMI1 + BMI2, AVX-512, AVX2, AVX, AES, SSE4a,  SSE4, SSSE3, SSE3, SSE2, SSE, MMX
Core i7-8700K to 65.490 with the Core i7-8086K. There was a 2.000-point boost to the multi-tasking score too. with both results leading to a system score increase from 181,892 to 183,238.
However, this figure is still a long way from the 201,613 scored by AMD's Ryzen 7 2700X. The extra stock speed single-core boost frequency had little impact elsewhere, though, with Ashes of the Singularity's frame rate not budging, and the difference in our heavily multi-threaded video encoding test was minimal.
On the plus side, the 8086K's ability to hit 5.1GHz on all cores did mean that despite the difference being a paltry 100MHz over the 8700K, the Core i7-8086K extended its lead over its sibling and even managed to beat the Ryzen 7 2700X's system score when overclocked. That's a feat that the Core i7-8700K couldn't manage, although the cheaper AMD CPU was still much faster in the video encoding test.
Conclusion
Intel's Pentium G3258 Anniversary Edition gave budding overclockers who couldn't afford a quad-core K-series CPU a chance to get into the overclocking scene. The fact that it was also very overclockable meant that, for most tasks back in 2014. it was a great buy for enthusiasts on a budget. It was absolutely right for Intel to celebrate the anniversary of the 8086 processor and we applaud it for making the effort to do so, but sadly, the Core i7-8086K isn't a classic limited edition in the same way as the Pentium G3258.
Not only is it aimed at the higher end of the market, but it's also not worth the extra cash compared with the Core i7-8700K. Apart from a slightly tweaked single-core boost to reach 5GHz. which only has a limited impact on performance, plus the promise of slightly higher overclocks, it's otherwise a purely nostalgic addition to Intel's line-up.
ANTONY LEATHER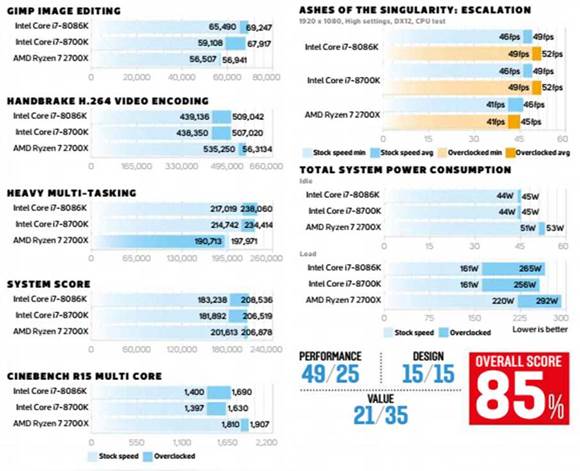 VERDICT
A worthy nod to the past, but it's not a classic.