Up to this point, M.2 SSDs have tended to be in one of two categories: expensive NVMe models or cheaper SATA ones. The WD Blue SN500, though, is a genuine halfway house. It offers a meaningful upgrade over SATA drives but is only a little more expensive.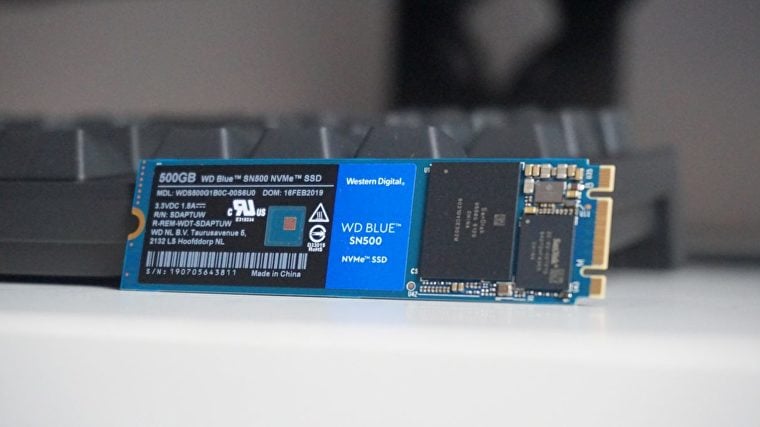 This 500GB version offers sequential read speeds of up to 1,700MB/sec, which certainly isn't breaking any records, but is still over three times faster than a SATA drive. Meanwhile, its sequential write speed is rated at a far more impressive 1,450MB/sec – plenty of more expensive drives don't offer much more – and its random performance is equally good, rated at 275K lOPs for reads and 300K lOPs for writes.
The big downside is that the SN500 range tops out at just 500GB, with a 250GBmodel also available (with the same claimed sequential read speed buta slightly slower 1,300MB/ sec write speed), so anyone requiring a larger drive won't have access to the same great price/performance balance.
Western Digital hasn't scrimped on the endurance rating of these drives either. The 250GB model is rated to 150 total terabytes written (TBW) while the 500GB version is rated to 300 TBW, both of which are typical for drives this size. A five- year warranty is likewise to be expected.
As with most M.2 SSDs, the drive is physically a tiny PCB with some chips on it, although the number of chips is astonishingly low. There are just two of note: the larger module that's a single stack of 64-layer SanDisk3D TLC NAND, and the smaller controller module, which is an in-house WD design. The rest of the PCB is left to stickers and other bumf – a shorter 42mm version of the drive will also be available.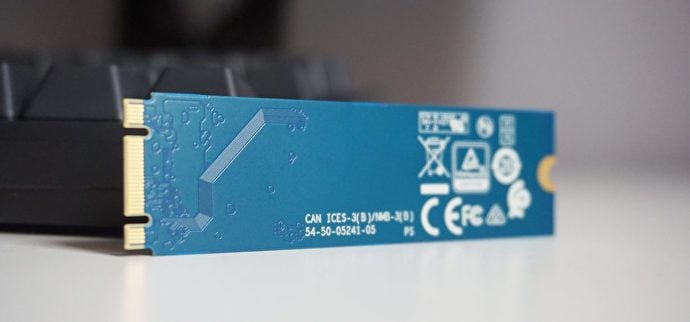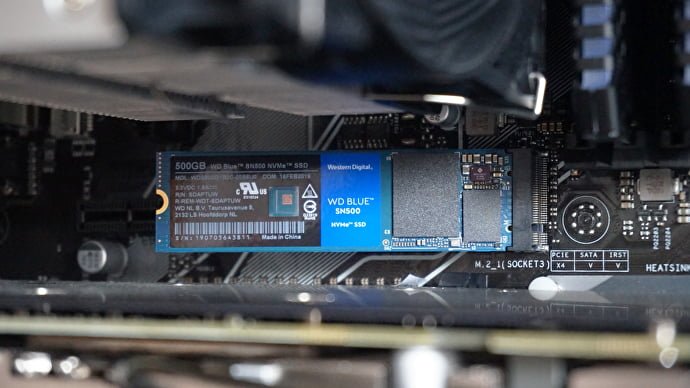 This sparsity of components can in part be explained by the density that NAND manufacturers can now achieve, along with the relatively small capacity of these drives, but it's also down to what WD has cut from these drives. Most obviously, there's the lack of DRAM, with WD completely removing the 1GB module used on its higher-end drives. There's still some memory inside WD's controller, but the company hasn't revealed how much it uses.
WD has also halved the number of lanes between the controller and the NAND, moving from a four-lane to a two-lane design. The upshot is performance that's notably behind higher-end NVMe drives in more ways than just the headline sequential and random speeds. It's unlikely the drive will be slower than any SATA ones, but it's not going to be suited to seriously heavy workloads either.
All of which brings us to our testing, where the WD Blue SN500 delivered just the performance we expected. In CrystalDiskMark, it hit its rated sequential read and write speeds almost exactly. It was similarly exacting in its random read speed performance, though random write speeds were a little below the expected 300K IOPs figure.
In PCMark 8's storage test, this drive's total bandwidth rating was also in the expected ballpark. Faster NVMe drives hold a clear lead, but the SN500 is well ahead of SATA models. The only fly in the ointment is that you only need to spend a little more money to get a notably faster drive. The 480GB Corsair MP510, for instance, is just £14 (20 per cent) more expensive yet has nearly double the performance.
Conclusion
The WD Blue SN500 is an ideal SSD upgrade for people who don't require a particularly large or blisteringly fast boot drive. It's cheap and its performance offers a solid upgrade over SATA drives while not breaking the bank. It's certainly not the fastest drive going, but it's great for the money.
EDWARD CHESTER
PERFORMANCE 36/50
FEATURES 16/20
VALUE 30/30
OVERALL SCORE 82
VERDICT
Best price
WD Blue SN500 NVMe 500GB Review
We have a new budget M.2 SSD king, even if it isn't going to break any performance records.
Add your review
Best WD Blue SN500 NVMe 500GB prices ?

$

154.90
1 new from $154.90
in stock


£

224.38
1 new from £224.38
in stock

MORE DEALS