VMware Workstation 14.1.3 vs VirtualBox 5.2.18
Does the dosed source proprietary app offer any real advantage over its open source peer?
Specs VMWARE WORKSTATION
CPU: 1.3GHz, 64-bit RAM: 2GB, 4GB recommended Storage: 1.2GB Available from www.vmware.com
Specs VIRTUALBOX
CPU: 32-bit or 64-bit with SSE2 support RAM: 512MB Storage: 30MB Available From www.virtualbox.org
VMware Workstation is the company's flagship desktop virtualisation brand and includes Workstation Player and Workstation Pro. You can use the feature-limited VMware Workstation Player for free for non-commercial use, while the full-featured Workstation Pro is available. Workstation Player uses the same closed source hypervisor technology platform as Workstation Pro. Despite the price difference both products receive the same performance updates, bug fixes and updated support for new hardware and OS support.
You may also like:
Both Workstation products include all the basic features you'd expect from a desktop virtualisation product. They support over 200 guest OSes, including the Windows 10 Spring Creators Update and Ubuntu 18.04, as both guest and host. Workstation Player enables you to share files between the host and guest and run the VMs in different view modes. Once you've installed the VMware Tools extensions inside a VM, it will support DX10 and OpenGL 3.3. The VMs also support USB 3.0 devices and 4K displays along with a wide range of virtual devices.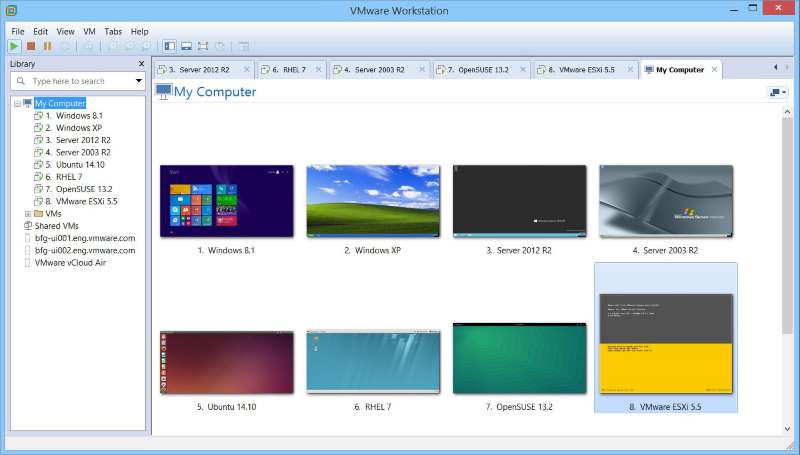 Above You can run VMware Workstation Pro as a server so that you can share VMs with other users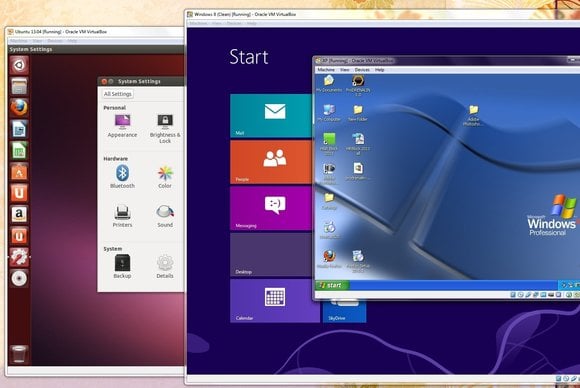 Above Both Workstation apps enable you to create VMs with up to 16 CPUs and 64GB of RAM
On the Linux desktop, the VMware products compete with VirtualBox. Of the two, Workstation Player doesn't offer enough to stand up to the functionality offered by VirtualBox. For instance, you can't create encrypted VMs in Player, while you can in VirtualBox. Similarly, Player doesn't enable you to run multiple VMs at once, which again isn't an issue with VirtualBox.
More importantly, useful features such as snapshots and cloning that are part of VirtualBox are only available in Workstation Pro. Also, while you can control VirtualBox from the VBoxManage command-line interface, the ability to control Workstation with its CLI isn't available to users of the free Player.
Besides their costs, the other major difference between the Workstation bundle and VirtualBox is that the latter is open source, for the most part. Some of VirtualBox's useful functions – such as disk image encryption, support for USB 3.0 devices and bi-directional sharing between the guest and the host – do require the proprietary Extension Pack add-on. While home users can use this for free, commercial VirtualBox deployments need to purchase a licence to use it.
Use a third- party web-based interface to control VirtualBox on a headless server. You can easily test network software such as firewalls and gateways by deploying them inside VirtualBox
The ability to control Workstation with its CLI isn't available to users of the free Player, unlike VirtualBox
On the enterprise front, Workstation Pro does have an upper hand when it comes to interoperating with other enterprise-specific components, particularly those from VMware. That's mostly down to the fact that while Workstation has been reared for the enterprise desktop, VirtualBox is primarily designed for the everyday desktop user, with features that also make sense in a commercial deployment.
VirtualBox ships with features that make it a viable option for small data centres and an ideal platform to test server deployments, upgrades, and other things before physical rollout. For instance, while VirtualBox VMs are isolated from the network by default, you can run a server inside a VM and set up port forwarding to make sure the server is reachable from outside. Like Workstation Pro, it also includes a network editor tool that enables you to create complex network configurations. VirtualBox also has useful storage emulation features such as NCQ acceleration for raw disks, SSD pass-through and controllers for PATA, SAS and iSCSI disks.
Another interesting difference between the Workstation bundle and VirtualBox is the number of Windows-only features in each. Here too the Workstation bundle outscores VirtualBox, with features such as virtualisation-based security available exclusively for Windows 10 and Windows Server guests. Even some of Workstation's best desktop-centric features, such as Easy Install, are only available to a handful of Linux guests.
That's not to say VirtualBox is without faults. One of its biggest criticisms is the proprietary nature of its extensions add-on. Another prominent limitation is its inability to assign more that 128MB of video memory to guests.
Mayank Sharma
VMware Workstation Pros
Works with a range of physical and virtual devices on a wide variety of host and guest operating systems.
The prohibitive cost of Workstation Pro, and the lack of several marquee features in the free Workstation Player.
Virtualbox
An impressive list of features for both desktop and advanced users, masked behind an intuitive interface.
Some useful features require the proprietary add-on, and there's limited support for guests outside of Windows and Linux.
Summary
VMware Workstation has the potential to serve admins well in a commercial setting depending on an enterprise's virtualisation requirements and needs. It's a different story on the desktop front where VirtualBox's rich feature-set means it's a much better option than Workstation Player, obliterating the competition.
VMware Workstation 6/10
VirtualBox 9/10