Panda Adaptive Defense 360
Panda's cloud-based security service combines smart client software with an excellent web console
SCORE 5/5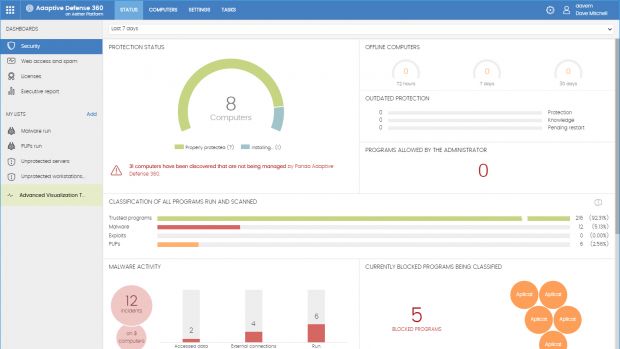 ABOVE Any infected clients can be quickly isolated from the LAN
When we first tested Panda's cloud-based Adaptive Defense 360 (AD360) last year, we were bowled over by the breadth of security measures on offer. Since then, remarkably, Panda has updated the package with even more features, and some welcome enhancements to the cloud portal.
To get started, you simply need to install the endpoint client onto your Windows, Linux, macOS and Android devices. You can do this by hand if you wish, but the new discovery tool makes things much easier, allowing you to simply scan the network and push the agent directly onto discovered devices.
At the core of AD360 are all the security services you'd expect, including file, web and email antivirus, a firewall and Exchange antispam. On Windows clients you can also manage permissions for all sorts of removable media, plus Bluetooth, image capture and modem devices. Panda's web filtering controls manwhile let you control access to over 60 URL categories.
It's all managed from an updated web dashboard, which helpfully gives you more information on endpoints than before, including details of trusted apps, malware detections and other events in a convenient timeline format. Access controls are more flexible too: there are now multiple types of admin role available, allowing you to define what each user can access in the console.
Elsewhere, updated group management options make it easy to tweak settings and profiles for a specific set of clients. Previously, only one security profile could be assigned to a group, but now you can have up to five for controlling proxies, endpoint security settings and Android devices.
One enhancement we particularly like is Panda's complementary app restriction policies. In "hardening" mode, the software steps in when users try to install new apps from external sources: the suspect package is uploaded to the cloud, where a barrage of tests is run to decide whether or not it should be allowed to install. The stricter "Lock" mode prevents all unknown apps from running until AD360 has deemed them to be safe.
On the alerting front, there are now more event trigger types than before, and response times are more or less instant – a big improvement on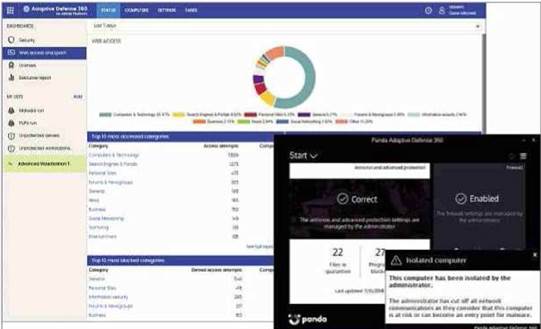 "AD360 automatically isolates infected systems from the local network to ensure the malware can't spread"
the 15-minute wait in the previous version. As a test, we tried deliberately introducing malware onto some clients, and found it took just 10 seconds for the web console to flag up a detection alert, with email alerts landing in our inbox a minute later.
What's more, AD360 now doesn't just warn you when a machine is compromised. It automatically isolates the infected system from the local network to ensure the malware can't spread, leaving only the AD360 services unblocked. This too is very fast: our test machine was locked down within five seconds.
As well as scanning for viruses, AD360 can also search clients for personally identifiable information. This helps you quickly discover what information is stored where, and expose any rogue datastores – a potentially invaluable tool when it comes to ensuring GDPR compliance.
As a final bonus, AD360 can even generate a hardware and software inventory of your Windows, Linux and macOS clients, including real-time CPU, memory and disk usage graphs. It might not be a replacement for a full-scale audit, but it's a very convenient way to get an overview of resource usage on your network, with custom filters to help you focus in on what's important.
If AD360 hadn't changed since last year's release, we'd still recommend it – so it's amazing to see how much more Panda has managed to pack in. Best of all, the price hasn't gone up at all, making this a clear first choice for any small business looking for a cloud-based security solution.
REQUIREMENTS
Windows 7/Server 2008 upwards • Linux • macOS • Android
LEFT The updated dashboard is loaded with information and useful controls