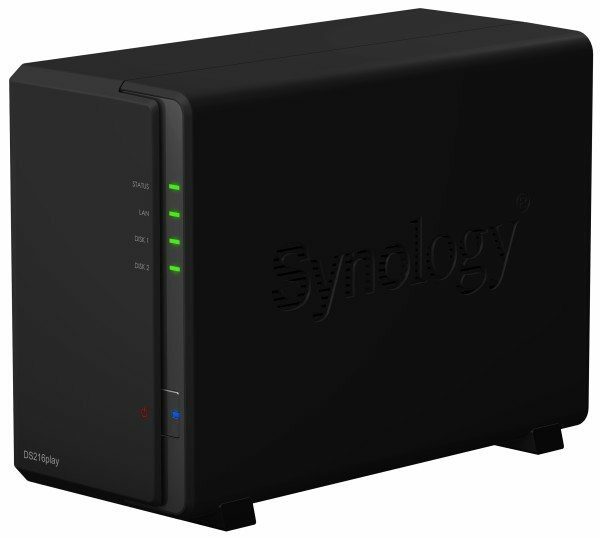 Synology's new 'Play' brings even more decoding options to those that need them
Synology first launched a 'Play' model back in their x14 series, it was a dual drive NAS box that used the Intel Atom CE5335mm – the same chip that ended up in its four-drive DS415Play a year later.
Their new DS216Play goes back to the dual drive format, but ditches the Intel chip for a pure ARM SoC, in the form of the STM STiH412. That's a very impressive piece of silicon, and here Synology gave it 1GB of DDR3 to help run the dual drive enclosure, which can take up to 16TB of storage when loaded with 8TB drives. An early disappointment with this design, though, is the lowered build quality. The DS216Play borrows from the simple construction of the 'J' and 'SE' lines, foregoing the tool free installation used in the DS214Play predecessor. What's more, those ideas you had about upgrading the RAM are toast, because the DDR3 is not socketed, sadly. My only other hardware-related moan is that Synology only gave the DS216Play two USB ports, of which only one is USB 3.0. That's not enough, I'd suggest. What's good here, however, is how quick the DS216Play is to set up once the drives are installed. The system defaults to its own Hybrid NAS layout that is effectively RAID 1 with two mechanisms. Synology quote 107MB/s reading and 91MB/s writing, though I never got quite that high for reading while using the dual Western Digital 2TB Reds we employed for the purposes of this review. However, compared with cheaper NAS boxes it is very rapid and ideal for the majority of home users. What's critical to understand about this hardware is that it isn't a general purpose NAS box. Yet it performs all the same duties that all dual drive Synology NAS offer through the impressive array of installable software modules. The designers used the STM STiH412 to power this unit because it was built with a specific purpose: to provide real time transcoding of up to 4K video in real time. The chip might only have dual cores running at 1.5GHz, but the hardware decoding/transcoding engine can handle H.265 (HEVC), MPEG-4 Part 2, MPEG-2, VC-1, with a maximum resolution of 3840 x 2160 at 30 fps. Okay, there are some limitations, such as the fact it can only decode one 4K stream at a time – though it can work three 1080p resolution ones simultaneously. Where some users might get moderately confused, however, is that it doesn't transcode for DLNA connected devices. It will do it very nicely for those that are using a web interface or one of Synology's mobile apps, however. More of an issue are the two significant flaws I've noticed in all of this functionality, one of which – DTS audio – has been a bugbear for a while.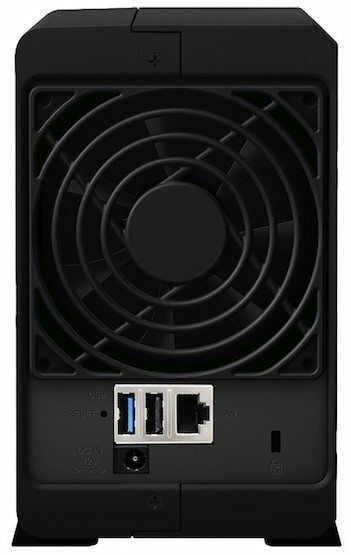 I don't want to get into the ethics of movie copies, but many people have made or acquired copies of Blu-ray media that includes DTS or Dolby Audio tracks. There was a previous time that DTS audio worked through Video Station, but Synology decided not to license it, and since then unless your player can handle DTS you won't get any sound. Not even stereo. That's not a problem if you are using DLNA to a device with DTS support, like the WD TV Live, but it won't generally work streaming to a mobile phone. The other issue is the lack of support for HEVC Main10 standard. As this might become the codec of choice in years to come, that could be a problem. Regrettably, it can't handle 10-bit deep h.264 or h.265 either. The only advice I can reasonably give here is that you should make sure that this will work with the hardware and media you've got before investing. In the right circumstances, the DS216Play is an unassuming box that can do some remarkable video tricks. You can even plug a USB TV decoder, like the DVBLink TV Server, and turn the DS216Play into a full blown PVR, and for those with an Apple TV, Roku, Chromecast or Samsung Smart TV, you're well supported for video and audio streaming. The DS216Play is essentially a very impressive technical achievement that is keenly priced for its capabilities. However, for serious video enthusiasts there are some wrinkles that need to be ironed out for it to win their approval. Mark Pickavance
A fast NAS box with a special video transcoding CPU.
CPU Frequency: Dual Core 1.5GHz
Hardware Transcoding Engine: H.265 (HEVC), MPEG-4 Part 2, MPEG-2, VC-1
Maximum resolution: 4K (3840 x 2160), Max FPS: 30
Compatible Drive Types: 3.5″ SATA III / SATA II HDD, 2.5″ / SATA III / SATA II HDD, 2.5″ SATA III / SATA II SSD
Maximum Capacity: 16 TB (8 TB HDD X 2) (Capacity may vary by RAID types)Maximum Single Volume Size: 16 TB
External Ports: 1x USB 2.0 Port, 1x USB 3.0 Port
Size (Height X Width X Depth): 165 mm X 100 mm X 225.5 mm.