While most networks can benefit from the addition of a network attached storage (NAS) device, not every home will get enough use to justify the cost – one increasingly popular NAS use for the home, though, is for storing and serving up media collections to all your devices. Read our Synology DiskStation DS418play Review.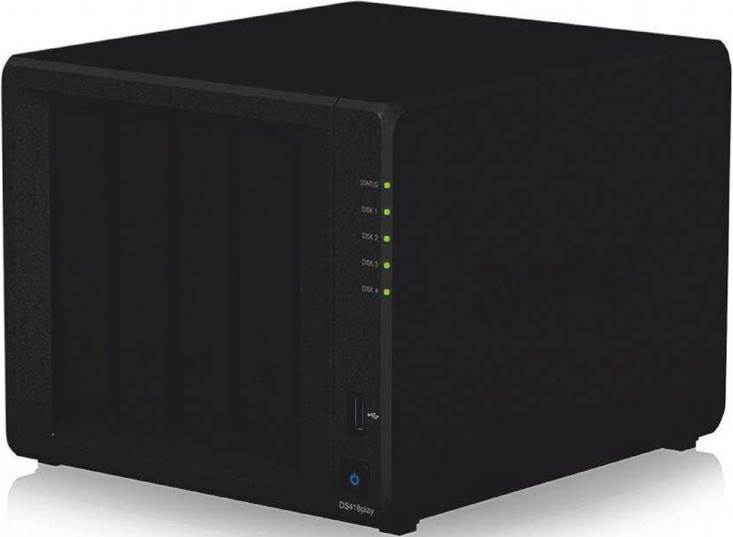 This could mean running a Plex media server to stream content to a TV, phone, tablet or PC. In the past, if you wanted to stream 4K content it meant using an actual PC as a server. But NAS boxes like the DS418play are powerful enough to handle such duties. It enables you to store huge amounts of video and photos, and stream them to any device on your network. It also provides an extra backup option, with other functionality built in.
That said, when you combine this enclosure with several NAS drives, it is an expensive network upgrade, so weigh up the pros and cons before you decide to buy.
Synology DiskStation DS418play Review: Price and availability
The DS418play is typically sold diskless, allowing you to install the specific drives you desire. However, you can buy the DS418play with drives preinstalled from some retailers, although this is often a much more expensive option than installing drives yourself.
The diskless DS418play is sold in just one variant, with 2GB of RAM, but includes an empty RAM slot that enables you to add an extra 4GB (which we'd recommend). We also recommend you use dedicated NAS hard drives – a single 4TB Seagate Ironwolf Pro drive, and you'll want at least two to start.
Synology DiskStation DS418play Review: Design and features
The DS418play is built around an Intel Celeron J3355 dual-core CPU, which can burst up to 2.5GHz. While the CPU technically includes Intel Graphics, there are no HDMI outputs. Around the back, though, you'll find dual Gigabit LAN ports, which support link aggregation and failover. Link aggregation is handy, because with the right network setup, you can double the available bandwidth. The DS418play also has two USB 3.0 ports (one front, one back) for external storage devices.
The four drive bays are tool-less and hot swappable, and can handle both 2.5-inch and 3.5-inch drives of up to 12TB each, giving you a total of 48TB of storage. The DS418play also supports Btrfs and EXT4 file systems, as well as hardware-based AES-NI encryption, and doesn't lose any appreciable performance with this switched on.
While the DS418play has decent ventilation, the dual fans can be noisy under load. There is an option to run them in quiet mode, though.
Synology DiskStation DS418play Review: Setup and software
Getting the DS418play up and running is easy – slot in some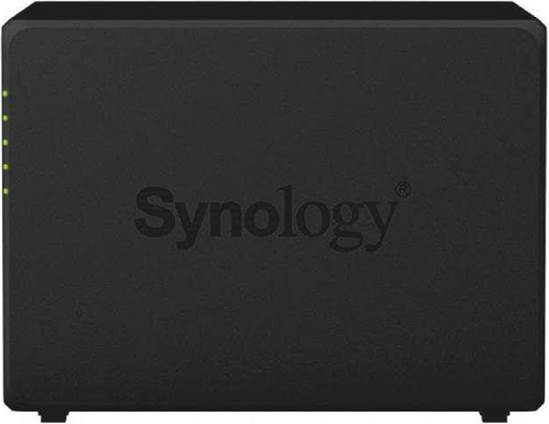 drives, plug it in to power and your network, and point your browser at http://find.synology.com.
If it's connected to the Internet, the DS418play will probably want to download a system update during setup. These initial steps also prompt you to choose your RAID type, including the Synology hybrid RAID system, which optimises for storage capacity while delivering solid redundancy.
The Synology NAS operating system is well laid-out and easy to use. Having a great interface makes
The DS418play can adjust the resolution of that video – for example, transcoding 4K to 1080p
it easier to get all the different features set up and running. There are also a huge number of apps that can be downloaded and run on the NAS. And the DS418play can also back up your PCs and mobile devices, can record footage from networked security cameras, act as a personal cloud, and so on.
While the web interface is an excellent way to manage the NAS, Synology offers apps for mobile devices, too. Rather than putting all the functionality into a single app, there are over ten separate ones that cover everything from file management to taking notes. While it can be annoying to have separate apps for videos, music and photos, doing so does mean you only have to grab what you need.
Synology DiskStation DS418play Review: Multimedia capabilities
The key features of the DS418play all revolve around handling media. Most importantly, the device has the ability to transcode two 4K video streams at the same time. Why is transcoding important? On a NAS without it, streamed media is sent to the playback device (be that a TV, PC or smartphone) which then decodes it and plays the content. The problem (especially with older TVs and lower-end smartphones) is that some devices won't be able to play specific codecs, or will play them poorly. Additionally, only recent TVs and smartphones can play back 4K, and not always well.
With transcoding, the NAS itself handles the codec support, and re-encodes (or transcodes) video content in a format the playback device can handle. For example, if you shoot a 4K video on your smartphone and store it on your NAS, your TV might not be able to play it back. The DS418play can adjust the resolution of that video to suit the playback device – for example, transcoding 4K to 1080p. This also helps avoid any scaling issues, and can reduce network bandwidth use, too.
The DS418play also supports the Plex media server, which is used by loads of media players and smart
Synology DiskStation DS418play Review: Specifications
Processor Dual-core Intel Celeron J3355 RAM 2GB (upgradeable to 6GB)
Drive bays 4x 3.5-inch/2.5-inch (hot swappable)
Max capacity 48TB (4x 12TB)
Connectivity 2x RJ-45 1GbE LAN ports; 2x USB 3.0 ports (1x front, 1x rear) Hardware storage encryption Yes Hardware encoding Yes, up to 4K (4,096×2,160 pixels)
Weight 2.23 kg Size 166x199x223mm
TVs, and delivers an excellent, Netflix-style interface.
Synology DiskStation DS418play Review: Performance
We tested the Synology DS418play equipped with 2GB of RAM, using 4x Seagate IronWolf Pro HDDs, and running Synology's hybrid RAID. To emulate a typical network, we used a Gigabit Ethernet LAN, with connections running to the NAS, a desktop PC and a smart TV.
With a full load of four drives, the throughput is mostly limited by the network connection. That won't be a problem for most typical users, as even two 4K streams won't saturate the available bandwidth. That said, having the option to aggregate the two network ports is great.
The DS418play performed well, and had no issues streaming media to multiple devices at once. Transcoding worked flawlessly, too, although get Plex up and running was fiddly. The DS418play happily maxed out our network with large file transfers, at 108.5MB/s (read) and 109.2MB/s (write).
Synology DiskStation DS418play Review: Verdict
Synology DiskStation DS418play Review
The Synology DS418play is highly geared towards 4K media but omits related functionality such as an HDMI port. Given that limitation, you might expect it to be cheaper, especially since it faces stiff competition from its rivals. Still, if you want a premium media-serving experience, the DS418play is good value on the whole. The DS418play combines a bevy of useful features to create a very capable multimedia NAS.
Add your review
Best Synology DiskStation DS418play prices ?

$

1,659.00
1 new from $1,659.00
in stock

MORE DEALS