We couldn't do a group test of external hard drives without at least one appearance from Western Digital. The company seems to release a new external drive model every ten minutes, and it's quite a chore trying to keep up with what's new. More to the fact, the previous models are generally of such a decent build that they're still around and being sold despite being released some years ago.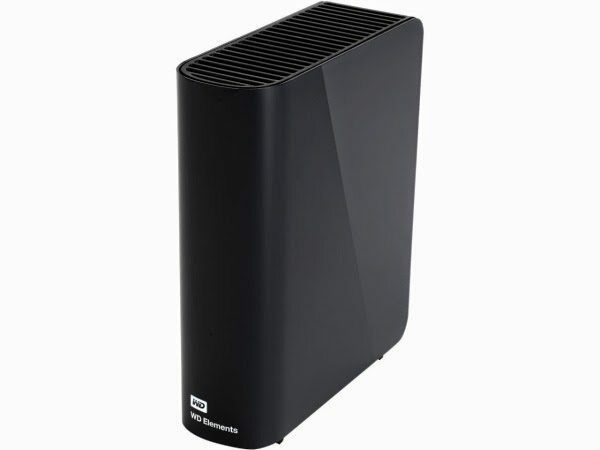 The WD Elements Desktop line has been around for quite some time and ranges in size from 500GB through to a whopping 5TB, which is what we're reviewing in this instance. This is a usual WD-looking product, one that resembles a book on a shelf and is about as big as a novel, measuring 165 x 48 x 135mm.
The obvious selling factor here is the extremely large capacity. 5TB is a huge amount of space, even in today's age of super-high-resolution photo collections and video libraries that would rival that of a Blockbuster store, not to mention most people's music collections.
Accessing and writing to that space is thankfully a blessing, mostly due to the USB 3.0 connectivity, but also because this is a WD unit and is therefore a brand you can happily rely on. In our tests, the 1GB file we used was written to the drive at a measured rate of 101MB per second and read at an equally good 135MB per second.
In terms of software, WD has included a trial version of SmartWare Pro on the preformatted partition. SmartWare Pro is a WD product, so it's really quite good. With it you can set up various backup methods (including a cloud backup to Dropbox) and recover files and folders within seconds thanks to the friendly interface and easy setup. However, you only get 30 days' use of the software before you have to buy the full version. But at least by then you'll be certain as to whether you want it rather than a third-party product.
The WD Elements 5TB external hard drive is a great solution for most people, regardless of whether they're home or business users. The amount of storage is pretty spectacular, and the design looks okay too. Transfer speeds aren't the fastest, but they're more than enough for regular backups or if you're in a rush to get a copy of something saved.
It's a pity the SmartWare Pro software is only a trial version, because you would think WD has made enough profit from the sale of unit. Maybe it hasn't? Either way, the drive itself is certainly good enough for us to recommend.It is a tad expensive, though. It's not something you'd get on a whim. We imagine that the cost is more to do with the 5TB drive capacity, so if you want the same specification, more or less, and you don't need quite that much space, then the 2TB, 3TB or 4TB models will suit you better.
See also: Western Digital My Passport 4TB Review