Despite a relentless upgrade schedule a few years ago, we haven't seen a new entry-level two-bay NAS from Synology for a while. The DS218j was the last NAS from the company we reviewed, which was released in early 2018. it's still a fantastic NAS and noticeably quicker than the DS216j in a couple of tests, although they shared a very similar specification. The DS218j also has a fair bit in common with its new successor, the DS220j, which we're reviewing here.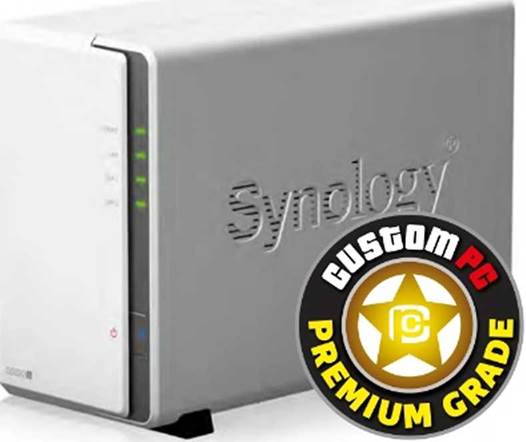 The new model still has 512MB of RAM, which is perhaps a bit on the small side for heavy users wishing to simultaneously dish out 4K video while dealing with multiple surveillance streams. This is the reason why most four-bay models have at least 1GB of RAM. On the plus side, the DS220j also sees Synology moving from DDR3 to DDR4, so there is at least an upgrade in memory bandwidth.
However, that's not the most significant change to its popular J -series two bay NAS. The big one is that CPU now has four cores, stepping up from the Marvell Annada 385 88F6820 32-bit dual-core CPU in the DS218j to an ARM-based Realtek RTD1296 quad-core 1.4GHz CPU. which is also 64-bit.
The DS220j is otherwise practically identical to the DS218j There are two rear USB 3 ports, which can accommodate USB storage, or even USB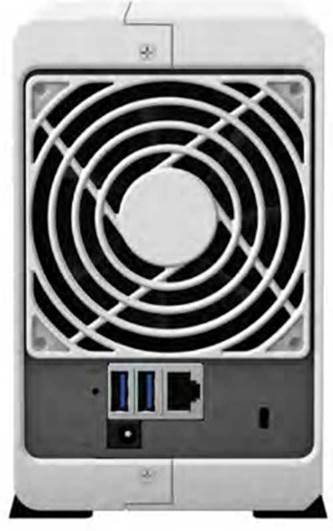 speakers, making use of the on-board Audio Station app. These ports can also be used to connect Wi-Fi dongles for storing the NAS in places without a wired Internet connection.
The front of the NAS is devoid of ports too, with just a power button and indicator lights. Inside, you'll find the usual quiet 92mm fan and anti-vibration hard disk mounts, with a couple of screws securing the slide – off case, with only slight clicks audible from the hard disks inside.
The NAS also supports Synology's latest DSM 6.2 operating system, which is blissfully easy to use and set up from the start. We can confirm that, despite using a new CPU, the DS220j does already support Plex Media Server, which can often be a sticking point with new NAS models. There's Logitech and iTunes media server support too. and the operating system can provide Synology's own photo, video, audio and surveillance servers too.
Meanwhile, the ability to create a Dropbox- like personal cloud is one of Synology's trump cards, and you can also synchronise your actual cloud storage services such as Dropbox and Google Drive with your NAS, potentially saving storage space on your PC Sadly, there's no on-board video transcoding support – you'll need to step up to more expensive models for that feature.
In terms of performance, we saw a peak read speed in the quad HD video stream playback test of 114MB/sec, which was nearly 25MB/sec quicker than the with the DS218j. The file directory read speed of 19MB/sec was a touch slower than the 23MB/sec we saw with the old model, but the write speed of 24MB/sec was more than double the 11.6MB/sec we saw with the DS218j
Conclusion
With a quad-core 64-bit CPU at the helm, the DS220j feels snappier, especially when flitting through its operating system while carrying out other tasks, which bodes well if you're a moderate to heavy NAS user. The comparatively low amount of memory may limit some very demanding users, but the DS220j is still an entry-level NAS.
Indeed, the DS220j offers excellent value for a two-bay NAS with this feature set, and it has a wealth of tools at its disposal to back up and dish out your data.
ANTONY LEATHER
VERDICT
Editor choice
Synology Ds220j review
A big CPU upgrade makes Synology's already solid design feel snappier, making for a great-value two-bay NAS.
PROS
Quad-core CPU
Simple setup
Excellent array of apps
CONS
No other major upgrades
No on-board video transcoding
RAM amount may hinder some tasks
Add your review
Best Synology Ds220j prices ?
MORE DEALS