Mark investigates if the DS215+ is the fastest small NAS box yet?
Synology's number versioning isn't as easy as it once was, since it stopped releasing a baseline year model and then the budget and performance derivatives above and below it.
Therefore, with the DS215 range there is no Value Series model, just the budget J Series DS215j and, reviewed here, the DS215+.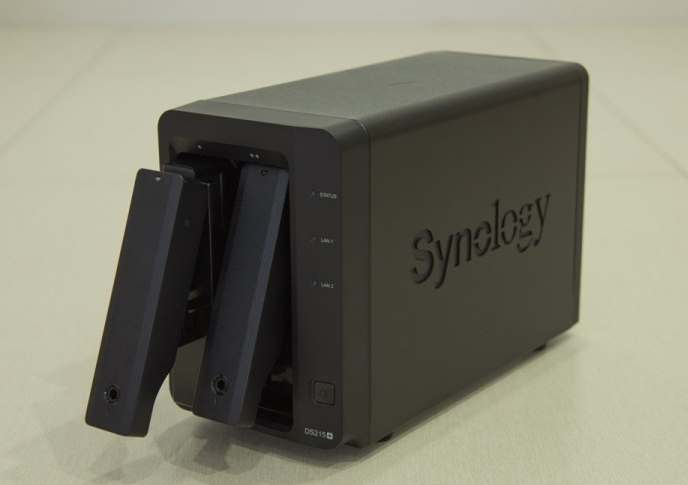 The equivalent Value Series machines are the DS214 and DS214Play, and this is a different beast to those other dual-drive NAS solutions.
At the heart of this unit is the Annapurna Labs Alpine AL-212 processor, a 1.4GHz dual-core ARM Cortex-A15 SoC that has built-in RAID functionality.
As this is only a dual-drive NAS box, it can't really do both redundancy and performance striping, but combined with the 1GB of RAM, there's plenty of performance to push two SATA mechanisms, with a maximum of 16TB of total capacity based on the largest SATA drives currently available.
Externally there's an eSATA port and two USB 3.0 ports, so it's possible to expand the storage further through external storage if you need that.
For those unfamiliar with Synology's DSM operating system, this is the veritable Rolls-Royce of embedded NAS solutions that now has a vast collection of installable applications.
Using these, you can use the DS215+ for a widest range of tasks – everything from being a firewall to a mail server, or even a surveillance camera image/video repository.
It's customisable in a way that others just dream about.
The functionality here goes well beyond anything that Western Digital, Netgear or Seagate has at this time, and pricing of Synology hardware reflects that premium market position.
What's fascinating about the DS215+ is that while the traditional market for dual-drive NAS is the home, this hardware seems better orientated towards a small business.
Supporting that view is the inclusion of dual LAN ports that can be aggregated using a channel-bonding Ethernet switch.
They can also be used in a failover mode, building resilience into the network infrastructure.
Typically, home users just won't use this type of technology or have the demands that necessitate it. But in this kit, it's exactly the key that unlocks some amazing performance.
For my testing I used two 2TB Western Digital Reds inside the enclosure and
DDS215+ Specifications
CPU Model: Annapurna Labs Alpine AL-212 dual-core 1.4GHz
System Memory: 1 GB DDR3
Drive Bay(s): x2 SATA (either 2.5″ or 3.5″)
Maximum Internal Raw Capacity: 16TB (8 TB HDD X 2)
External Ports: 2x USB 3.0 Port, 1x eSATA port
Size: 157 x 103.5 x 232 mm
Weight 1.69kg
LAN: 1GbE LAN port x2 (with Link Aggregation / Failover support)
Wake On LAN/WAN: Yes
System Fan: 92mm
Power Consumption: 20.77 W (Access), 8.96 W (HDD hibernation)
Warranty: Two years
It's probably the best dual-drive NAS box available today
configured them in Synology hybrid RAID mode, and then accessed it using both CIF and iSCSI connectivity over my internal wired network.
Unfortunately, I don't have link aggregation at either the switch or the PC end, so I was forced to watch it entirely max out my single gigabit link.
Under CIF, it managed 90.4 MB/s reads and 108 MB/s writes, and under iSCSI it really topped out available bandwidth at 112.7 MB/s reads and 115.9 MB/s writes.
Read is normally quicker than writes, so I can only conclude that Synology configured the RAM to better service that side of the operation in this system.
Those are really excellent numbers, and Synology claims that if you've got aggregation of the two LAN ports, it will deliver 209MB/S reading and 139 MB/S writing speed under a RAID 1 drive layout.
Given the numbers I achieved on a single gigabit line, I've no qualms accepting these as wholly realistic numbers.
It's hard to be critical of such a small yet powerful design, though I think that with such power, more USB ports should have need included.
If one is used for a backup and another to control a uninterruptible PSU, you've got none left. And at this time, Synology doesn't support USB hubs.
Other than that, the only other caveat is the price, which is a good bit more than even its excellent DS214Play. Once you've put some decent drives in here, depending on how much space you want.
For business buyers, I'd strongly suggest they consider spending the extra that the DS715 costs, because that is not only even more powerful, but can also accept the DX513 expansion box to grow the system organically from two drives to seven.
As for the DS215+, it's probably the best dual-drive NAS box available today, especially if you're prepared to get an aggregating switch to make the most of what it can do.
mm Mark Pickavance
Verdict
Synology DS215+ Review
The Bugatti Veyron of dual-drive NAS boxes
Add your review
MORE DEALS

DETAILS
Manufacturer: Synology
Requirements: SATA hard drives or SSD in 2.5″ or 3.5″ formats, wired network