Buffalo LinkStation 441 – Michael goes buffalo hunting with a NAS box
Buffalo has released its LinkStation 441 NAS 4-bay desktop unit, which is compatible with Windows, Mac, Android and iOS platforms. Aimed at small business and home office users, this NAS box is available as a diskless product or with a storage capacity of up to 16TB depending on your needs.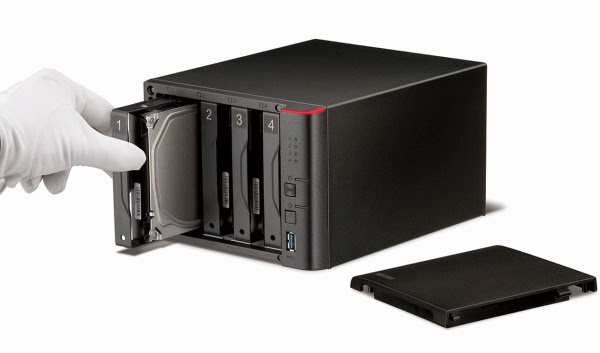 I've been checking out this NAS box populated with four 1TB drives. Included in the package are leads for power (two and three-pin versions) and an Ethernet cable for integrating the NAS box into a network via a connection to a router. You also get a quick setup guide, software CD and a couple of keys for when you need to unlock a front panel to gain access to the drive bays.
With dimensions of 230 x 170 x 215mm and weighing 7.5kg fully loaded, this NAS box gives an immediate impression of being a solid device that will provide the required protection for the drives that hold your valuable data, which can be stored using 0/1/5/10 RAID modes. The front of the unit also features an LCD panel displaying feedback information, while LEDs show Info, Error and LAN status issues. Buttons for power and functions sit either side of the LCD panel. The function button allows you to switch between modes such as direct copy, dismounting USB devices and rebuilding a RAID array.
Hidden out of sight at the rear of the box are various connection options. There are sockets for linking to a power source and router. Ports are available for connecting USB 2.0 and USB 3.0 devices, plus linking the NAS box to a UPS option. A second USB 3.0 port is concealed behind the drive access panel.
Setting up this NAS box is a fairly straightforward process, as various automatic housekeeping tasks are carried out prior to installing the NAS Navigator 2 software. One slightly disappointing aspect of this procedure was that the NAS box did not automatically appear as part of my network from the Windows desktop. However, this was easily remedied using a basic wizard. The NAS Navigator 2 software gives you access to the available storage. A selection of utilities found on the CD includes TurboPC EX, offering faster data transfer speed and NovaBackup.
You can use the NAS box storage space as you would with any other drives. Sensitive data can be protected for your eyes only, while more general content can be placed in folders open to selected groups of users. Specific instructions are listed in the user manual for allowing content to be made available via the internet using mobile devices.
The NovaBackup software takes care of backup jobs with features such as opting for full or incremental backup, with a choice of targeted content at a destination chosen by the user on a scheduled basis.
A NovaBackup of 4.36GB of documents took five minutes and 29 seconds. Using copy and paste, I then transferred 59.1GB of video files, via the router link, in 27 minutes and 30 seconds. The same data was then used for transfer via a USB 2.0 link from an external hard drive, which took 41 minutes and 43 seconds, indicating that my home network was faster than USB 2.0 when transferring data. Michael Fereday
Verdict
A solid, easy-to-use NAS box for the small business environment.