A lot has changed with the introduction of Intel's new X299 platform and Skylake-X chips.
There are more CPUs than in the Broadwell-E line-up for starters, and potential owners have even trickier choices to make than with the X99 platform.
From Core i5 to Core i9
There are nine new CPUs in total, although the Core i7-7740X and Core i5-7640X are Kaby Lake quad-core CPUs in LGA2066 packages.
The idea is that they offer better overclocking potential than their mainstream counterparts, thanks to the added CPU power circuitry prowess from X299 motherboards. However, they lack quad-channel memory support, only have 16 PCI-E lanes and don't support Turbo Boost Max 3.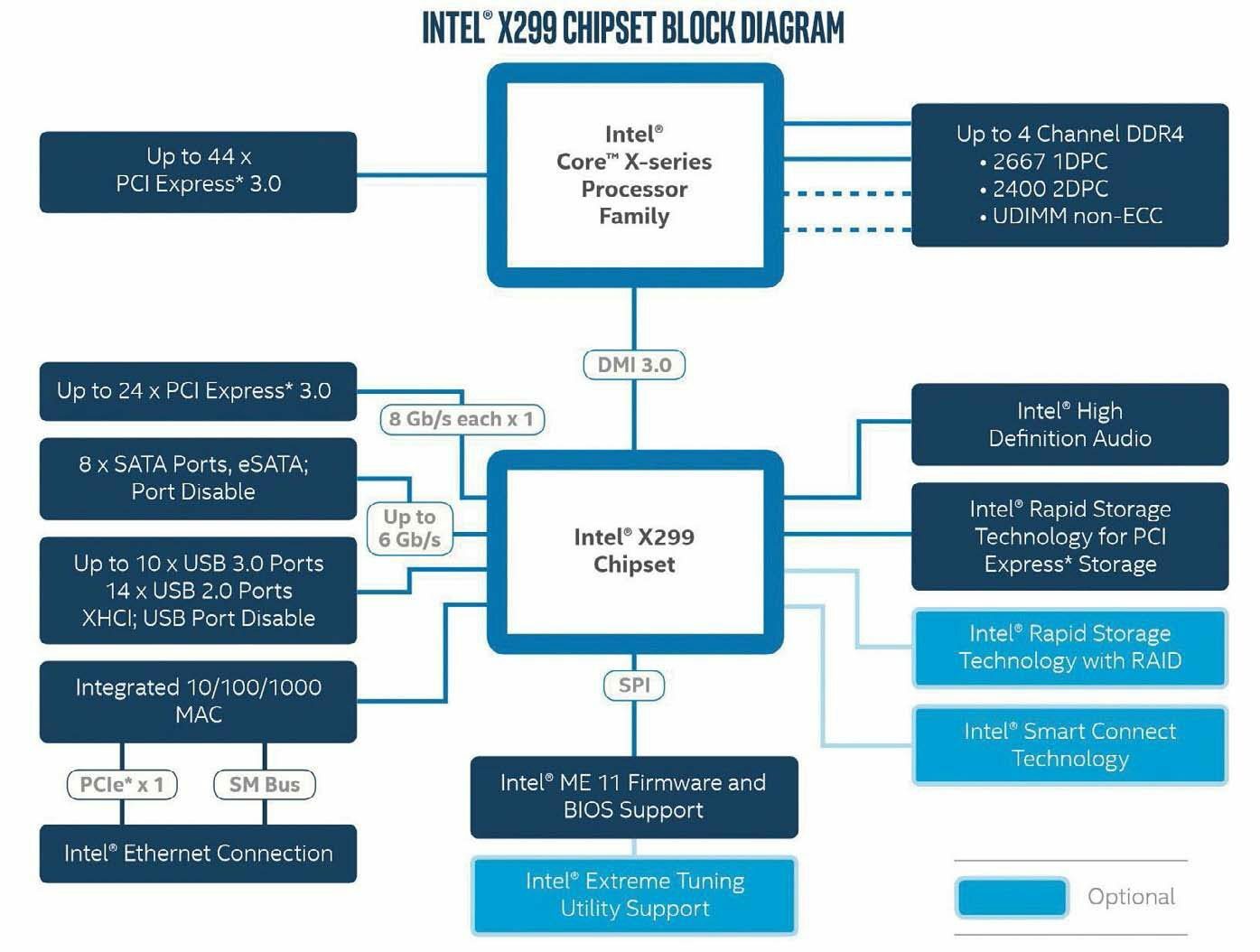 The logical choices, then, are the CPUs based on the Skylake-X architecture. These chips start with the Core i7-7800X, which offers six cores and 12 threads and, like its predecessor, the Core i7-6800K, it only has 28 PCI-E lanes. However, it lacks Turbo Boost Max 3 support. The next step up is an 8-core CPU – the Core i7-7820X, which has more cache along with Turbo Boost Max 3 support, but despite the fact that it too only has 28 PCI-E lanes.
However, that's significantly cheaper than its Broadwell-E equivalent – the Core i7-6900K.
The first CPU with the full count of 44 PCI-E lanes – an increase of four over any X99 CPUs – is the Core i9-7900X.
The X-series of CPUs starts with quad-core LGA2066 Kaby Lake chips, and goes all the way up to 18-core monster Skylake-X CPUs
This means that, instead of being able to use a CPU such as the old Core i7-6850K to provide the full bandwidth to two graphics cards, you now need to fork out, although you do get four more cores and eight more threads too. The rest of the line-up isn't currently available, but the Core i9-7920X 12-core CPU will arrive in August, with the Core i9-7940X (14 cores/28 threads), Core i9-7960X (16 cores/32 threads) and Core i9-7980XE (18 cores/36 threads) are all due to be launched in October.
Inside the chips
Intel has tweaked the cache structure with Skylake-X compared with the original Skylake chips, and there's now 1MB of L2 cache per core instead of 256KB. However, the amount of L3 cache has been reduced. This does lean towards a more efficient design, but there will be some software that's more optimized for L3 cache use.
Turbo Boost Max 3 – the single-core boost technology that isn't dissimilar to AMD's XFR, has also been improved. It can now boost up to two cores to higher frequencies in light loads, and is now natively supported in Windows 10. It works well, boosting up to two threads to 4.5GHz on the Core i9-7900X, but you need to make sure you set the CPU core ratio to 'By Specific Core' or the equivalent setting in your motherboard's EFI system – it doesn't work in Auto mode.
Meanwhile, the X299 chipset and CPU interface has been upgraded from DMI 2 to DMI 3, which offers more bandwidth, so the total bandwidth offered by the chipset is now 24 PCI-E lanes. The number of native SATA ports drops from ten to eight while the number of USB 3 ports increases from six to ten, but there's no native USB 3.1 support.
That said, the chipset is now able to handle more PCI-E devices and controllers at once, so there's scope for adding even more third-party ports and devices than beforehand. Intel has also added support for its Optane technology, such as its caching solid state drives.
[ANTONY LEATHER]