WINDOWS 10 FALL CREATORS UPDATE Review
WINDOWS 10 FALL CREATORS UPDATE – A SOLID UPDATE BUT THAT'S NO BAD THING: IT MAKES WINDOWS 10 EVEN SLICKER, WITH THE PROMISE OF BETTER BATTERY LIFE FOR LAPTOPS
It's only six months since Microsoft released the Creators Update for Windows 10, but already the follow-up is here. That doesn't mean even-one will get it right away, however. The update is being distributed in phases, and if you want to grab it right now then download a manual updater from Microsoft's Windows 10 Download page.
Table of contents
Despite the name, the Fall Creators Update has very little to do with creativity. The main enhancement in that direction is an updated version of the Photos app, which now includes a video-editing module. This is fun to play with: you can create animated slideshows of your images and video footage in seconds, drawing on a selection of preset visual themes, audio beds and transition effects. There's also a one-click "Video remix" function that makes all the decisions for you. Simply select your images and hit the button, and it combines them into a striking video presentation.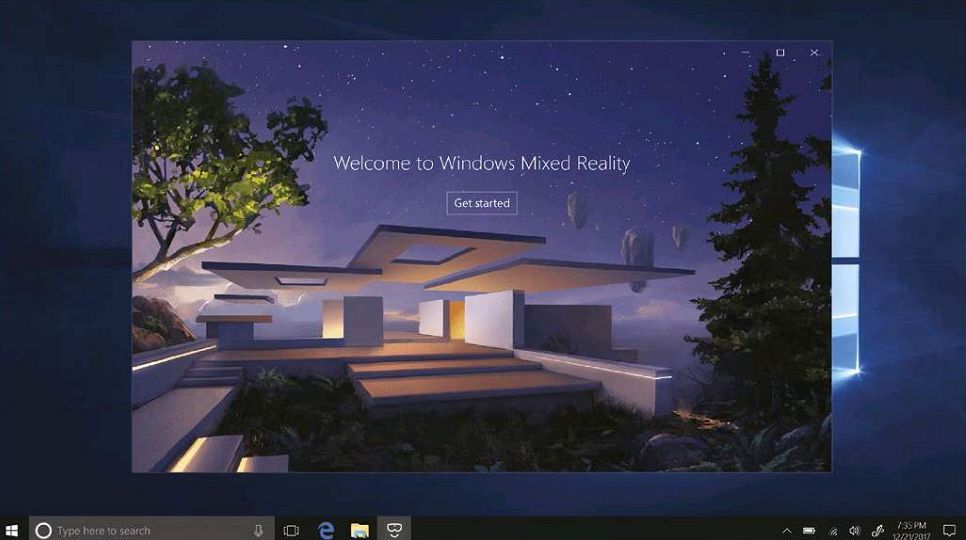 It's limited, though. For example, there's no easy way to synchronize an audio track or overlay sound effects; overall, it's less capable than the now discontinued Movie Maker. For anything more advanced than the odd Facebook post, you'll want to invest in third-party software.
The Fall Creators Update also includes the Mixed Reality Viewer app, which lets you superimpose 3D models onto scenes captured by your device's camera. It's a cute technology demo – the app automatically identifies the floor, and generates virtual shadows to make your model look like part of the scene – but again it's hardly what you'd call creative.
UPDATES TO EDGE
Not many people use Edge as their first-choice browser, but Microsoft is developing it into a contender. Mobile editions for Android and iOS were released during the summer, allowing you to sync bookmarks and other settings across all your devices.
The new version here also brings improved PDF handling, so you can fill out PDF forms in the browser, and even write into them with a stylus. There's also a "read aloud" feature, which could be useful if you're partially sighted, or just trying to do two things at once. Sadly, the implementation is far from perfect: the synthesized voice is exhaustively monotonous, and tends to put pauses and emphases in unnatural places.
GENERAL INTERFACE CHANGES
The Fall Creators Update brings numerous tweaks to the general behavior and appearance of Windows 10. Notably, the Action Center gets a new look – it's one of the first elements to showcase Microsoft's new "Fluent" design system. This isn't a huge break from what we have now, but it means that apps and controls start to look more shiny and translucent (a bit more like they did in Windows 7), and make more use of animation.
The Start menu has also been given a Fluent touch-up, with shiny highlights following your mouse cursor around. And it's now possible to adjust the size of the Start menu diagonally, by clicking and dragging from the top-right corner.
Elsewhere, an inconspicuous My People icon has appeared to the left of the notification area. From here you can quickly send emails in Windows Mail, exchange instant messages or set up voice and video calls in Skype. Up to three contacts can be pinned next to it, for even quicker communications. It's not a bad feature, but by now most people will surely already have found a communications workflow that works for them – probably involving a third-party technology that doesn't neatly integrate with Microsoft's People app.
Still, whichever communications platform you use, the Fall Creators Update makes it easier than ever to send daft messages to your colleagues with a new system-wide floating emoji palette – press the Windows key and full-stop together to open it.
SETTINGS AND SERVICES
The updated Settings app looks much the same as it did before, but browse around and you'll find more new features. The Storage settings now include the option to automatically purge untouched files from
your Downloads folder after 30 days. There's a toggle to enable native HDR support too, if your monitor supports it, and a new Cortana section that brings together all settings relating to Microsoft's digital virtual assistant.
One particularly promising new feature is power throttling: if you're running on battery power, and your profile is set to Balanced or Battery Saver, Windows will now slow down apps running in the background to prolong battery life. The company claims it's achieved longevity improvements of up to 11% using this feature. If there's an app that you always want to run at full speed, you can configure it in the Batter)' section of the Power & sleep settings.
Another significant new feature – hidden away in the Windows Defender Security Center – is Controlled folder access. With this on, Windows 10 will produce an alert if any untrusted process tries to change files in your personal folders, and block the operation. This should defeat the ransomware attacks that have caused so much chaos recently.
Unfortunately it's not mature enough to recommend for general use: by default it blocks every third-party application, and adding in time for the Fall Creators Update exceptions is a tedious manual process.
Finally, there's a new "Link your phone" feature, which makes it easy to install the Cortana app for iOS and Android, and share URLs between your desktop and mobile devices. Android users can get other notifications, such as missed call alerts, on the desktop too.
ONEDRIVE ON DEMAND
If you're running out of storage, the best part of the Fall Creators Update might be OneDrive's new "Files on Demand" feature. When this is activated, new files arriving in OneDrive won't be automatically downloaded to your PC. They will, however, appear in Explorer, with a little cloud icon next to them. When you double-click on one of these files, or access it in some other way, it will be automatically fetched from the internet and opened.
Once a file has been downloaded, it remains on your hard disk and subsequent changes are synchronized just like a normal OneDrive file. If you need to reclaim the disk space, you can simply right-click and send it back up into the cloud. It's undeniably a more convenient answer to limited storage than Dropbox or Google Drive. It's just a shame that it didn't come along a few years ago, when tiny SSDs were still commonplace.
THE FUTURE FOR MOBILE
Alongside the main release, there's also a new Fall Creators Update to Windows 10 Mobile. This is a much more minor release than the desktop edition, though, which is more bug fixes than new features.
To be honest, at this stage it barely matters.
A few days before the Fall Creators Update landed, Microsoft's Joe Belfiore confirmed that developing Windows 10 Mobile was no longer a "focus" for the company. That makes sense, since almost nobody is making or buying Windows phones any more. Even so, it's a shame: the idea that the same Store apps would run on your desktop and your phone was a key part of the original Windows 10 vision.
Still, the dream might not be dead.
Microsoft has recently developed new builds of Windows 10 running on ARM hardware – which include a Win32 emulation layer, allowing them to run not only Store apps but older x86 applications too. We might soon location – better late than never see a new generation of lightweight laptops and tablets – and yes, even phones – that finally deliver the long-promised cross-device experience.
VERDICT
At first glance, the Windows 10 Fall Creators Update looks something of a let-down. There's nothing very creative about it, the promised Timeline feature – a chronological view of recent apps and documents that you could click on to jump back to – is missing, and many of the visible changes feel more like cosmetic tweaks than solid upgrades.
Note too that if you're still using
"Windows 10 can produce an alert if any untrusted process tries to change files in your personal folders"
the old Outlook Express email app, this gets removed in the Fall Creators Update, having been completely replaced by the Mail app. And while Microsoft Paint is still there, it's now officially deprecated, which means it won't get any new features and is liable to be removed in a future update.
KEY SPECS
Free to existing Windows 10 users
Yet there are some very positive features here to discover. Controlled folder access is potentially a very valuable addition, and app throttling could prove a real boon to overworked travellers needing to eke out every last drop of battery power. OneDrive on Demand, meanwhile, is the neatest answer yet to the problem of cloud syncing on a device that's short of storage.
All that's just as well, of course, because as usual this isn't an optional update: sooner or later, Windows 10 users are going to get the Fall Creators Update whether they want it or not. That being the case, we might perhaps be thankful that Microsoft has held back from big, trans-formative changes. What it's given us instead is another confident step forward for Windows 10.
DARIEN GRAHAM-SMITH