Another fantastic quantum dot corved monitor from Samsung
Samsung CF791 Review – There are two main categories for curved monitors: those built for gamers and those built for professionals. But what if you want the best of both worlds? A monitor with a fast refresh rate, low input lag, fast response time, good viewing angles and fantastic color reproduction? Step forward the CF791, a 100Hz curved monitor that combines Samsung's quantum dot technology with a gamer friendly VA panel.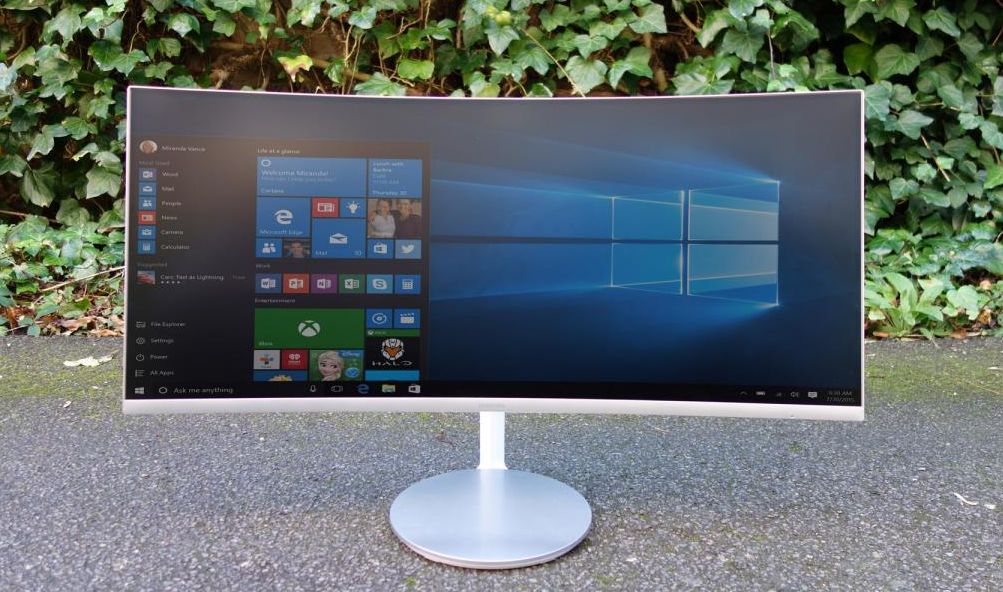 The price may seem high, but even at these dizzy heights there's plenty of curved monitor competition from the likes of Acer (Predator Z35), Dell (U3417W) and Philips (BDM3490UC).
Where the CF791 immediately wins is looks, with low-profile silver bezels and a white rear giving it a suitably premium and futuristic look. The stand is beautifully engineered and provides both height and tilt adjustments, while a VESA mounting kit is included in the box if you want to wall-mount it.
The curved screen is no gimmick – it does make a difference – but you pay for it
Samsung also makes plenty of fuss about its 1500R curvature: the aim, it says, is to get as close to the human eye's natural 1000R curvature as possible; early curved screens started at 4000R. Combined with a 21:9 aspect ratio and a 34in diagonal, you really do feel like you're being sucked into the action when playing games and watching films.
Don't be put of by its slower response times and refresh rates than dedicated gaming monitors. Firing up Counter Strike: Global Offensive showed this screen's 4ms response time will satisfy even the most demanding gamer, and there's support for AMD FreeSync.
I found a very slight diference when cycling through the Response Time options in the onscreen menu, with Standard ofering a slower response than Faster and Fastest, but I saw no signs of overshoot ghosting in any modes, so I could use the monitor set to Fastest without having to worry about ruining the visuals. Plus, unlike the Samsung C24FG70FQU, there's no brightness cap in Faster and Fastest modes; the CF791's brightness remained untouched at 315cd/ m2. That's fine even in sun-drenched rooms.
Hide unsightly cables away using the plastic cover that snaps onto the stand
The CF791 uses the same clever quantum dot technology as in the C24FG70FQU, with similarly excellent results. An average Delta E of 0.56 means this screen is ideal for color-critical work, and sRGB coverage hit an impressive 99.1%, Adobe RGB coverage 81.2% and DCI P3 gamut coverage is again strong at 87.2% (while set in sRGB mode).
Because the CF791 uses a VA panel, its contrast ratio is much higher than your average IPS display. Indeed, I measured a contrast ratio of 2,330:1, which translates to amazingly lifelike imagery.
It's evenly lit too, while viewing angles are immaculate – that's in contrast to many other ultrawide panels, such as the Philips BDM3470UP, where the display tails of if you view it of-axis.
Connectivity is another strength.
There's DisplayPort, a pair of HDMI 2 inputs, a 3.5mm headphone jack and two USB ports. It also has two integrated 7W speakers, which produce incredibly good sound for a monitor; I'd be happy to listen to music and streaming TV audio through the CF791's speakers. Coming from someone who typically listens to music via headphones and a discrete DAC/ headphone amp, that's quite some praise.
Yet another nice touch: if you route your cables through the monitor's stand then you can clip on the plastic cover at the back to keep it all hidden away.
It's also good to see Samsung avoid the use of touch buttons, instead offering a clickable joystick located at the back of the monitor in the bottom-right-hand corner. Through the OSD you can adjust the gamma, colors, and response time of the monitor.
The Samsung CF791 might be expensive, but justifiably so. It's simply a fantastic all-rounder. Its dramatically curved 21:9 ultra-wide panel provides an immersive, cinematic experience whether you're working, playing or watching. The 3,440 x 1,440 resolution provides ultracrisp visuals and, coupled with great color accuracy and a lack of motion blur, it's suitable for not only the photo editor but also the competitive gamer. If you can afford it, don't hesitate to splash out.
Christopher Minasians
KEY SPECS
Curved 34in VA panel • 3,440 x 1,440 resolution at 100Hz • 4ms response time • DisplayPort • 2 x HDMI • 2 x USB • 3.5mm headphone out • 100mm height adjustment • -2 /14 tilt • 1yr warranty • 808 x 309 x 516mm (WDH with stand) • 8kg


Samsung CF791
The Samsung CF791 might be expensive, but justifiably so. It's simply a fantastic all-rounder.
Add your review

1500R Curvature 34" Widescreen Monitor
Quantum dot technology supporting sRGB 125%
21:9 aspect ratio for powerful multi-tasking
100h Hz Screen Refresh Rate & 4ms Response Time
Tilt: Has up : -14˚(±4˚) to 22˚(±4˚), Has down : -2˚(±4˚) to 34˚(±4˚)
Last update was on: 2022-02-10 11:25 pm
1500R Curvature 34" Widescreen Monitor
Quantum dot technology supporting sRGB 125%
21:9 aspect ratio for powerful multi-tasking
100h Hz Screen Refresh Rate & 4ms Response Time
Tilt: Has up : -14˚(±4˚) to 22˚(±4˚), Has down : -2˚(±4˚) to 34˚(±4˚)
Brightness is 300cd/m2
100 hertz

1500R Curvature 34" Widescreen Monitor
Quantum dot technology supporting sRGB 125%
21:9 aspect ratio for powerful multi-tasking
100h Hz Screen Refresh Rate & 4ms Response Time
Tilt: Has up : -14˚(±4˚) to 22˚(±4˚), Has down : -2˚(±4˚) to 34˚(±4˚)
Last update was on: 2022-02-10 11:25 pm
1500R Curvature 34" Widescreen Monitor
Quantum dot technology supporting sRGB 125%
21:9 aspect ratio for powerful multi-tasking
100h Hz Screen Refresh Rate & 4ms Response Time
Tilt: Has up : -14˚(±4˚) to 22˚(±4˚), Has down : -2˚(±4˚) to 34˚(±4˚)
Mounting type: Wall Mountable Yes