NOT ONLY IS Alienware's alternative OLED monitor, the Alienware 34 AW3423DWF, better than the existing AW3423DW; it's cheaper. How does that work, exactly?
For the most part this is the same monitor, so it's a 34-inch ultrawide model sporting Samsung's QD-OLED technology. It's not just the same technology; it's the same panel, with one alteration, more on which momentarily. Read our Alienware 34 AW3423DWF Review.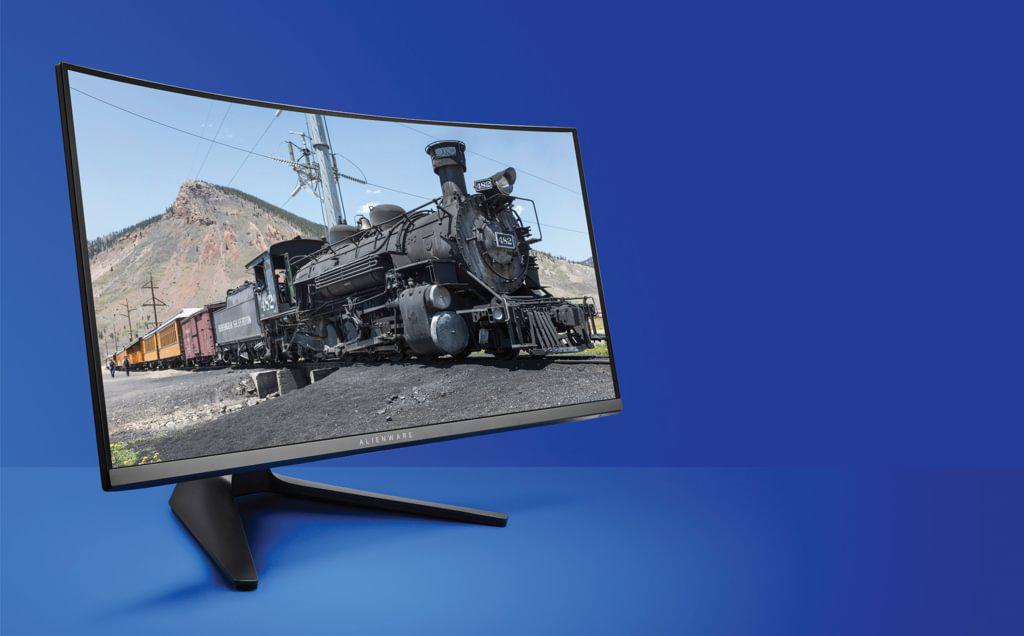 Once again, the resolution is 3,440 by 1,440, the peak brightness remains at 1,000 nits, the claimed pixel response of 0.1ms is carried over, and so on. There are one or two detail changes, and the refresh rate has been dropped from 175Hz to 165Hz. There's likely no technical reason for this ultimately inconsequential change. Instead, Alienware is probably putting a bit of on-paper space between the two screens to justify the price gap.
The same essentially applies to the other major omission: the Nvidia G-Sync Ultimate chip. You don't get it with this cheaper panel, and it really isn't any loss. There's still full adaptive refresh support courtesy of AMD FreeSync Premium Pro, which is compatible with both AMD and Nvidia GPUs. You just don't have to pay for that pricey Nvidia G-Sync chip.
As for the rest of the feature set, you get the same dual-DisplayPort and HDMI video interfaces and slightly old school USB-A hub. There's no USB-C connectivity, so no single-cable option for laptops. That's not a major issue, given USB-C charging doesn't supply enough power to keep a gaming laptop juiced. The styling is largely the same, albeit the white plastics on the original model have been swapped for black.
So what's that tweak? Nothing terribly high-tech: a glossy anti-glare coating for the OLED panel. The OG AW3423DW variant runs a matte coating, and robs the panel of punch, vibrancy, and contrast. You don't get the full deep-and-inky black experience with a matte coating.
But a glossy coating fixes all that, and really lets the OLED panel sing. Subjectively, the contrast takes a big leap, and the upshot is the kind of experience you're hoping for from OLED. What hasn't changed, and it's a good thing, is that Samsung's QD-OLED tech is currently a better fit for the PC, as opposed to TVs than LG's WOLED alternative. Samsung's panels have better full-screen brightness, and don't suffer as much from brightness limiter algorithms bumping the brightness around as you conduct basic tasks in Windows.
In comparison to LG-powered OLED monitors, including the Corsair Xeneon Flex, this Alienware serves up a relatively compromise-free experience. You can enjoy the upsides of OLED technology, including better HDR performance than any LCD monitor, and the best pixel response, but without the flaws of LG-equipped monitors.
This revised and cheaper Alienware monitor is an easy win over the original G-Sync model. Even for the same money, we'd take it for its glossy panel coating. In a more general sense, it's one of, if not the best, gaming monitors around.
Shop around, and you can get something good for as little as $ such as the ASRock Phantom PG34WQ15R2B. Is this Alienware really three times the experience? No. It's probably not even twice the experience. Similarly, at this price, all manner of 4K and mega-sized monitors are available. But as a gaming experience, this is as good as it gets, and the best is never cheap.

Alienware 34 AW3423DWF
+ SIMPLY THE BEST Glossy coating make all the difference; Samsung OLED tech rocks.
– ALL THE REST? Still not exactly cheap; Relatively low resolution
$ www.dell.com
Best Alienware 34 AW3423DWF prices ?

$

129.98
1 new from $129.98
in stock


£

799.99

£929.99
5 used from £631.99
11 new from £799.99
in stock


34 curved monitor with QD-OLED technology and AMD FreeSync™ Premium Pro. Featuring infinite contrast ratio and VESA DisplayHDR TrueBlack 400 for an incredible front-of-screen performance. Display Type: OLED monitor / Quantum Dot OLED Diagonal Size: 34.18 Curved Screen: Yes (1800R) Adaptive-Sync...

MORE DEALS

SPECIFICATIONS
Screen size 34-inch
Panel type QD-OLED
Brightness 1,000 nits
Resolution 3,440 x 1,440
Contrast 1M:1
Response time 0.1ms
Refresh rate 165Hz
Colour coverage 99.3% DCI-P3
HDR support DisplayHDR 400 True Black
Adaptive sync FreeSync Premium Pro, G-Sync Compatible
Connectivity DisplayPort 1.4 x2, HDMI 2.1, USB-A hub ■