A middling monitor
While the smallest screens (on smartphones) have got much sharper in recent years, the biggest (on 27in-plus desktop PC monitors) have lagged behind. You can now buy 4K or Ultra HD (UHD) screens, with twice the resolution of Full HD both across and down, for about the same price as this monitor, but you'd have to spend more for the best picture quality in that format. The most comfortable way to use UHD's 3840×2160 pixels is to adjust Windows' scaling so that everything appears the same size, but significantly sharper. The ProLite XUB2792 takes a different approach, offering a halfway-house resolution of 2560×1440 pixels. That means you can fit in more work (or more option palettes in the programs you use) at the expense of everything appearing slightly smaller. For most people's eyesight strength, this is an effective setup. You'll miss the crispness of 4K if you are accustomed to it, but you'd have to put your face pretty close to the glass to really notice the pixels.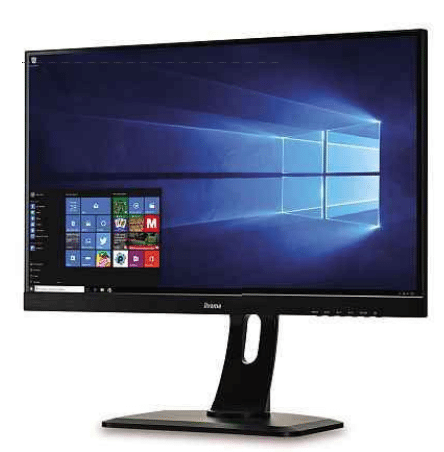 Very narrow bezels around the screen give this monitor a tidy, modern look, and its plastic stand feels stable. There's a generous 130mm of height adjustment, and you can rotate the screen into portrait mode too. The simple menus make it easy to tweak the picture, and FreeSync is supported for gamers who have recent AMD graphics cards.
The screen showed good brightness levels and contrast in our tests, but color accuracy wasn't particularly good out of the box. Nor could we improve things much by fiddling with the settings. The backlight was as much as 14 per cent dimmer in the corners than the centre, which is less consistent than we'd have hoped. As a result, we couldn't recommend this screen for serious photo or video editing, although it would be quite acceptable for other purposes.
There are cheaper 27in monitors with this resolution, including Iiyama's own ProLite B2783QSU. That model has a similarly adjustable stand and gave us better color accuracy, but viewing angles were narrower, with the image darkening when seen from off centre, and moving objects such as the cursor showed noticeable ghosting.
So the well-made ProLite XUB2792 doesn't entirely fail to justify its price, but nor does it feel like a great way to spend your money.
SPECIFICATIONS
27in IPS LCD • 2560×1440-pixel resolution • 1x DisplayPort • 1x DVI port • 1 x HDMI port • 2x USB 3.0 ports • 2W stereo speakers • 397x611x230mm (HxWxD) • Two-year warranty
VERDICT:
The narrow bezel, solid build quality and range of adjustment are impressive, but we'd want a better picture for the money
ALTERNATIVE:
AOC Q2778VQE
The stand lacks adjust-ability and it's too slow for gamers, but this 2560×1440 screen is decent and very reasonably priced
Rating 3/5