It's here—an OLED PC monitor that truly works! Read our Philips Evnia 34M2C8600 Review.
Editor's Pick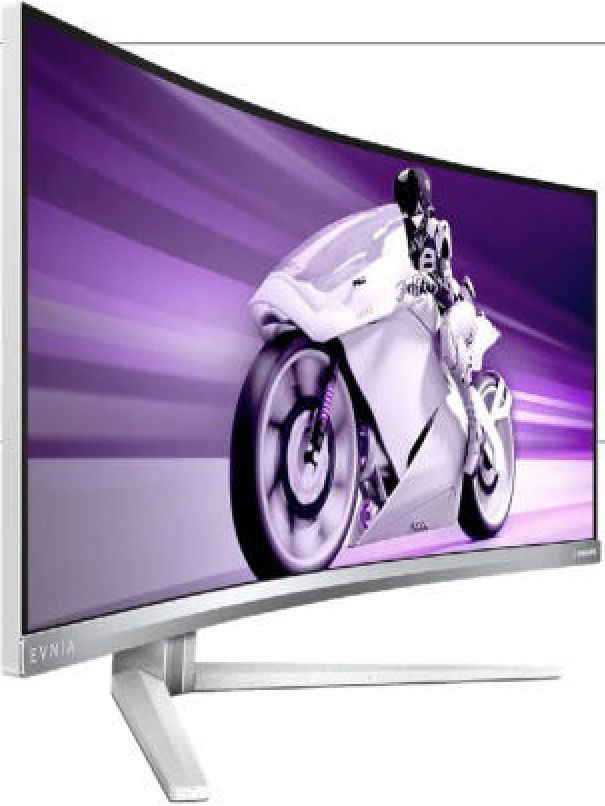 Finally, this is OLED and HDR done right on the desktop.
I give you the Philips Evnia 34M2C8600. Funnily enough, its core components and specs aren't novel. It uses the same 34-inch QD-OLED panel from Samsung that we've already seen in the Alienware AW3423DW, and will be used by Samsung itself, MSI, and others.
However, Philips has given its monitor a low-tech twist. This is a 34-inch ultrawide panel with a 3,440 by 1,440 native resolution. It's ideal for gaming, but arguably sub-optimal for everyday tasks.
The pixel density clocks in at a pedestrian 110DPI. That's not enough for nice, crispy fonts, nor is the resolution sufficient for 4K content. This is still a decent display, it's just at this price point of around $ there are better options.
Anyway, in most regards this monitor is a dead ringer for the Alienware. You get the same uber-immersive 21:9 aspect ratio, plus a 1800R curve. As for brightness, the Evnia's 1000 nit peak in a three percent window and 250 nit full-screen brightness are, again, identical to the Alienware, as is the 0.1ms response and 175Hz refresh.
So what sets the two apart? The Philips lacks the Alienware's Nvidia G-Sync module while adding USB-C with 90W of power delivery. But the feature that really gaps the Alienware is the Philips' glossy screen coating. It makes all the difference.
On the Alienware, there's a matte coating that robs the display of impact. It reduces the sense of contrast and prevents black tones from being inky. Instead, this Philips monitor absolutely sizzles.
It looks best in HDR True Black mode, which limits peak brightness to 400 nits. HDR highlights still pop thanks to the contrast with the perfect black levels.
In HDR True Black mode, the colors are nicely calibrated and there's almost no variation in brightness due to the automatic brightness limiter (or ABL) that so blights PC monitors using LG OLED panels.
Even better, SDR content also looks great in HDR True Black mode, so you don't have to mess around changing modes depending on whether you're on the web or playing an HDR game. You can just leave your PC in HDR True Black mode all the time, and everything looks great.
It's a relief to find a high-end monitor using the latest display tech. Meanwhile, OLED monitors using LG panel tech, like the Corsair Flex, are hopeless as all-round PC tools thanks to poor fullscreen brightness and ABL algorithms that have the brightness all over the place. The Alienware AW3423DW got close, but lacked the visual drama to justify the promise of OLED technology and its price.
But something as simple as the glossy coating on this Philips panel has fixed that. The 3,440 by 1,440 resolution prevents this from being a peak all-round monitor. Unfortunately, this generation of OLED PC monitors all have panel tech derived from OLED TV sets, so the pixel density is only as good as the smallest 4K OLED TVs.
There's one detail I haven't mentioned: OLED burn-in. It's hard to say how well these new OLED monitors will fare in that regard. Philips covers the screen for three years, so you know you're covered for that long. But of all PC components, monitors tend to be long-term investments.
I'd be more comfortable with five year cover. If I got five full years of use out of this thing, I'd accept if it then began to wear out or needed replacing. But that final caveat aside, this is as good as it currently gets for PC gaming.
JEREMY LAIRD
Best Philips Evnia 34M2C8600 prices ?

See more. Do more. The Philips B line 34" curved UltraWide display gives wrap-around view of your work. All-in-one USB-C and ergonomic stand design make for optimal working conditions. Eye comfort features with TUV certified to reduce eye fatigue.

MORE DEALS