Agon AG352QCX Review – NOT LONG AGO, the basic premise of this new AOC panel would have been preposterous.
Measuring 35 inches diagonally, with a superwide 21:9 aspect ratio, and capable of no fewer than 200 refresh cycles per second, along with frame-synching technology in the form of AMD's FreeSync, it's an absolute monster. It's curved, too, and sports VA panel technology.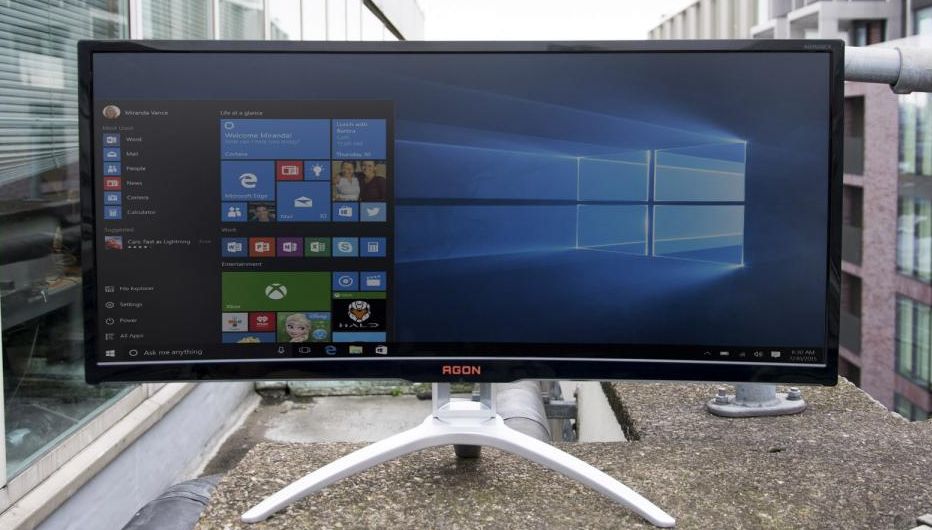 So, it says a lot about how far things have moved on in the last 18 months that not only has much of the above become, if not mainstream, then at least unremarkable, but we are also balking at one particular specification: The new AOC Agon AG352QCX gives you a mere 2560×1080 pixels.
Again, a few years ago, that would have been impressive. Today, and especially with a panel this large, on which you might expect to see 3440×1440 pixels, it looks a bit puny. To put it another way, the net result is pixels that look pretty fat. Putting a precise number on that, it works out at 79 pixels per inch. In a world where a midrange smartphone packs nearer 300 pixels per inch, and a 27-inch WQHD display offers 50 percent more, this new AOC is at a disadvantage. But hold that thought while we consider its broader qualities.
It looks impressive, physically, as it ought to for the money, even if the gamercentric LED lighting is a little adolescent for some tastes. The stand is also fully adjustable, bar the facility to rotate from landscape to portrait—understandable, given its ultra-wide form factor.
As for image quality, pixel pitch aside, it's a mixed bag. The use of VA rather than IPS panel technology would normally have you expecting some seriously saturated visuals. But the truth is that this panel lacks punch. Yes, there's good detail in both black and white scales and the objective contrast performance, as indicated by a claimed static ratio of 2,000:1. But quite a bit of banding is visible in gradients, the viewing angles aren't as expansive as the best IPS panels, and various degrees of ghosting are visible, depending on how you set the overdrive option in the OSD menu.
That's not a huge surprise, given the pixel response is the weakest attribute of any VA monitor, but it is an issue for a monitor primarily pitched at gamers.
Speaking of which, this monitor still makes most sense for gaming. While the native resolution translates into relatively ugly font rendering and limited desktop space, it also means less load on your GPU.
That means better frame rates, and it gives you half a chance to make the most of what is perhaps this monitor's biggest selling point: a 200Hz refresh rate.
That's a big number, and immediately begs the question of whether one can truly tell the difference between, say, 120Hz and 200Hz. The answer is that each person has different sensitivities to refresh rates, but, yes, we could tell the difference. The smoothness and stability of a monitor running at 200Hz is undeniably something special.
AOC's latest gaming panel looks preposterous on paper.
However, even with a very powerful video card, and factoring in the relatively modest native resolution, achieving anything like 200fps in the latest games is fairly fanciful.
You do, of course, have the FreeSync technology to fall back on, adding smoothness at lower frame rates, but that's limited to AMD video cards, and doesn't make the 200Hz feature any more relevant. All of which means the AOC Agon AG352QCX is an unusual mix of flaws and nevertheless-compelling features. Were it a little cheaper, it would probably carve out its own niche, but it's pretty pricey, so it's a fairly hard sell.
JEREMY LAIRD
Agon AG352QCX Review: Specification
Panel Size 35-inch
Native Resolution 2560×1080
Pixel Density 79 ppi
Panel Type VA
Maximum Refresh 200Hz
Response 4ms
Contrast 2,000:1
Display Inputs DisplayPort, HDMI, VGA
Connectivity USB
VESA Mount 100 x 100mm
Warranty Three years

Editor choice
AOC Agon AG352QCX Review
PROS
200Hz refresh is lovely
35-inch and 21:9-aspect panel really fills your field of view
CONS
VA panel delivers disappointing image quality
relatively low resolution makes for fat pixels
Add your review

Last update was on: 2021-10-28 7:00 pm

Freesync - Delivers smooth gameplay eliminating input lag, screen tear and stuttering
WFHD - Wide Full HD offers superior picture quality and crisp imagery that reveals every detail. The widescreen 21:9 aspect ratio is perfect for watching movies in an expansive format or immersing yourself in the latest game
Last update was on: 2021-10-28 7:00 pm
Freesync - Delivers smooth gameplay eliminating input lag, screen tear and stuttering
WFHD - Wide Full HD offers superior picture quality and crisp imagery that reveals every detail. The widescreen 21:9 aspect ratio is perfect for watching movies in an expansive format or immersing yourself in the latest game
200Hz Refresh rate - Unleash the full potential of your graphics card: with screen tearing and motion blur and stuttering all eradicated, your game will finally flow like it was meant to.
Height Adjustable stand - Raise and lower the screen to suit your height and seating preferences
Vesa wall mount - 100x100