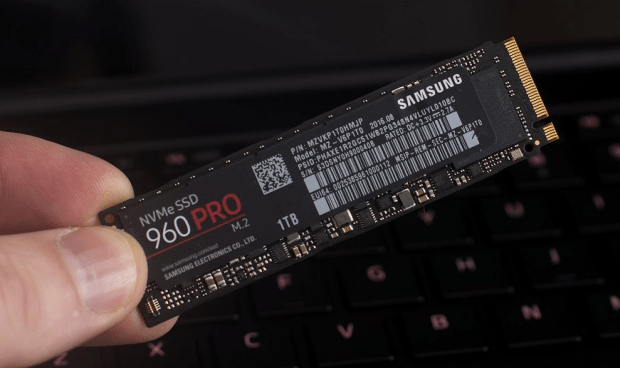 Samsung makes some scorching hot hardware, but not in the Galaxy Note 7 way
Dо you recall when the PC transitioned from IDE to SATA? Then most motherboards came with both ports, and I recall looking at IDE and wondering why they still existed.
SATA was so superior that, other than for legacy reasons, IDE became pointless practically overnight. I'm saying this since the new Samsung 960 Pro M.2 makes me view SATA ports in precisely the same way.
But before I get to the 'shock and awe' aspect of this device, let's cover the basics in terms of what you need to use one and the technology that Samsung put in it.
The Samsung 960 Pro series is a second-generation MVMe SSD using the M.2 form factor. That means to use it you'll either need an NVMe M.2 slot on your motherboard or an M.2 carrier card and a free X4 PCIe 3.0 slot.
The PCIe part of this requirement is critical, as having those 4X PCIe lanes are a necessity to the bandwidth that this technology needs. Whatever way you choose to connect it, mounting the chewing gum stick size drive is quick and painless, as it's only held in place by the friction of the slot and a single retaining screw.
Once attached, the drive isn't treated any differently by the system than a SATA-connected SSD. You format it from the management console of Windows exactly as you would any SATA drive.
The review model was a 1TB drive, though you can get the 960 Pro as a 512GB or 2TB option, should you be looking to either reduce the cost or maximize the capacity.
Unlike many SATA drives, irrespective of the capacity you choose, sequential read and write speeds are almost identical, and only the IOPS alters. That makes the 512GB version less desirable if IOPS is important to you, but the speed on offer is still triple what the best SATA drives can do.
At the heart of delivering this much data is a new NAND controller that Samsung has developed called Polaris. It has significantly more processing power than previous designs and supposedly five cores.
The other way that Samsung achieved this performance uniformity was to buffer the V-NAND flash modules with supporting LP DDR3 RAM. They put 512MB on the 512GB model and proportionally more on the 1TB and 2TB parts.
That variation probably explains why the larger parts use a tiny bit more power, but even the 2TB drive uses only 5.8 watts when actively reading and just 5.2 watts when writing.
That makes this as perfect for a mobile platform as it is desirable for a desktop system, as it will extend battery life by being both fast and low power demanding.
Reliability was also a design consideration, as this is the highest spec TBW (Total Bytes Written) spec I've seen yet for a flash device. The 1TB model I tested has a TBW double that of the 512GB part of 800 TBW, though the 2TB version eclipses even that level with 1,200 TBW.
To put those numbers in perspective, if you wrote 40GB of data every single day then it would take you 54 years to hit the limit on the 1TB 9060 Pro and 82 years on the 2TB model.
On any other product that would be the headline factoid, but the 960 Pro has a performance level that just makes almost every other SSD seem like it's in slow motion.
The first generation 950 Pro was quick at 2300MB/S reads and 955MB/S writes, but the 960 Pro bumps that to a staggering 3517 MB/s reads and 2169MB/S writes. That makes it between six and four times quicker than a SATA SSD, irrespective of model or make.
Those manipulating very high resolution images or 4K video need not finish the review to go away and order one, because this technology is definitely for you.
For mere mortals, the caveat is that even the 512GB model costs north, and the 1TB version covered here comes with a close to price, and the 2TB one is over a grand.
For a 1TB NVMe drive that is double what Intel asks for its 600p drive, though the best that can achieve is 1800MB reads and 560MB/S writes.
If your time is money, then this is probably a cost you're more than willing to chin. And for the rest of us, the more affordable EVO is coming soon.
The 960 Pro is incredible tech that drives nails into the coffin of the SATA SSD and not before time. Mark Pickavance
The NVMe SSD by which all others will be judged
Samsung 960 Pro 1TB Specifications
Form factor: M.2 (22×80).
Interface: M.2 (2280) PCIe 3.0 x4.
Host controller interface: NVMe 1.2.
Max. Read: 3,500 MB/s
Max. Write: 2,100 MB/s.
DRAM cache memory: 1GB DDR3
Max. random read 4K: 440,000 IOPS
Max. random write 4K: 360,000 IOPS
Special Features: AES 256-bit encryption support auto Garbage collection algorithm S.M.A.R.T Support TCG/Opal V2.0 TRIM support
Power consumption (active): 40 mW idle, 5.3W reading, 5.2W writing
Total bytes written: 800 TBW.
MTBF: 1.5M hours.
Warranty: Five years.