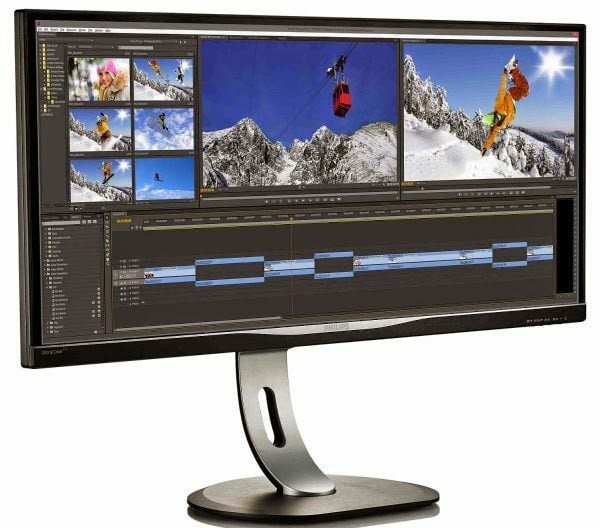 Another wondrous widescreen, but this time with a pro bent
We're broad. We're broad. We're broader than Broadway, sings Philips as it delivers its latest ultra-wide monitor. The Brilliance BDM3470UP is a 34-inch slab of AH-IPS panel that adds extra drama and spectacle to any game you care to throw its way. The 21:9 aspect ratio works exceptionally well in-game and, with the 1440p height replacing the 29-inch version's 1080p scale, it's just as good on a standard Windows desktop, too.
It's all about the periphery with these super-mega-ultra-wides and, when you're sat with it close before you on a PC desk, that extra width almost manages to take up the entire span of your view. It's an added level of immersion that we wouldn't necessarily have thought an extra million and a bit more pixels could deliver. Especially given there's over three million more pixels in a 4K display and that still doesn't massively float our gaming boats.Since we last looked at a 34-inch display – the AOC U3477pqu in PCF299 – the situation regarding support for the previously irregular 3440 x 1440 resolution has dramatically improved. With that AOC late last year, we'd had to dip into the Flawless Widescreen application to get things looking beautifully broad. But now it seems developers have almost completely caught up – during our testing this time, we struggled to find a recent title we couldn't get running natively on the Philips.
There will obviously be comparisons with the AOC screen, and not just because these are both 34-inch 21:9 monitors. They are essentially the same monitor. The Philips and AOC screens both come out of the same company, MMD (Multimedia Displays), and if you take the stand away from both monitors and cover up the logos, you'd barely notice any difference. The stand on the Philips is far more elegant than the chunky squared-off frame the AOC attaches to, but they're both fully tilt, swivel and height adjustable.Where they do differ is in the electronics, controls and calibration out of the box. The AOC looked great at default settings, so we barely needed to spend any time in the basic OSD. The same is largely true for the Philips – the 8-bit LG AH-IPS panel is still beautifully bright and crisp straight from the packaging.You have a lot more control over the screen with this Philips monitor though, with settings not just for brightness and contrast, but black levels, hue and saturation, too. There are some specific features the U3477pqu has no access to, such as the Pixel Orbiting to cut down on image burn. There's a huge amount of configuration on offer for anyone wishing to get elbow deep. That's great news for those looking to use this mega-wide monitor for video editing, image manipulation or design projects. But that's exactly why this Philips screen is so much more expensive than the almost identical AOC.
If all you're going to do is track down Leonard Nimoy Station in Elite: Dangerous, then the ultra-wide AOC will be more than enough screen for you. But if you want to do anything more seriously productive, this more expensive Philips is a great monitor.
Dave James