Proof that a great gaming experience remains affordable. Read our ASRock Phantom PG34WQ15R2B Review.
Thanks to a new breed of OLED panels, it's easy to unload well over $ on a 34-inch ultrawide gaming monitor. Alienware, Samsung, MSI, and Philips will be happy to let you scratch that itch.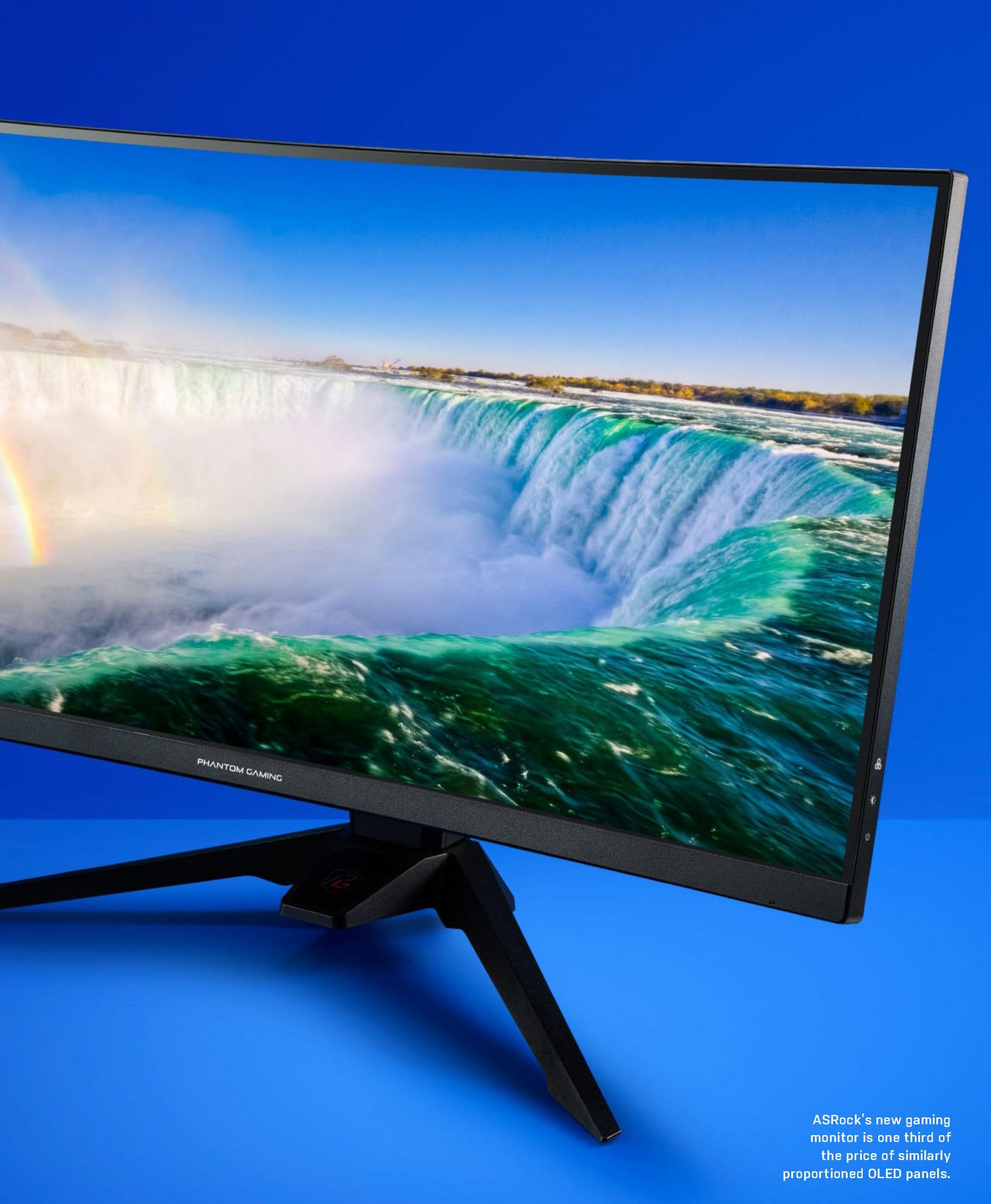 But those ultrawide OLEDs are all 3,440 by 1,440 pixel monitors. For over $? Really? Enter the ASRock Phantom PG34WQ15R2B. It too is a curved 34-inch ultrawide gaming panel with 3,440 by 1,440 pixels. With a maximum refresh of 165Hz, it's likewise within 10Hz of the best of those megabucks OLED monitors. And yet it's yours for a piffling $
Of course, there's no OLED tech. You don't even get an IPS panel. Instead, it's the cheaper VA variety. That's not always good news for gaming. There's a reason why IPS is more popular with gamers, and that's response: IPS is quicker. Well, usually. Samsung has managed to squeeze IPS-rivalling pixel response out of its VA panels, but that is the exception.
ASRock claims 1ms response for the Phantom PG34WQ15R2B. However, that's by the MPRT metric, not the more demanding gray-to-gray. Whatever the response times, VA does have benefits. You get better inherent contrast, in this case 1,000 to one, which is three times better than most IPS monitors. That makes for better HDR performance without the need to resort to an expensive, buggy mini-LED backlight.
ASRock rates this monitor at 550 nits peak brightness, and the panel has HDR 400 certification, plus claimed 91 percent coverage of the DCI-P3 gamut. As for connectivity, there's a single DisplayPort 1.4 input and a pair of HDMI 2.0 ports. Only DisplayPort supports the full 165Hz refresh; the HDMI ports are limited to 100Hz. While there is no USB, integrated high-gain Wi-Fi antenna is present.
In standard SDR mode, the ASRock won't blow your visual socks off. But the colors are reasonably accurate and the contrasty VA panel pleasing. However, in HDR mode, good things happen. If you tweak the SDR brightness settings, you can improve the SDR experience in terms of colors, brightness, and calibration.
That means you can leave this in HDR mode, instead of switching back and forth. The actual HDR experience, meanwhile, is as good as you can expect for a DisplayHDR 400 panel with no local dimming. HDR-capable games do actually look more dynamic in HDR mode.
Speed wise, it is behind the best IPS panels, but only a touch. More importantly, the 165Hz refresh makes for low latency, and the impact of a 34-inch ultrawide panel is as immersive as ever. The 3,440 by 1,440 pixel native resolution is likewise a good compromise between visual detail and frame rates.
All of this makes it a very appealing gaming panel. The 34-inch ultrawide thing is great, the image quality is good, and the speed is fast enough. You could spend three times as much on the OLED alternative, but you wouldn't get three times the experience.
jeremy laird
VERDICT
8
ASRock Phantom PG34WQ15R2B
+ BY GRABTHAR'S HAMMER
Contrasty VA panel; fab 34-inch ultrawide form factor.
– NOT A SAVINGS Limited HDR performance; not quite as fast as an IPS panel.
Best ASRock Phantom PG34WQ15R2B prices ?
34" WQHD (3440x1440) 1500R VA Display 165Hz Rapid Refresh Rate 1ms (MPRT) Response Time 91% DCI-P3 / sRGB 115% Color Space Wide 178-Degree Viewing Angles VESA DisplayHDR 400 AMD FreeSync Premium Technology Flicker Free Technology 2*HDMI 2.0, 1*DisplayPort 1.4 Height, Swivel, Tilt Adjustment...

MORE DEALS

SPECIFICATIONS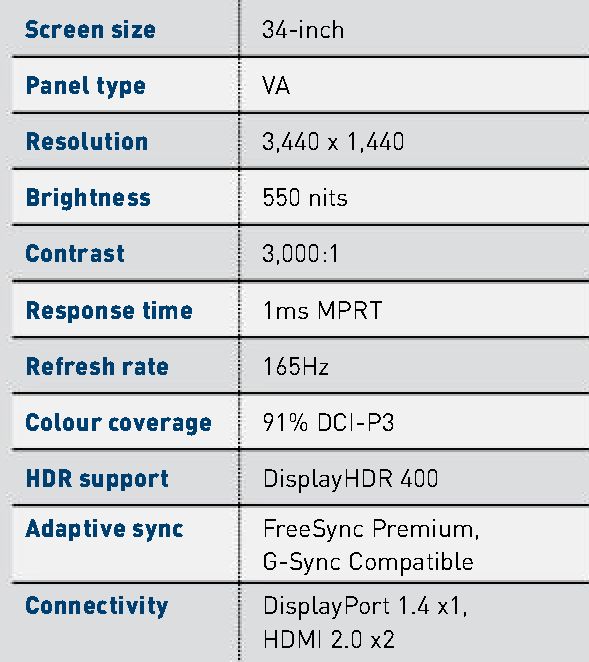 ASRock's new gaming monitor is one third of the price of similarly proportioned OLED panels.