AOC U3477PQU – Six hundred bucks, but still a bargain
What to make of aoc's slick, superwide AOC U3477PQU? It comes down to your point of view. If you're a serious player in the true high end of the monitor market, it's not going to be on your radar. But if you want to get a slice of the high-end action at a more attainable price, slap it on your shortlist.
It all starts with the 34-inch LCD panel. It's a proper IPS item. It's also 34 inches across the diagonal, and packs a 3440×1440 pixel punch. For most mere mortals, that's plenty. The 21:9 aspect ratio also adds an element of the exotic. AOC has done a nice job of giving the chassis and stand a quality consumer electronics vibe, too.
Image quality doesn't disappoint, either. It's more vibrant than the more expensive LG 38UC99, even if it can't match the quantum-dot brigade with their eye-popping colors. It doesn't suffer from any major accuracy flaws either. There's a little banding when viewing gradients, but it's subtle. The black and white scales show virtually no evidence of compression, so the factory calibration is solid. It's IPS, so the viewing angles are great, and both black levels and contrast are good. It can't compete with a VA panel or an HDR screen with local dimming for really inky blackness, but that's inevitable.
Similarly, you have to be realistic about the overall feature set at this price. You're not going to get 10- or 12-bit color support, for instance. In strict terms, that limits your content mastering options. Nor can you expect the U3477PQU to be loaded up with the latest gaming-centric goodness. It tops out at a 60Hz refresh, it doesn't support adaptive synching, and it's completely flat.
That said, the U3477PQU is far from without gaming merit. AOC gives you four levels of pixel overdrive, so you can decide if you want to minimize blurring by ramping the overdrive to the max, in return for some inverse ghosting. That 34-inch 21:9 panel, with its 3440×1440 grid, is a very nice compromise for real-world gaming, too. It's big enough to feel cinematic, and the pixel count provides lots of detail without presenting your GPU with a huge overload.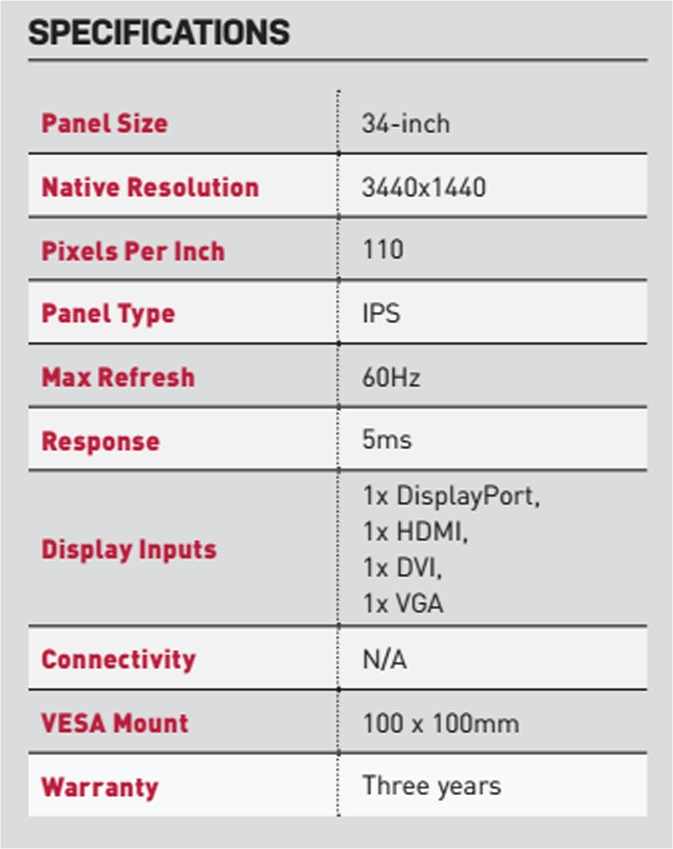 You could make a similar argument for the U3477PQU as a day-to-day productivity monitor. We'd prefer 32-inch 4K for the superior pixel pitch and additional desktop real estate. The 21:9 aspect ratio can also create its own problems: 16:9 TV content looks silly (and small) framed by thick black bars either side, for instance. Those 1,440 pixels of vertical resolution will feel constraining for some. But at this price, it's a decent compromise if you want a screen that can turn its hand to a little bit of everything, and look slick in the process.
PROS
Nice all-round package for the money;
Quality IPS image quality
Slick chassis.
CONS
Lacks high refresh and frame synching
Color capabilities limit content production support.
Add your review
|
Read reviews and comments