Go big (and pricey) with this 48-inch OLED monitor. Read our BenQ Mobiuz EX480UZ Review.
benq.com/en-au
How big is too big for a gaming monitor? Competitive gamers prefer them small and fast, while single-player gamers tend to go big and colourful. The BenQ Mobiuz EX480UZ aims to cater to the latter group, combining all of the benefits of an OLED TV with the features of a gaming monitor.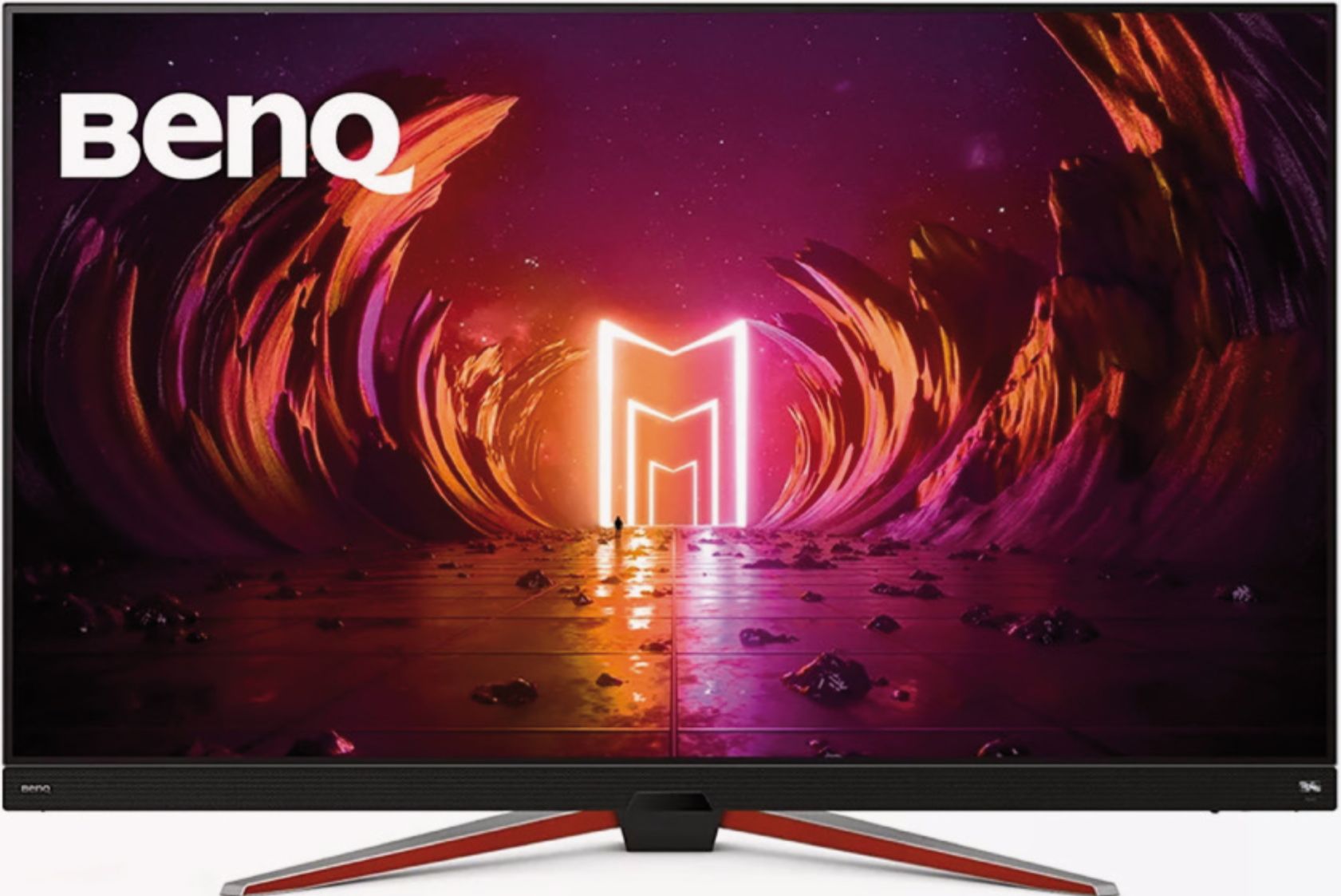 The EX480UZ is a massive 48-inch 4K OLED screen with a refresh rate of 120Hz and support for HDR10. This monster OLED does a great job of making PC games pop while also offering the sort of insane scale that benefits cinematic, story-driven titles. The big difference between these large OLED monitors and similar TVs is connectivity. This has a more PC-friendly DisplayPort and two console-friendly HDMI 2.1 ports. It also has two USB 3.0 ports, a 90W USB Type-C downstream port to charge your devices, a USB Type-B port, and a S/PDIF jack. That's pretty impressive, though an extra HDMI port or two would have been handy.
The ergonomics of the Mobiuz aren't great as a PC monitor. The legs take up a lot of space, so you'll need a large desk to make this thing work. It also has a limited tilt, meaning you could have trouble finding a comfortable viewing angle.
Screen size: 48-inch; Resolution 3,840 x 2160; Brightness (peak):450 nits; Response time: 0.1ms GTG; Refresh rate: 120 Hz; Viewing angle: 178° H&V; Contrast ratio: 135000:1; Features: 98.5% DCI-P3, adaptive sync, DisplayPort 1.4, 2x HDMI 2.1, USB Type-C, USB 3.0, Remote, KVM, HDRI Hotkey, Built-in speaker.
Ideally, you want space between your face and a monitor of this size but with the Mobiuz being so huge, there's no way to safely push it back without it falling off most desks. That distance can make things uncomfortable for a day of working – sitting so close presents issues with text readability, even with text scaling applied.
That said, the Mobiuz deserves some praise in the looks department. SpiderMan: Miles Morales looks fantastic on this monitor, and as long as you have a powerful GPU to drive it, watching Miles zip around New York City in 4K at 120Hz never gets old. As always with PC gaming, HDR mode can be hit and miss – the contrast in Hitman 3 and Gears V felt a little off in darker areas, but it didn't ruin the vibe.
The issue is the price, with the Mobiuz listed at $. Compared with OLED gaming TVs of that size, the LG C2 is cheaper at $ and is often available for a lot less, plus it offers lots of apps and 'TV' features out of the box.
The BenQ Mobiuz EX480UZ is yet another large OLED that looks incredible and is fantastic for gaming, though it's a little impractical (and expensive) for most PC gamers. It has superb picture quality and a speedy response time, but its price and impracticality keep it from being a truly great monitor.
There are also several sizable 1440p 240Hz OLED gaming monitors due on the market, which feels like the current sweet spot for PC gaming. There's still a place for 4K 120Hz on screens of this size, but they also require RTX 4090 cards to drive them, something that means they are very much a luxury item for most.
The BenQ Mobiuz EX480UZ is a solid choice if you want to adopt the large gaming monitor lifestyle. It's got the speed, colour, and contrast you want for PC and console gaming. However, its limited ergonomics and high price make it hard to fully recommend over some of its competitors.
Great colour and contrast with excellent response time but it's expensive, has poor ergonomic design and needs more HDMI ports.
Jorge Jimenez
Best BenQ Mobiuz EX480UZ prices ?

BenQ MOBIUZ EX3210U 32 4K HDR 1ms Gaming Monitor 144Hz HDMI DisplayPort Refurbished


$

1,799.99
7 new from $1,799.99
in stock


£

1,599.95
8 new from £1,599.95
in stock

MORE DEALS