PC Specialist Vulcan X 02 – Illogically capable, Captain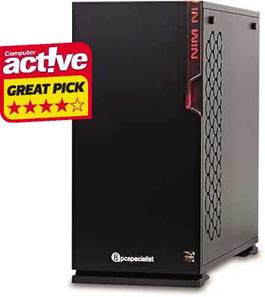 How much do you need to spend for a good PC? It sometimes feels like one of those unanswerable questions, like how long is a piece of string or why do people still watch Big Brother. If we had to give a number, though, based on nearly 20 years of testing the latest desktop PCs, we'd have to say .
A cost-effective choice forfast all-round performance
Many of us will spend less on a PC, of course, and these days even will buy you a machine that works perfectly adequately for most purposes. But if you want a really solid example of the best that current computer technology has to offer, with enough muscle to run all types of software comfortably now and for the next few years, that thousand- pound mark is where you can be pretty sure of finding it.
There are times, though, when the PC suddenly takes a leap forward. This feels like one of them. The Vulcan X 02's AMD processor, the 1600X, comes from the mid-range Ryzen 5 series, not the top-end Ryzen 7. Yet there was nothing middling about its performance in our tests.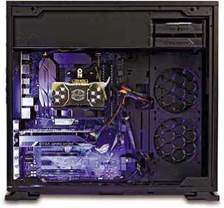 SPECIFICATIONS
3.6GHz AMD Ryzen 5 1600X six-core processor • 16GB memory • 6GB Nvidia GeForce GTX 1060 graphics • 256GB SSD • 1TB hard drive • 2x USB 3.1 Gen 2 ports • 6x USB 3.0 ports • 3x USB 2.0 ports • Gigabit Ethernet • 2x HDMI ports • DVI port • 4x DisplayPort • Windows 10 • 480x226x445mm (HxWxD) • One-year warranty
In the image-editing task, which is fairly tough but not demanding enough for the most expensive processors to really show their chops, the Vulcan came close to the score of a much pricier Ryzen 1800X desktop PC. The more we piled on the processing demands, the more the 1800X inevitably pulled ahead. However, the 1600X easily beat an i7-7700K processor, which may be at the top of Intel's consumer range but still has only four cores compared with the 1600X's six.
The Vulcan was helped along by a 256GB WD Black SSD, capable of read speeds of over 1200Mbps, and 16GB of memory, which comes as two 8GB modules (leaving two free slots on the Asus motherboard). This is accompanied by a 1TB Seagate hard drive, which frankly feels like a starter option in a machine like this. You could pick a higher-capacity drive when ordering, or add your own later. There's plenty of room inside the bulky InWin 101 case – which is mostly empty as it stands – but has no outward-facing bay for a DVD drive or memory card reader.
You get plenty of connections, though, including two 10Mbps USB 3.1 ports for fast external storage and 5.1 surround- sound output, plus three free PCIe slots for internal additions such as a Wi-Fi card.
Completing the specification is a GeForce GTX1060 graphics card with 6GB of its own memory. This sits just below the middle of Nvidia's current range, but it's powerful enough to cope with the vast majority of 3D games. Compatible video- and photo-editing programs will benefit, too. You can, for example, add effects to a video without your timeline stuttering to a halt.
Serious gamers and creative professionals may need a better graphics card than this, and PC Specialist will be happy to fit one – or even two, with twin PCI Express 3 x16 slots available. But for the rest of us, the combination of an excellent CPU and an adequate graphics card is the most cost-effective choice for all-round performance.
Later this year, Intel's 'Coffee Lake' update will introduce six-core options to its i5 and i7 processors, meaning AMD's Ryzen may have more competition. It shows that in computing, there's always something else (often faster and better) just around the corner. For the moment, despite a clunky case and bog-standard hard drive, the Vulcan X02isa PC well worth anyone's .
VERDICT:
It may lag behind PCs powered by i7 processors in basic tasks, but run something more challenging and the Vulcan is scorchingly fast
ALTERNATIVE:
Wired2Fire Pyro VX
It has a slower processor and less powerful graphics card, but for the price this is an excellent choice