A fast PC without breaking the bank
There are two ways to build an above average PC for a given price. One previously favored by Crewe-based manufacturer Palicomp is to buy a relatively affordable processor from AMD, Intel's distant rival, and overclock it – much like those enthusiasts who install jet engines on the back of Morris Minors. A while back this approach produced the excellent AMD Avenger, a desktop PC with more than worth of performance levels.
This time they've gone the other way.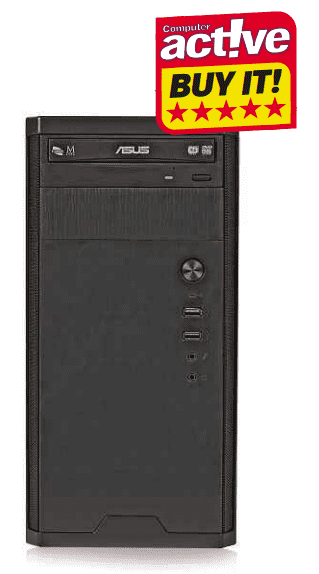 The i5 Titanium, as the name implies, is made of titanium. No, wait, that's just daft marketing speak. It comes in a standard black plastic case on a steel chassis. But inside is an Intel Kaby Lake i5-7400 processor. It's not quite as fast as the popular i5-7500, but not only did it stride confidently through our photo and video-editing tests, its four cores walked our multitasking benchmark test too. This makes it considerably quicker than the i3 processor commonly found in budget systems. If you'd bought the AMD Avenger, you'd be looking enviously at these results.
Then again, you would have an Nvidia GTX GeForce 960 graphics card, while the i5 Titanium has none. That reflects the fact that buys less on the global parts market than it did a year ago. But if you don't play games, that won't bother you, and if you do, the good news is that the built-in HD Graphics 630 card produced even smoother frame rates here than in other i5-7400 desktop PCs, making most 3D games easily playable.
Despite the case having only one (fairly quiet) fan, it never got noticeably hot.
Windows 10 booted quickly from the 250GB SSD, and there's also a 1TB hard drive. There's no room for more internal drives, which is disappointing for a desktop PC, but the Asus Prime B250M-A motherboard has two M.2 sockets for fast SSDs. It also supports Intel's new Optane memory, which uses a small SSD to boost hard-drive performance. There are four memory sockets, giving you plenty of room for upgrading from the supplied 8GB. The USB Type-C port on the back is only USB 3.0, not the faster 3.1, and there's only Gigabit Ethernet, not Wi-Fi.
However, an Asus DVD writer drive is included and there's a free 5.25in front bay if you wanted to add Blu-ray or a unit to read memory cards.
VERDICT:
If you want a compact PC with solid processing power and some upgrade potential, the i5 Titanium is great value for 500 quid
ALTERNATIVE:
Gladiator Computers Enterprise GT
Despite having the same processor, this wasn't quite as fast in testing – look out for our review soon
Editor choice
Palicomp i5 Titanium Review
If you want a compact PC with solid processing power and some upgrade potential, the i5 Titanium is great value for 500 quid
Add your review