WE'VE TAKEN TO calling the Aegis Ti3 "Optimus Prime" around the office, though perhaps "Megatron" is more appropriate.
With angular features and red and black styling, the Aegis Ti3 looks more Decepticon than Autobot, but we can't hold that against it—especially considering the power locked inside.
The Ti3 marks the third generation of MSI's Aegis gaming desktops, and this iteration updates the system with an Intel Kaby Lake processor—a 4.2GHz Core i7-7700K, with the turbo raised from 4.5 to 4.8GHz. Also slotted in the MSI Z270 motherboard is a ludicrous 64GB of DDR4- 2400 RAM—an absurd amount that's more than enough for any pile of tasks you might have in mind. The result is solid scores in Cinebench R15 (1,032) and Tech ARP's x264 (23.22fps), though that latter number comes with a caveat, because x264 crashed the first few times we tried running it.
Apparently, the factory CPU bump was only done to the clock speed, not the voltage, resulting in some instability under heavy load. It was only after bumping the voltage up a tad that the test completed without a hitch.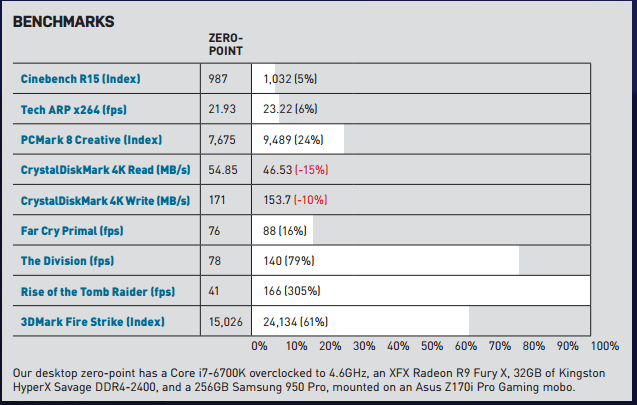 On the storage front, a pair of M.2 drives in RAID 0 amount to 1TB of NVMe SSD space for all your games, programs, and OS, while a 3TB HDD takes care of media cold storage. But what the SSDs have in sheer size, they lose in performance, falling short of our zero-point in CrystalDiskMark x64's 4K read and write tests. PCMark 8 Creative wasn't too affected by the drive access though, producing a healthy overall result of 9,489—beating our zero-point by a significant margin.
TRANSFORM YOUR GAMING
Productivity benchmarks are all well and good, but the Aegis Ti3 is a gaming system first and foremost. To prove it, pixel-pushing is handled by a pair of GTX 1080s in SLI. We've had some issues with SLI performance in the past— especially at 1080p—but things have gotten considerably better recently due to updated drivers. We performed testing on Nvidia's 378.78 drivers, which added SLI profiles for a handful of games, as well as optimizations for DirectX 12. The latter proved considerably helpful in Rise of the Tomb Raider, where we've often found dual-GPU systems to perform better at 1080p with SLI disabled.
Not so this time. With DirectX 12 enabled, the Aegis Ti3 landed some of the best scores we've ever seen in Rise of the Tomb Raider. At 1080p max settings, the Ti3 averaged 166fps across the game's three-part benchmark (219fps mountain peak, 144fps Syria, 133fps geothermal valley). 1440p and 4K performance was just as impressive, averaging 151fps in the former and 87fps in the latter—both at max settings. The Division fared similarly, with 140fps at 1080p, 105 at 1440p, and 65 at 4K. Those numbers were without DirectX 12, though, because enabling it resulted in knocking our frame rates down by around 30 percent.
Far Cry Primal was a different story.
Continuing to be one of the most difficult games to land a high frame rate at lower resolutions, the game scored almost exactly the same at 1080p and 1440p max settings: 88 and 87fps respectively. 4K wasn't much below that either, with 72fps— again, with settings at the highest preset.
Finally, 3DMark Fire Strike returned excellent scores: 24,134 for the regular 1080p test, 16,074 at 1440p, and 9,115 in the 4K gauntlet of Fire Strike Ultra.
All told, the Aegis Ti3 is an incredibly capable gaming machine, with aggressive styling to match. The slanted case is a bit odd to look at, but it's actually quite compact (20.1 x 19.9 x 6.7 inches) considering how much is inside. The carrying handle is a nice touch, too, making the system easy to tote, despite its weight (31.5lb). But hopefully you're happy with the insides—according to stickers on the back panel screws, opening the case violates the warranty.
BO MOORE
Specification
Processor Intel Core i7-7700K @ 4.2GHz
Graphics 2x MSI GeForce GTX 1080 Gaming in SLI
RAM 64GB DDR4-2400 (4x 16GB)
Motherboard MS-B912 Military IV (Z270)
Primary Storage 1TB (2x 512GB) M.2 NVMe SSD
Additional
Storage 3TB SATA HDD
Cooling Solution Silent Storm Cooling 3 Pro with liquid cooling
PSU 850W 80 Plus Platinum
Case Aegis Ti3 chassis
Warranty Two-year manufacturing  warranty, with on-site pick-up and return service
MSI Aegis Ti3 Review
The Aegis Ti3 backs up its aggressive gamer styling with top-notch performance.
PROS
Outstanding gaming performance; tons of storage; surprisingly slim.
CONS
Storage not the fastest; unstable factory CPU overclock; opening it voids the warranty.
Add your review