We test seven network storage drives that can do anything from backing up your PCs to streaming video to your TV
Network-attached storage (NAS) drives are so called because they were originally designed to provide storage space for all the devices on your network. Like smartphones, however, NAS drives have moved on to become mini computers in their own right. That's why you should think of your NAS not just as somewhere to backup your files or store your videos but as a home server that can do all that plus host websites, act as a media centre and become your own cloud-storage service that you can access even when you're away from home.
Here we compare the best two-bay NAS drives. We'd avoid single – drive devices if you can afford to, because only dual-drive systems can use RAID (redundant array of independent disks) tools to create a mirror image of your data on two drives. With this system in place, if one drive fails, you can replace it with a new one and you won't have lost any data. The prices quoted are for NAS enclosures without hard drives installed.
HOW WE TESTED
To test the speed of each device, we installed a standard pair of identical drives and used the CrystalDiskMark benchmark to measure how quickly it could transfer files. Most of the devices were fast enough that their speed was limited by the Gigabit Ethernet interface rather than their own performance, but some fell a little short. We also considered each device's features and options when deciding whether or not they're good value.
Synology DS216j Review
The Synology DS216j may look more at home next to your washing machine or freezer than your PC, but its shiny white case contains an extremely versatile device. It has one Ethernet port and a USB port, although it's hidden at the back and there's no button to automatically copy the contents of anything you plug into it.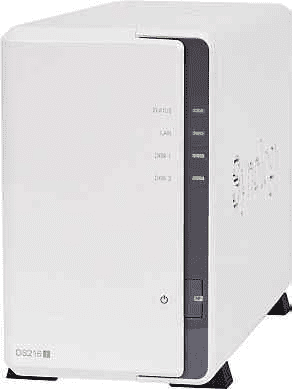 It runs the full version of Synology's latest DSM 6.1 operating system, which means you get all the features of the pricier Synology NAS drives in a cheaper package designed for home users. The operating system provides a rich, window-based web interface with an extensive range of companion apps for Android and iOS. It integrates with every major cloud storage service and offers easy remote access, either through Synology's QuickConnect website or using dynamic DNS.
The suite of network services includes Synology's Photo Station image server, a security hub for controlling two IP-based security cameras and Apple's iTunes and Time Machine. If you're technically minded, you can use the NAS to host an email server, a web server, a wiki or a WordPress blog. It'll even host web development tools such as Drupal, Joomla and Ruby.
That's an impressive range of options, so it's unfortunate that the DS216j isn't powerful enough to do all these things at once. Its modest 1GHz, 32-bit Marvell processor is fine for basic networking and file copying but it isn't even as powerful as the chips in most modern smartphones. It also comes with just 512MB of memory, and this can't be upgraded, which means it will struggle if you try to do too much at once. This also makes it too underpowered to run a Plex server (www.plex.tv), which some of the other NAS drives can use to stream video to other devices. However, Synology has developed its own VideoStation app, which has been optimised for the hardware and can deliver 1080p H.265 video to DLNA- compatible devices or to Synology's own app.
VERDICT
5/5
The Synology DS216j is fantastic value. It comes with stacks of tools and features that give it a lot of flexibility, and it can do most of the things other NAS drives can do, including the more expensive models. The trade-off is that Synology has sacrificed a little power, and the lower-end components place limits on some of its functions. We think this is a fair compromise when you consider how affordable the hardware is.
Qnap TS-251A Review
The TS-251A crams a lot into its compact two-bay frame. As well as a standard USB 3 port, its front panel provides a microUSB 3 port and an SD card reader. The NAS can connect wirelessly to other devices to transfer files over Wifi or Bluetooth, which makes consolidating all your media files simple, no matter which device they're stored on. At the back you get two Ethernet ports, two HDMI sockets and a brace of audio jacks.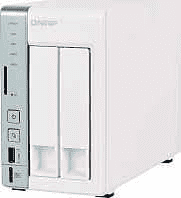 The Intel Celeron N3060 processor is powerful enough to drive two 4K video streams, so this NAS would make a fine living room media server. It even comes with a remote control.
More importantly, the TS-251A handles the basics well too, with support for cloud storage services and a wealth of apps. You can even install Linux and run the device as a PC. It's a bit light on memory, with only 2GB installed, but you can expand this to 8GB if you need to.
This is a more powerful NAS than our Synology Gold Award winner and can do a lot more, but it's also much more expensive. If money is no object and you want a device that can do almost anything you can think of, this is the one to buy.
Buffalo LinkStation 520 Review
Our other award winners offer a wealth of features, but they're overkill if all you want is somewhere to store files. The LinkStation 520 is boxy, with just two activity lights for communication – one for its own drives and one for the single rear-mounted USB port. The only other external feature is an Ethernet port.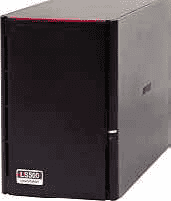 Inside, it has a 1GHz Realtek processor and just 256MB of memory, so it clearly isn't designed to run apps or do anything other than look after your files. However, it has a surprisingly good user interface that makes it easy to set up different users, create shared spaces and access them locally or over the internet.
The LinkStation 520's no-frills media-serving features can handle the essentials, including iTunes and DLNA, so for a device that costs less than (without drives) it's a bargain. It's cheap to run, too, with low-power components that consume less energy than the other devices we tested.
The LinkStation 520 doesn't win our Bronze Award for great looks or flashy features but it's a compact, efficient NAS box that's great value. If you've already got some spare hard drives, it's an incredibly cost-efficient way to get started.
BEST OF THE REST
Netgear has a reputation for producing great-quality networking equipment, and the ReadyNAS 212 (3/5) is no exception. Its sturdy metal enclosure protects the drives you put in it, and it has 2GB of memory, which should be more than enough to handle almost anything you need to do with your NAS device. However, this abundance of features makes the drive quite expensive, working out at more than our Gold Award winner and only a few pounds less than the more versatile Silver Award-winning Qnap TS-251A.
TerraMaster is a new name in NAS drives, with devices that are designed and manufactured in China and sold exclusively in the UK through Amazon. The TerraMaster F2-420 (3/5) is expensive for an empty two-bay drive, although this is partly because it's crammed with extras, including a quad-core processor and 4GB of memory. It's nicely designed, too, but you'll need to get out your toolbox to access the drives and it was a little slow in our performance tests.
The Asustor AS6302T (3/5) is brand new and wasn't widely available at the time of writing, so keen retailers haven't started knocking chunks off its recommended price yet. However, the high price is unlikely to come down by much because the NAS is powered by a dual-core Celeron processor and comes with 8GB of memory straight out of the box. It's packed with features and has loads of ports for connecting it to other devices, but you could buy our Gold Award winner complete with hard drives for the same price.
The second-most expensive two-bay NAS drive we tested is the WD My Cloud Pro PR2100 (3/5). This has the specifications to justify the price, with a quad-core processor and 4GB of memory. You can use it as a standard NAS to store your valuable files, but it also operates as a server, either sending video around your network using Plex or running websites powered by WordPress or Joomla. The extra memory means it can run all this and more without any performance problems.
TEST-RESULTS CHART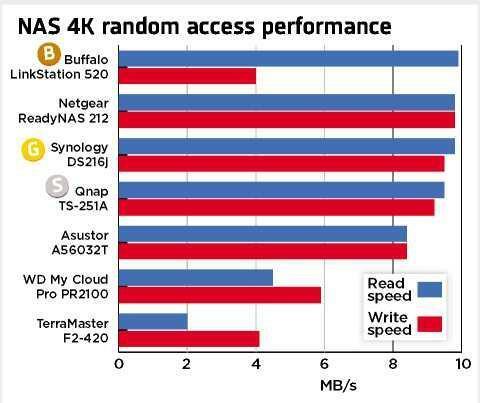 Synology

DS216j

Qnap

TS-251A

Buffalo

LinkStation 520

TerraMaster

F2-420

Netgear ReadyNAS 212
WEBSITE
www.synology.com
www.qnap.com
www.buffalo-

technology.com

www.terra-master.com
www.netgear.co.uk
PROCESSOR
Marvell 385 88F6820 dual-core 1GHz
Intel Celeron N3060 dual-core 1.6GHZ
Realtek RTD1195N dual-core 1GHz
Intel Celeron J1900 quad-core 2GHz
Coretex A15 quad-core 1.4GHz
RAM
512MB
2GB
256MB
4GB
2GB
BAY TYPE
3.5in internal mounting
3.5in caddy (screw-in)
3.5in caddy (screw-in)
3.5in caddy (screw-in)
3.5in caddy (screwless)
RAID MODES
JBOD, RAID0, RAID1, Synology Hybrid RAID
Single, JBOD, RAID0, RAID1
JBOD, RAID0, RAID1
Single, JBOD, RAID0, RAID1
RAID0, RAID1
HOT SWAP
X
✓
✓
✓
✓
GIGABIT ETHERNET PORTS
1
2
1
2
2
OTHER PORTS
2 x USB 3
3 x USB 3,1 x microUSB 3, SD, 2 x HDMI, 2 x audio jack
1 x USB 3
1 x USB 2,1 x USB 3
2 x USB 3,1 x eSATA
DIMENSIONS
226 x 165 x 100mm
219 x169 x102mm
205 x166 x87mm
227 x133 x119mm
220 x142 x101mm
WARRANTY
Two-years

return-to-base

Two-years

return-to-base

Two-years

return-to-base

Two-years

return-to-base

Three-years

return-to-base
OUR VERDICT
The Synology DS216j won our Gold Award because it offers great value for money.
It's as crammed with features as Synology's more expensive NAS drives but comes in a very affordable package. The only downside is that it's slightly lacking in memory and processor power, but that's not a problem as long as you don't try to do too many things at once.
If you need a more powerful device, the Silver Award-winning Qnap TS-251A is a brilliant choice. It's more expensive but you get quite a bit more for your money, with vastly superior components inside that allow it to perform all sorts of tasks at the same time.
Anyone who wants to buy a network storage device without spending a lot of money on features they may never use should opt for our Bronze Award-winner, the LinkStation 520. If you already have a couple of spare hard drives, this is the cheapest way to get a dual-bay NAS drive up and running.
CHOOSING DRIVES FOR YOUR NAS BOX
All the NAS devices tested here accept 3.5in SATA hard drives, which are the standard type fitted in desktop PCs. You can use smaller 2.5in laptop drives instead, but you may need an adapter. There's little point in using fast SSDs because transfer speeds are limited by the Gigabit network. SSDs are more energy efficient and quieter than regular hard drives, too, but they're a lot more expensive.
To create a RAID setup, where one drive mirrors the other for maximum data protection, it's best to use two identical drives of the same capacity. You can still use any spare drives you have, but the amount of data you can back up safely in a RAID system will be limited to the capacity of the smallest drive.
Some drives, such as WD's Red series, are specifically designed to run in NAS devices. A busy office NAS may benefit from these more robust drives, but any drive should suffice for home use, so look for a good deal.
Even with RAID enabled, NAS drives aren't infallible, so don't rely on them as your sole backup method. There's always a chance that a NAS could develop a fault that wrecks both drives. Disasters such as fire or flood could destroy a NAS drive, and if you're burgled, a thief could easily take a fancy to your expensive-looking box.