A 4-bay network-attached storage device is the perfect multi-user storage device for today's busy digital homes or small offices. Nathan Taylor tests 10.
A network-attached storage device (NAS) is a wonderful thing. Most people who own a NAS wonder how they ever lived without it. They provide massive amounts of shared storage, as well as common services that even home users can make use of (like media libraries and backup and sync tools). They let you store your photo library in a safer place than your PC's hard drive and they let you quickly browse and stream content to the many media players stationed through the house. And with the rise of the SSD, they've become even more valuable, since you probably have less storage capacity in your PC now than you did a few years ago.
This month, we've taken a long, hard look at some of the 4-bay NAS models currently available on the market. They've come a long way in the last few years. NAS boxes used to run on crummy ARM processors that your mobile phone would have laughed at — now they're a lot faster and more powerful. Many will now go essentially as fast as your network does, while still performing a host of other tasks in the background. It's definitely a good time to be in the market for a NAS.
HOW WE TESTED
For each device, we performed a simple copy test and measured both the write and the read speed, in megabytes per second (MB/s). All tests bar the Seagate — for which we used the included drives — were performed with three Hitachi 4TB drives installed and set up in RAID 5 (since RAID 5 tests performance more than other modes).
For NASes that supported link aggregation (that's using two Ethernet ports and load balancing across them) we did use both Ethernet ports. However, given the client test device only has a single port, this is not really reflected in the results.
Looking at the results, you'll see a lot that hover in the 90-105MB/s range. This is essentially the NAS maxing out the Ethernet connection, which is where link aggregation comes into play. It means that the NAS likely has more performance to offer for when multiple devices are accessing it simultaneously.

Asustor AS-204T Review
A low-cost NAS that does the basics well.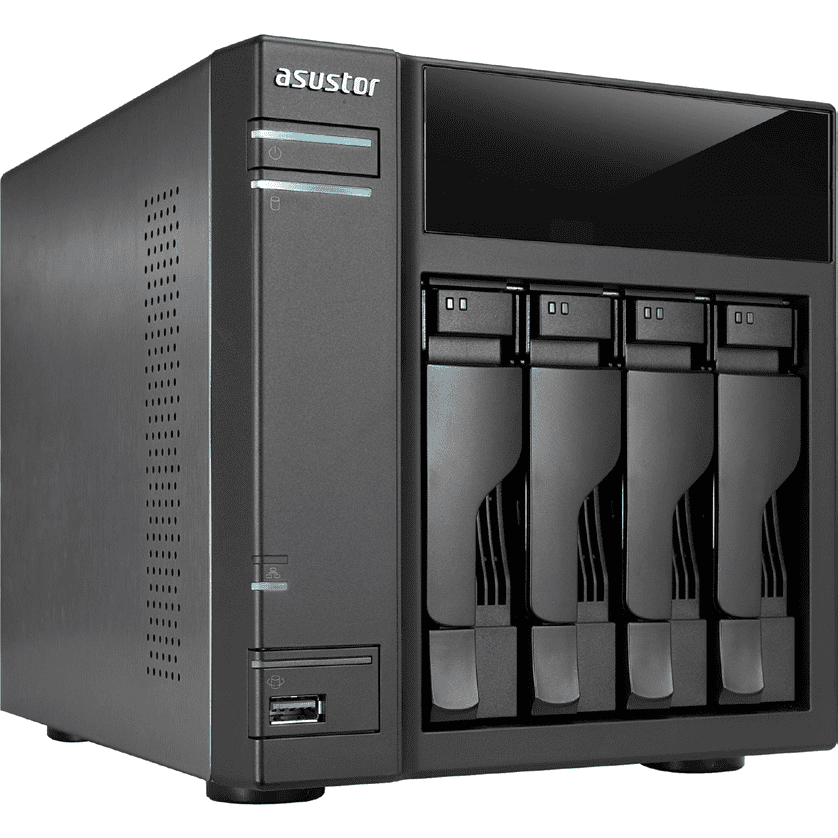 A product that's roughly three years old now, the Asustor
AS-204T remains one of the few models of Asustor NASes that are widely available in Australia.
In spite of its age, the AS-204T still makes a solid low-cost 4-bay. It won't set anybody's world on fire, and we wouldn't recommend it if you want it to perform heavy lifting like live transcoding or virtualisation, but if you just want a cheap 4-bay with OK performance and a capable operating system, this model gets the job done.
Like Synology and QNAP, Asustor's ADM operating system fully embraces all the capabilities of Linux.
It looks and works very similarly to those platforms, and there is a wide variety of third-party applications that can be downloaded and installed on the device, as well as a suite of very handy mobile apps. Because it runs an x86 processor (unlike many other low-cost NAS boxes), the third-party application support is especially impressive, and it supports Docker and virtualisation as well. Of course, given it only has 512MB of memory, the latter is probably not all that useful.
We're also fond of the simplicity of the design.
It's not screwless, but it's simple and elegant enough that installing or replacing hard drives is no drama.
It has only a single Ethernet port, however, and no fancy HDMI port or eSATA port for expansion.
It's cheap and it's simple and, for many people, that's enough.
Verdict
Don't expect too much from this older NAS model, but it's cheap and has plenty of options.
3/5

Asustor AS-3104T Review
A mid-range NAS and neat media centre.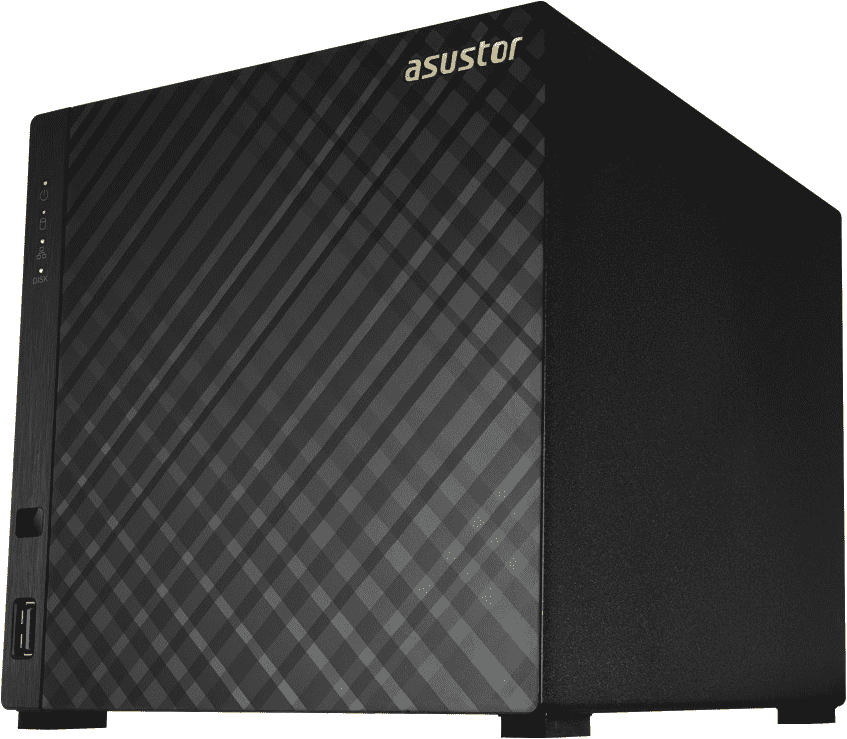 A considerably newer and more powerful product from Asustor, the AS-3104T is built as both NAS and media centre, with local HDMI output,
IR receiver support and additional custom software.
Sporting a dual-core Celeron processor, it's in the mid-range of NASes when it comes to processing power.
It will handle most things capably, including 4K transcoding, but it might struggle if you hit it really hard with virtualisation, large numbers of IP cameras and similar tasks. It did well in our performance tests, essentially maxing out the Ethernet link, though it only has a single Ethernet port.
ADM is also an excellent NAS operating system. It's a virtual desktop in the style of Synology DiskStation, with a large range third- party apps. Its first-party apps aren't quite as good as QNAP's, but there are very solid backup tools and an IP camera surveillance manager with four licences. We're really fond of the mobile apps as well.
Its capabilities as a media player are also considerable. Asustor hasn't just slapped Kodi on the NAS and called it a day. There's a proper portal interface for your TV set, with support for Netflix and others. Kodi is there for playing local media, of course. The NAS supports USB TV tuners through the LooksGood app as well, so it functions capably as a PVR. The portal and applications are still rough around the edges and could use a bit of interface design work, but it's really nice to have the options and all the features right there with full remote control support built in (though no remote is supplied).
Verdict
It's a little expensive given the hardware specs, but we really like it overall.
4/5
Netgear ReadyNAS RN214 Review
An easy-to-use mid-range performer.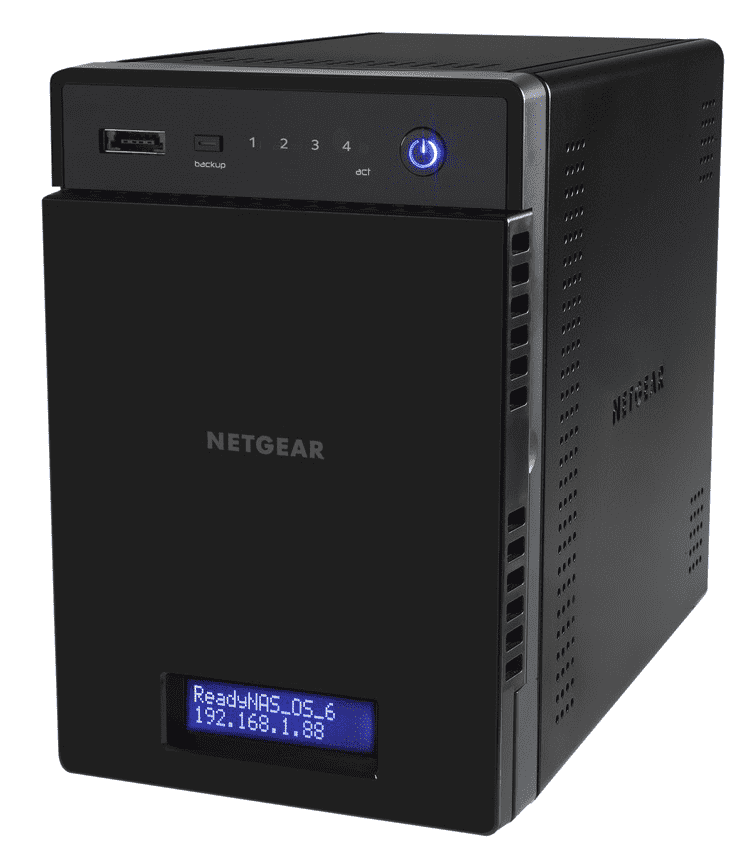 With a hard black box and LCD display up front, the Netgear is a good looking device, and its easy installation and setup make it a top pick for a lot of users. Its supporting mobile and desktop apps are impressive and the tabbed admin interface will be a lot less scary for a lot of users than the virtual desktop-style.
Most NASes in this price range use x86 processors, which have better application compatibility and generally better performance. On the other hand, Netgear is sticking with ARM, which might limit the availability of some third-party apps.
In terms of raw disk performance, it did OK, but fell down a little in the write tests. Otherwise the hardware is solid, with twin Ethernet ports supporting load balancing, USB 3.0 and an eSATA port for expanding the number of drives.
Netgear's admin interface is simple and straightforward. It's a tabbed affair, designed for easy access but with more limited options than you'll find in Asustor or Synology. There are third- party apps that can be installed, and Netgear is popular enough that many software developers offer manual downloads. In general, you won't find as many third-party apps as you will on QNAP, Synology or Asustor, but there's more than you'll have available on Seagate or WD.
On top of that, the mobile and desktop apps are very good. The backup apps in particular make it simple to use the ReadyNAS as a backup target, while media apps for mobile make streaming easy.
Verdict
A solid mid-range performer.
It's nicely designed for consumer use, yet still has plenty of options.

QNAP TS-431P Review
Cheap but capable.
The new player at the low end of QNAP's range, the TS-431P, is an ARM-powered NAS with a neat design and a ton of features. It's a nice step up from the older ARM models like the TS-412, yet retails at a very affordable price. It comes in the QNAP white case, with easy slide- in installation.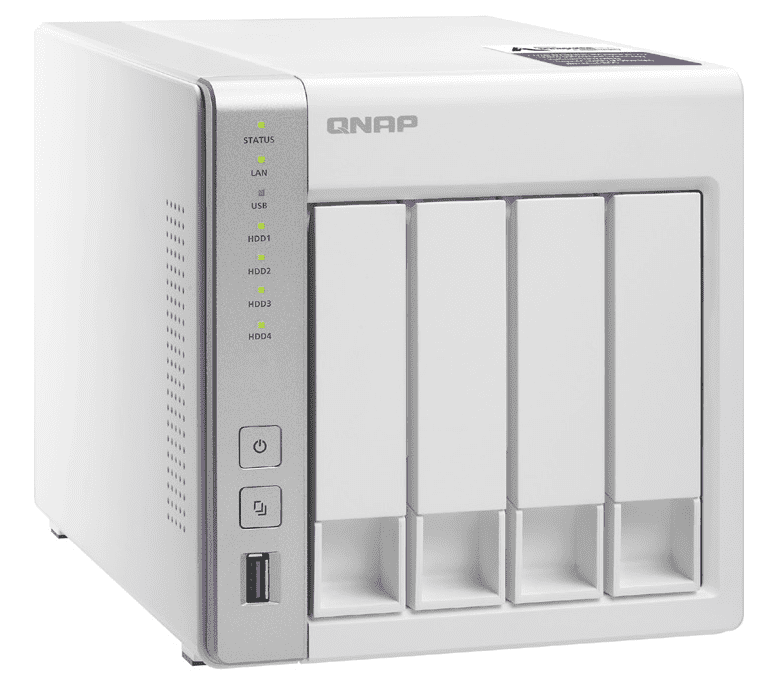 As you might expect at this price range, it's hardly a powerhouse. A 1.7GHz dual-core ARM processor and 1GB of RAM definitely place it at the low end of the performance scale, and it's not the kind of device you can ask too much from.
It did well enough for disk access, however, rivalling the considerably more expensive Netgear (left).
It also has twin Ethernet ports for load balancing.
It boasts the latest version of QNAP's QTS operating system, but we think the company has been going backwards with its recent OS releases, with its sometimes scattershot approach to both NAS and mobile applications. The removal of the Twonky Media DLNA server was a big blow (the QNAP DLNA server is bug-riddled and inferior, in our view). There's no question, however, that QNAP has the largest range of first party tools available for the NAS and a third-party toolset to rival any other.
It's the only ARM-based NAS we've seen that supports Docker and LXC, which allow the simple installation of nearly any Linux app. It's still ARM, and the array of third-party Linux apps compiled for the platform is still much more limited than an x86 NAS.
It's still a good NAS for cheap. If you're looking for just-the-basics file services, it's hard to beat.
Verdict
A very capable NAS at a very low price.
4/5

QNAP TS-451A Review
A NAS box with the lot.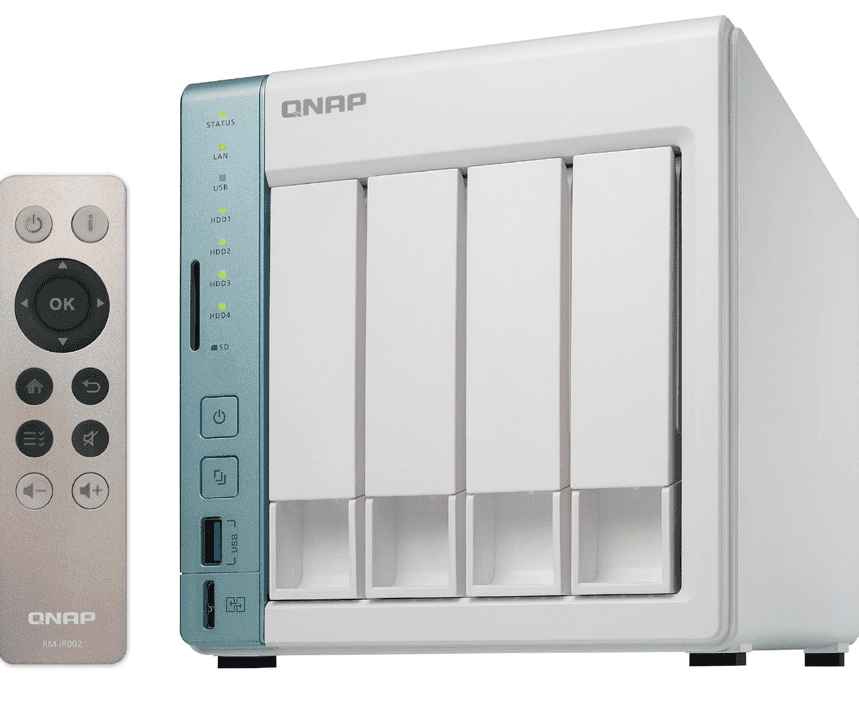 No other NASes in this review can't boast quite the feature set of the TS-451A. QNAP has stacked in an enormous number of extras and unique selling points into the NAS, including HDMI support with an IR remote actually supplied in the box; a USB device port that lets you directly connect the NaS to a PC as if it were a USB hard drive; and even an SD card slot for quick backup or upload. This is a NAS that has every consumer feature you could want.
It runs on a dual-core Celeron with 2GB of memory, which is a little slower than the processor found in the top-end Synology NAS and the WD Pro, but still fast enough for everyday use.
The QTS operating system rivals Synology's DSM as the best in the business. We've found it a little rougher than Synology of late, but in terms of pure functionality, QNAP is hard to beat.
There is a huge suite of third-party apps covering every type of service you could imagine, and that doesn't even account for all the extra apps available through Docker or virtualisation. QNAP's mobile and desktop apps remain a weakness, however, and we usually find we prefer third-party apps like ES File Explorer.
And then there's the direct media support. A very nice remote that works well with Kodi comes in the box, while an HDMI 1.4 slot can output media direct to a TV set in 4K. Asustor has done a better job at customising the interface for TV use (QNAP pretty much just uses Kodi), but the supplied remote is a major seller for QNAP.
Verdict
An amazing feature set at a good price. A top NAS.
4.5/5

Synology DS416slim Review
Neat.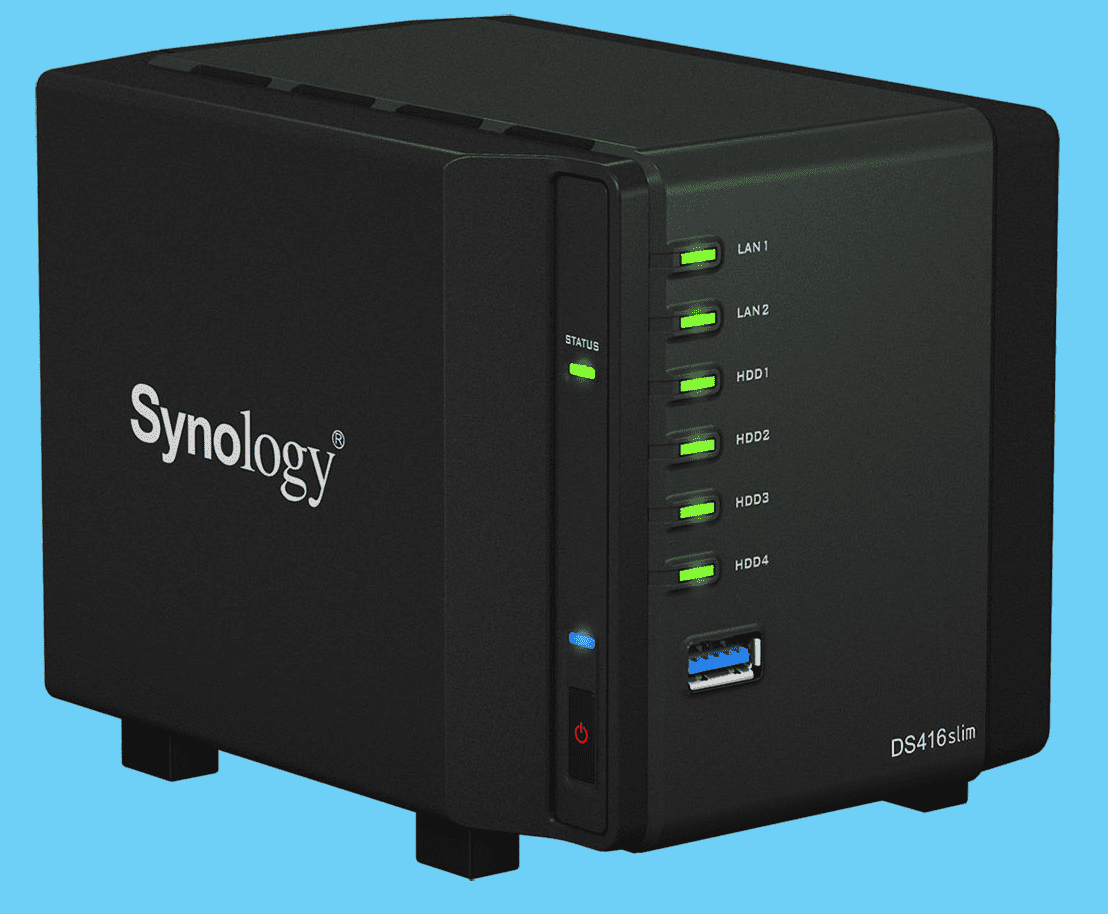 The key selling point of the DS416slim from Synology is right there in the title. The case of the NAS is just big enough to hold the drives, a small 6cm x 6cm fan, and the motherboard — and not much more. It's about as neat as a four-bay NAS can get, and the drives slide right into the back of the NAS giving it a clean look up front.
In order to stay cool, quiet and compact, it uses a low- power ARM processor to drive the NAS. It clocks in at just 1GHz, accompanied by only 512MB of memory.
In terms of ports, there are just two USB ports — though it does feature twin Ethernet ports.
Not that you're likely to get much use out of the twin LAN. The low-end processor struggled with the Synology Hybrid RAID (a version of RAID 5) and the write speed was well below average.
It wasn't terrible, and it had no trouble streaming media, but it couldn't compete with the other NASes here.
It runs Synology Diskstation Manager, a powerful OS that it a contender for the best in the business now. Like QNAP and Asustor's operating systems, it presents as a full virtual desktop, windows and tabs and all. Hundreds of first and third-party apps are available, and the suite of first-party tools for media sharing, backup and sync and remote access are first class. It even has a web- based office suite available.
Of course, given the light specifications, you couldn't ask it to run too much.
In fact, we probably wouldn't ask it for much more than file services.
But if that's all you want, this is a low-cost, attractive little NAS that does the basics well.
Verdict
It's cheap and light on performance. But it's also a very neat, very solid design with an excellent OS.
3.5/5

Synology DS916+ Review
More powerful than most.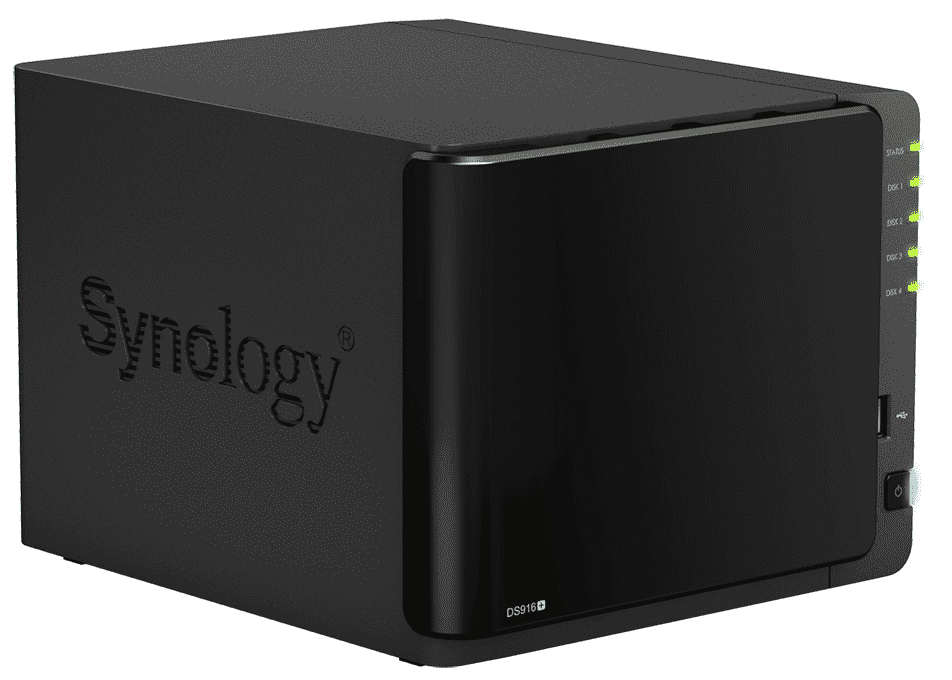 Synology's DS916+ sits at the pricier end of the consumer scale, but if you want a NAS that can offer the kind of performance you need for virtualisation, 4K transcoding and large scale IP camera monitoring, the DS916+ has the goods.
The heart of the NAS is Synology's excellent DiskStation Manager OS, and the DS916+ has the power to make the most of it. The array of features available is astonishing, including first-party tools for media sharing and web publishing, a virtualisation station, cloud-based chat and word processing, tools for backup and sync, as well as our favourite NAS-based Surveillance app (for which you get two licences in the box). They're all managed via a virtual desktop interface, and can also be accessed through Synology's well-made mobile apps.
In short, Synology may not have quite the breadth of features possessed by QNAP (though it's close), but its implementation is a little smoother.
The hardware itself feels wonderfully solid and well designed, making it easy to hot swap disks. There are plenty of USB 3.0 ports and twin Ethernet ports with load balancing. It also has an eSATA port, which you can use to attach additional drive bays, such as Synology's Expansion Units. These are 'dumb' arrays of five or more disks controlled by the host NAS.
Set up using Synology's Hybrid RAID, the DS9l6+ clocked the best drive performance of any NAS tested here, essentially maxing out the Ethernet link on both read and write operations.
Verdict
A little pricey and without many bells and whistles, but it's powerful and has great software.
4/5

WD My Cloud Expert EX4100 Review
Nope.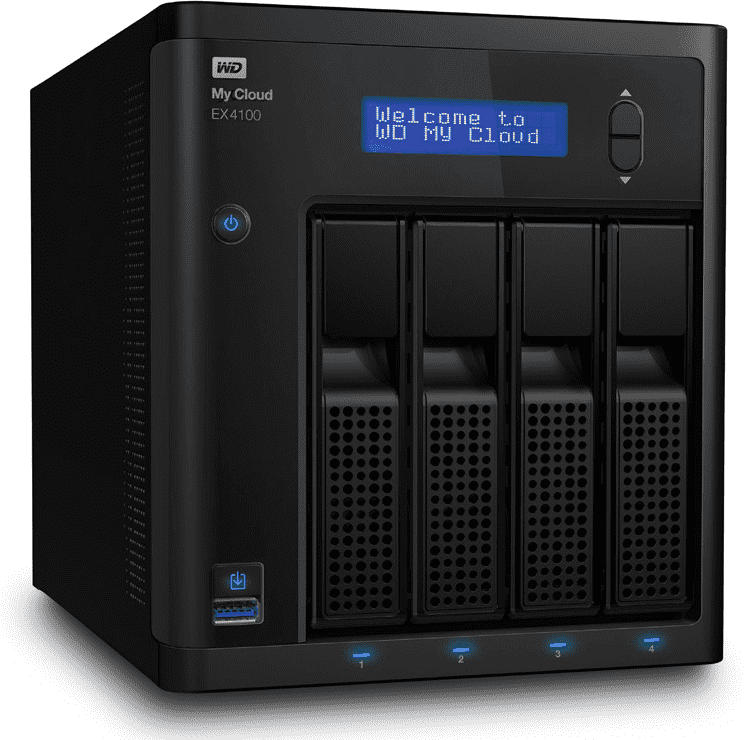 We have very fond memories of the original ShareSpace.
In spite of being released nearly a decade ago, it was a fantastic consumer NAS. Sure, it didn't perform well, but not many devices did back then.
Since then, WD's NAS design seems to have gone backwards. The sleek design of the ShareSpace has been replaced by a more utilitarian look, the front LCD notwithstanding. The friendly firmware has been replaced by something a little less accessible (though slightly more capable). And the NAS has failed to keep up with the times in terms of functionality.
WD's operating system, My Cloud OS, is not bad if you're looking for simplicity. It's very much in the tabbed settings style of Netgear's NASes, eschewing the "Welcome to Linux!" look of QNAP and Synology. That makes it more accessible than those platforms, but also less capable. The suite of third-party apps and addons is comparatively paltry, and quite a few major features are missing — such as IP camera surveillance and web media publishing. That said, the mobile and desktop apps provided by WD are quite good.
The EX4100 is burdened with the relatively weak Marvell ARMADA 388 1.6 GHz dual-core processor. ARM processors are common in low-cost NASes, but the EX4100 is not a low-cost NAS.
In all, it's hard to find anything particularly redeeming about the WD.
It's not terrible — it does what WD says it does — but that's not nearly enough when the competition is cheaper, faster and more capable.
Verdict
Way too expensive for what's in the case.
2/5