INTEL LGA2066 PROCESSOR
We'll probably never know whether Intel's extensive X299 CPU line-up is clue to AMD's return to form, or If Intel was just trying to extend its high-end desktop platform's reach, but there are some strange decisions in there nonetheless.
Half the range is still missing a couple of months after launch, with most of the top-end CPUs arriving In October.
However, the weirdest addition of all are the two quad- core CPUs, one of which is the Core i7-7740X.
Initially we thought the new CPUs might offer a cheap way of accessing the benefits of Intel's X299 platform, such as the Increased number of PCI E lanes or quad-channel memory. However, as the i7-7740X is essentially just an LGA1151CPU in LGA2066 guise, it can only offer 16 PCI – E lanes and lacks quad-channel memory support too. The latter Is especially questionable, as two-DIMM setups usually need to be located in the light -side bank of four slots on an X299 motherboard, leaving the left side completely blank, which looks decidedly odd.
The new quad-core CPUs also lack support for Turbo Boost Max 3.
Like the cheaper Core i5-7640X, the Core i7-7740X is essentially a rebranded Kaby Lake LGA1151 CPU that's shoehorned Into an LGA2066-size package. Both CPUs are clubbed Kaby Lake-X to differentiate them from the more expensive Skylake-X CPUs, as they also use Intel's newer architecture. Otherwise, the only real difference is clock speed The Core i7-7700K is a little slower, with a base frequency of 4.2GHz and maximum frequency of 4.5GHz, while the Core i7-7740X sits at 4.3GHz and 4.5GHz respectively, making it Intel's fastest quad-core processor.
All the cache levels are the same too, with the non-Hyper-Threaded Core i5-7640X getting the usual 6MB L3 cache and the Core i7-7740X getting the same 8MB as the Core i7-7700K. Another difference, though, is the TDP- the Kaby Lake-X CPUs both rise above their LGA1151 counterparts by 21W. Basically, Intel created the  Core i7-7740X and Core i5-7640X purely for overclocking enthusiasts. The beefier power circuitry on X299 motherboards, combined with the CPUs' use of the very latest 14nm silicon, can potentially offer higher overclocking headroom.
The problem, of course, is that you'll need an expensive X299 motherboard just to net you a little more overclocking headroom than you'd achieve with a Core i7-7700K and a Z270 motherboard. In terms of price, the new CPUs retail for roughly the same money as their
SPECIFICATIONS
Frequency 33GHz
Turbo frequency 4.5GHz
Core Kaby Lake-X
Manufacturing process 14nm
Number of cores 4x physical (8 threads)
Hyper-Threading Yes
Cache 8MB L3 cache 1MB L2 cache
Memory controller Dual-channel DDR4, up to 2666MHz
Packaging Intel LGA2066
Thermal design power (TDP) 112W
Features Turbo Boost Technology 2.0, FMA3, F16C, SHA,BMI/BMI1 + BMI2, AVX-512, AVX2, AVX, AES, SSE4a, SSE4, SSSE3, SSE3, SSE2, SSE, MMX
mainstream counterparts. However, with the 6-core Corei7-7800X retailing for Just £ more than the Core i7-7740X, and offering four more threads, the Kaby Lake-X CPUs will be very niche.
Performance
We didn't come across any performance surprises at stock speed: despite using a completely different CPU socket, the numbers were aligned with the similarly clocked Core i7-7700K. However, the advantage in base frequency did allow for some higher scores, with around 30 points added to Cinebench and a slightly higher system score. The higher clock speed didn't add much to gaming performance, though, and the stock speed power draw was slightly higher for the Core i7-7740X.
Overclocking was interesting In that we reached 5.1GHz very easily with a vcore of just 1.28 V. which is the amount most Z270 boards needed to reach just 5GHz with our Core i7-7700K. Temperatures were well within limits here too. so we decided to push the vcore a little to see if we could gel to 5.2GHz. It all seemed fine, except when you stressed all the cores in our video encoding test – even pushing the vcore to 1.45 V didn't solve the issue, so we headed back to 5.1GHz for benchmarking.
Not surprisingly, this overclock also yielded some higher scores than our Core i7-7700K, with a 3.000-point advantage In the system score and the CPU topping 1,100 points in Cinebench.
Again, though, the difference wasn't big enough for any measurable advantage in our game tests; however, the Core i7-7740X interestingly drew less power from the wall under load when overclocked than the mainstream CPU.
Conclusion
Ultimately, both Kaby Lake-X CPUs are questionable additions to Intel's line-up, given that they don't offer many advantages. The main issue is that there aren't any X299 motherboards, while decent Z270 Intel created the Core i7-7740X for overclocking enthusiasts boards can be bought. Any small gains in overclocking headroom will cost you at least £ more once you factor motherboard costs into the equation.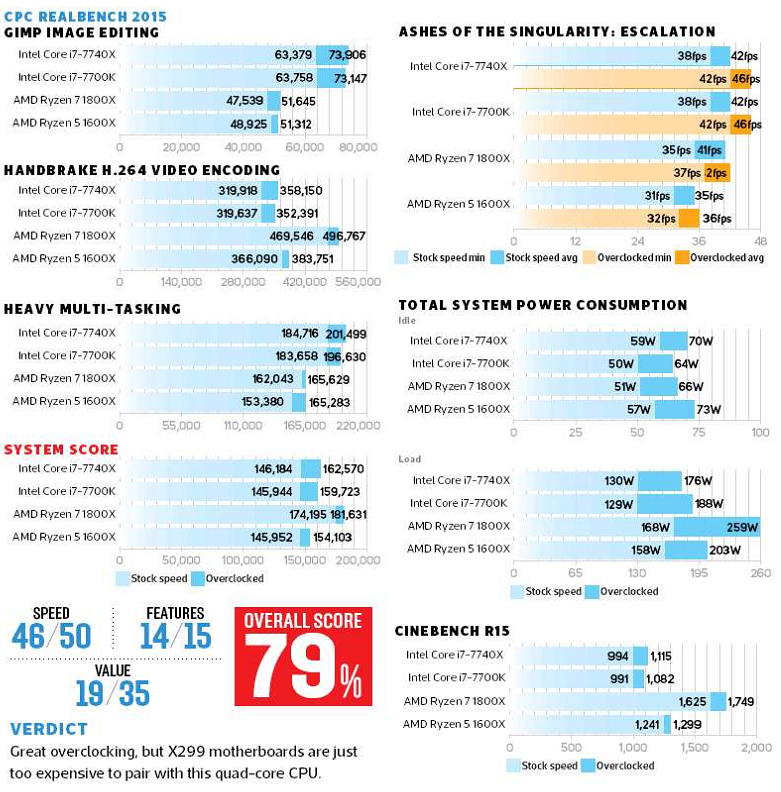 With rumours about 6-core Coffee Lake CPUs that are compatible with current Z270 motherboards too, Kaby Lake-X is perhaps destined to fade from memory as the CPU war continues.
If our test sample is representative, the Core i7-7740X certainly seems to offer more overclocking headroom than the Core i7-7700K, and we imagine we'd be able to get further with custom water-cooling and delidding the CPU. Gunning for the highest frequency is still an attractive proposition too. The overclocked Core i7-7740X's system score of 162,570 is huge for a quad-core CPU and It wasn't too far behind the 6-core Ryzen 5 1600X in Cinebench and video encoding either. Then again, though, it does cost more than the Ryzen chip.
In short, the only people that should be concerned with Kaby Lake-X are extreme overclockers. There are simply far more attractive and better-value options from both Intel and AMD on the table right now, with more to come later in the year
ANTONY LEATHER
VERDICT
INTEL Core i7-7740X Review
Great overclocking, but X299 motherboards are just too expensive to pair with this quad-core CPU.
Add your review
Best INTEL Core i7-7740X prices ?

$

229.00

$239.95
2 used from $149.99
6 new from $229.00
in stock

MORE DEALS