We've had a bombardment of new silicon launches over the past couple of months, even if you forget about GPUs and concentrate on CPUs. AMD and Intel have both fired broadsides of very different CPUs, with the latter focusing on high core counts, its new Raptor Lake architecture and some very high frequencies to win the fight. The Core i7-13700K is the last Raptor Lake CPU to land in our lab from the launch line-up, and given that the Core i5-13600K was awesome, we're excited to see how it fares in our benchmarks, as well as with overclocking. Read our INTEL CORE i7-13700K Review.
LGA1700 CPU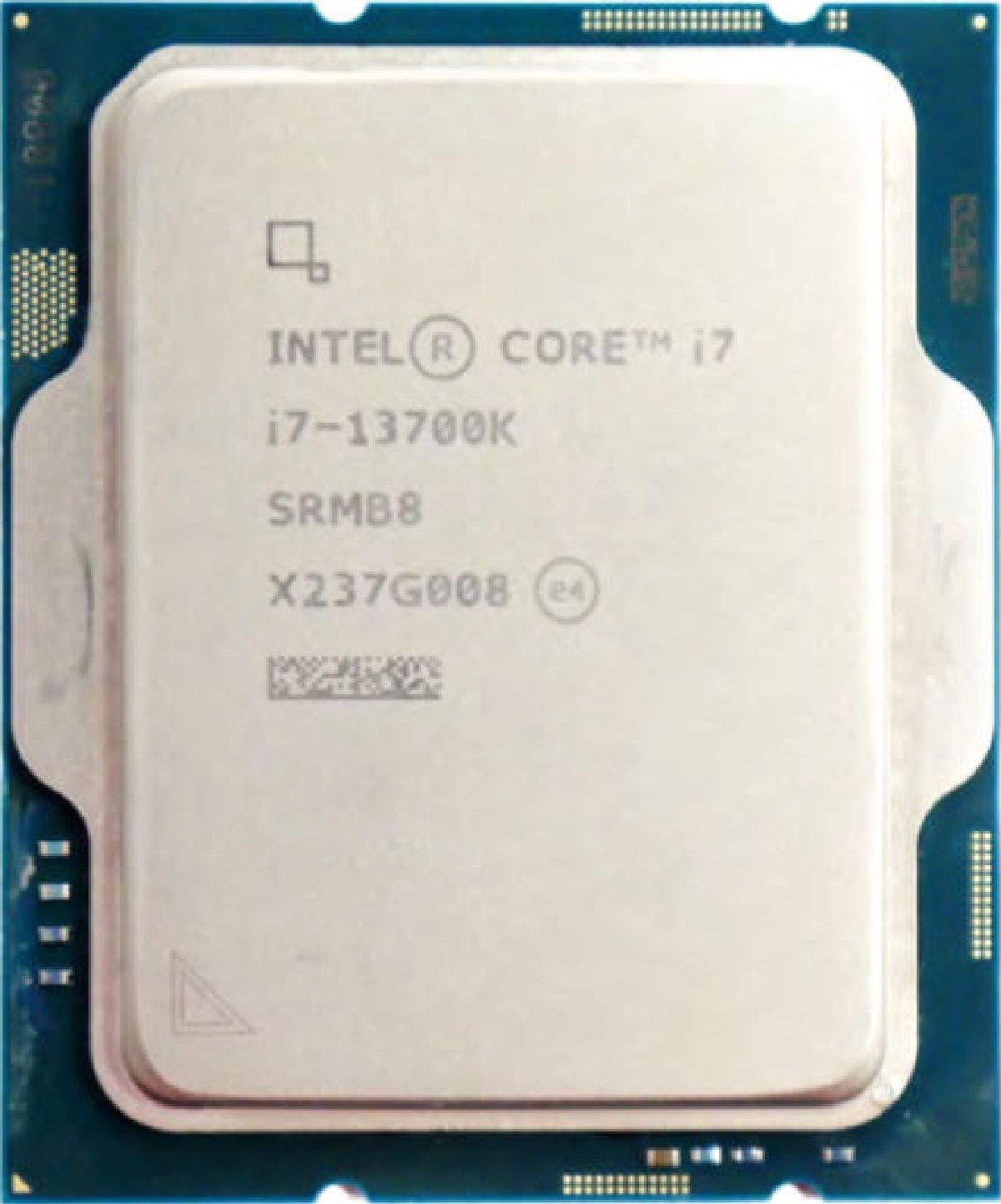 Compare this new chip with its 12th-gen Alder Lake predecessor, and practically every part of this CPU has been tweaked, from frequencies to maximum turbo power and core count. The number of Raptor Cove Performance cores (P-Cores) has stayed the same at eight, and these cores also support Hyper-Threading, meaning they can execute 16 concurrent threads. However, the number of Gracemont Efficient cores (E-Cores) has increased from eight to 16, with the CPU giving you a total of 16 cores and 24 threads, compared to 12 cores and 20 threads with the Core i7-12700K.
Comparably, its big sibling, the Core i9-13900K, has double the number of E-Cores at 16, so it will offer significantly more multi-threaded performance. However, the Core i5-13600K sits just behind the 113700K, lacking two of its P-Cores, but sporting the same number of E-Cores, so it may get pretty close in terms of performance to the 113700K, while demanding less cash. Your wallet could be particularly happy here too, as the Core i7-13700K costs a whopping £ more than the Core i5-13600K, with us having spotted the latter going for just £ inc VAT when we wrote this review.
The boost frequencies of the Core i7-13700K sit a fair bit below those of the Core i9-13900K, with a maximum of 5.4GHz for its P-Cores, and we regularly saw it hitting between 5.3GHz and 5.4GHz in Windows too. This is 300MHz higher than the Core i5-13600K's boost clock, but 400MHz short
SPEC
| | |
| --- | --- |
| Base frequency | P-Core 3.4GHz, E-Core 2.5GHz |
| Max boost frequency | P-Core 5.4GHz, E-Core 4.2GHz |
| Core | Raptor Lake |
| Manufacturing process | 10nm (Intel 7) |
| Number of cores | 8 P-Cores, 8 E-Cores, (24 threads) |
| Hyper-Threading | Yes |
| Cache | 30MB L3, 24MB L2 |
| Memory controller | Dual-channel DDR4 and DDR5 |
| Packaging | LGA1700 |
| Thermal design power (TDP) | 253W |
| Features | Turbo Boost Max Technology 3, Turbo Boost 2, FMA3, F16C, SHA, BMI / BMI1 + BMI2, AVX2, AVX, AES, SSE4a, SSE4, SSSE3, SSE3, SSE2, SSE, MMX |
of the Core i9-13900K. In multi-threaded workloads, we saw its P-Cores hit an all-core boost of 5.2GHz as well. This was 100 MHz higher than the Core i5-13600K's all-core boosts, so the Core i7-113700K is a fairly potent CPU out of the box.
As well as competition from its own siblings, there's also intense competition from AMD here in the form of the Ryzen 9 7900X. AMD has slashed prices of its Ryzen 7000-series CPUs in recent weeks, in order to tempt people over to its pricey DDR5-only Socket AM5 platform, but this has only brought its price in line with that of the Core i7-13700K – the Ryzen 9 7900X still goes for around £ inc VAT in the UK. It lags behind the Intel CPU in terms of core count, with just 12, but those are all full-on Zen 4 cores and it can handle the same number of threads.
Performance
Overclocking the Core i7-13700K was sadly not as fruitful as it was with the Core i5-13600K, as we could only get our sample to run at 5.5GHz across all its P-Cores, while the latter could hit a couple of hundred megahertz higher. This was enough to provide a 100MHz boost to the maximum boost frequency, though, and 300MHz to the all-core boost frequency – achieving it required us to input a vcore of 1.35V and for us to open the taps on the power and current limits in our motherboard's EFI.
At stock speed, the Ryzen 9 7900X produced a score of 89,945 in our RealBench image editing test, which stresses single-threaded performance. This was well ahead of the Core i7-13700K, which scored just 82,711, but AMD's Ryzen 7000-series CPUs have a consistent edge in this test. The Core i5-13600K hit 81,061 here, so its very close to the 13700K despite the 300MHz boost clock deficit.
In our heavily multi-threaded video encoding test, the Core i7-13700K managed to score 1,197,961 compared to 1,239,069 for the Ryzen 9 7900X, with a sizeable lead over the Core i5-13600K's 1,018,435. Meanwhile, AMD had a huge lead in our multi-tasking test, but was only slightly better overall when it came to the overall system score, with both CPUs offering a decent lead over the Core i5-13600K.
Moving to Cinebench R23's multi-threaded test saw the Core i7-13700K outpace the Ryzen 9 7900X by over 1,000 points and its score of 30,137 was way ahead of the Core i5-13600K's 24,268, showing that the Core i7-13700K is the superior chip for heavily multi-threaded content creation workloads.
Intel also had a lead in the single-threaded test, with a score of 2,099 compared to 2,024 for the Ryzen 9 7900X and 2,011 for the Core i5-13600K. Intel also had a lead in Far Cry 6, with a 10fps average frame rate advantage over the Ryzen 9 7900X, but only 1fps over the Core i5-13600K, while Watch Dogs: Legion saw all three CPUs producing similar frame rates.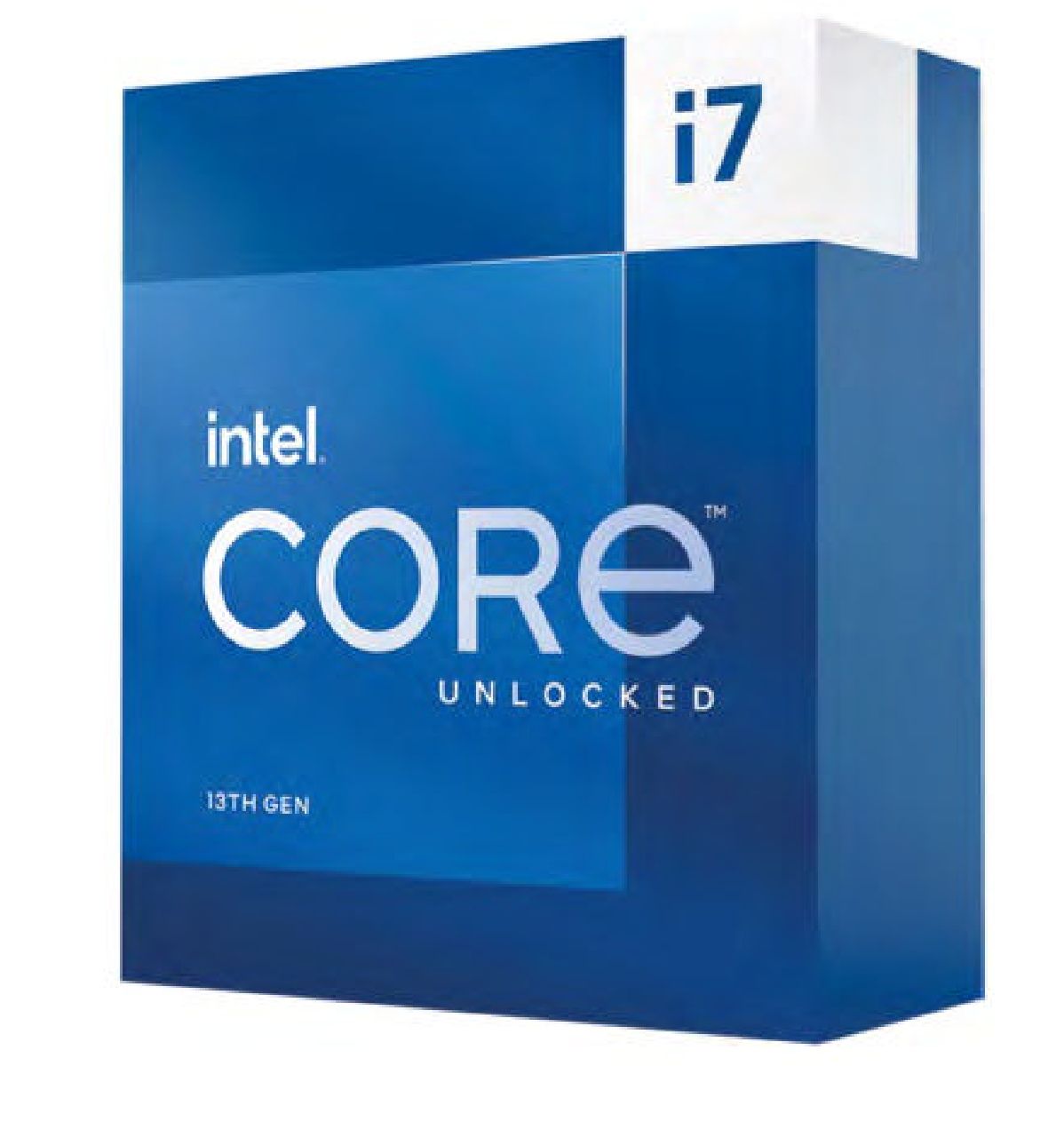 Overclocking added a reasonable amount to the RealBench system score, but not enough to beat the Ryzen 9 7900X, although it came close in the image editing and video encoding tests. The overclock added another thousand points or so in Cinebench too, extending the Intel chip's lead, but games saw little improvement.
Finally, power consumption was drastically in AMD's favour with a 325W peak system draw for the Ryzen 9 7900X eclipsed by 389W for the Core i7-13700K and 415W when it was overclocked.
Conclusion
Thanks to DDR4-compatibility and support for 12th-gen motherboards, the Core i7-13700K will cost less to own than the Ryzen 9 7900X once you factor in the entire system cost. The AMD chip is a little faster in some tests, but the two chips are pretty much evenly matched most of the time. Socket AM5 may have a longer lifespan than LGA1700 in the future, but we'd still opt for the Core i7-13700K over the Ryzen 9 7900X given the current overall system cost.
However, the fact remains that the Core i5-13600K is significantly cheaper and, thanks to a core count that's not much lower, it's really not far behind. It was even a little faster than the Core i7-13700K in some tests.
If you need the added multi-threaded grunt of the Core i7-13700K then it's just about worth the extra cash, but only when all of its cores are fully used for long periods. It's also significantly cheaper than the Core i9-13900K, but while its a fantastic CPU, we'd definitely advise most people to save some money and go for the Core i5-13600K instead.
ANTONY LEATHER
VERDICT
INTEL CORE i7-13700K Review
A good match for AMD's Ryzen 9 7900X, and with a lower overall system cost, but the cheaper Core i5-13600K is a better fit for most people's needs.
PROS
Great multithreaded performance
Lower overall system cost than Ryzen 9 7900X
Much cheaper than Core i9-13900K
CONS
Core i5-13600K just as fast in many tests
Power-hungry
Limited overclocking headroom
Add your review
|
Read reviews and comments
Best INTEL CORE i7-13700K prices ?

$

421.99
1 used from $698.68
42 new from $421.99
in stock


Power up your productivity gaming and content creation with the Intel Core i7-13700K 3.4 GHz 16-Core LGA 1700 Processor. This 13th generation desktop processor builds upon the Hybrid Core architecture and Intel 7 process by fitting 16 cores— four more than the previous generation— onto a single...


£

407.30

£652.50
46 new from £407.30
in stock

MORE DEALS