This standard Zen 4 chip is no gap filler. Read our AMD Ryzen 7 7700X Review.
At first glance, the AMD Ryzen 7 7700X is the safest option of AMD's new Zen 4 lineup. It's an 8-core CPU with 16 threads, coming in at just under $ and, specs-wise, nothing out of the ordinary. Compared with the other chips in the lineup, such as the Ryzen 9 7950X, which has the highest thread count of any chip out there and is cheaper and speedier than its predecessor, and the Ryzen 5 7600X, which is the highest-clocked mainstream CPU around at just under $ the Ryzen 7 7700X begins to look like it may be a bit of a gap filler.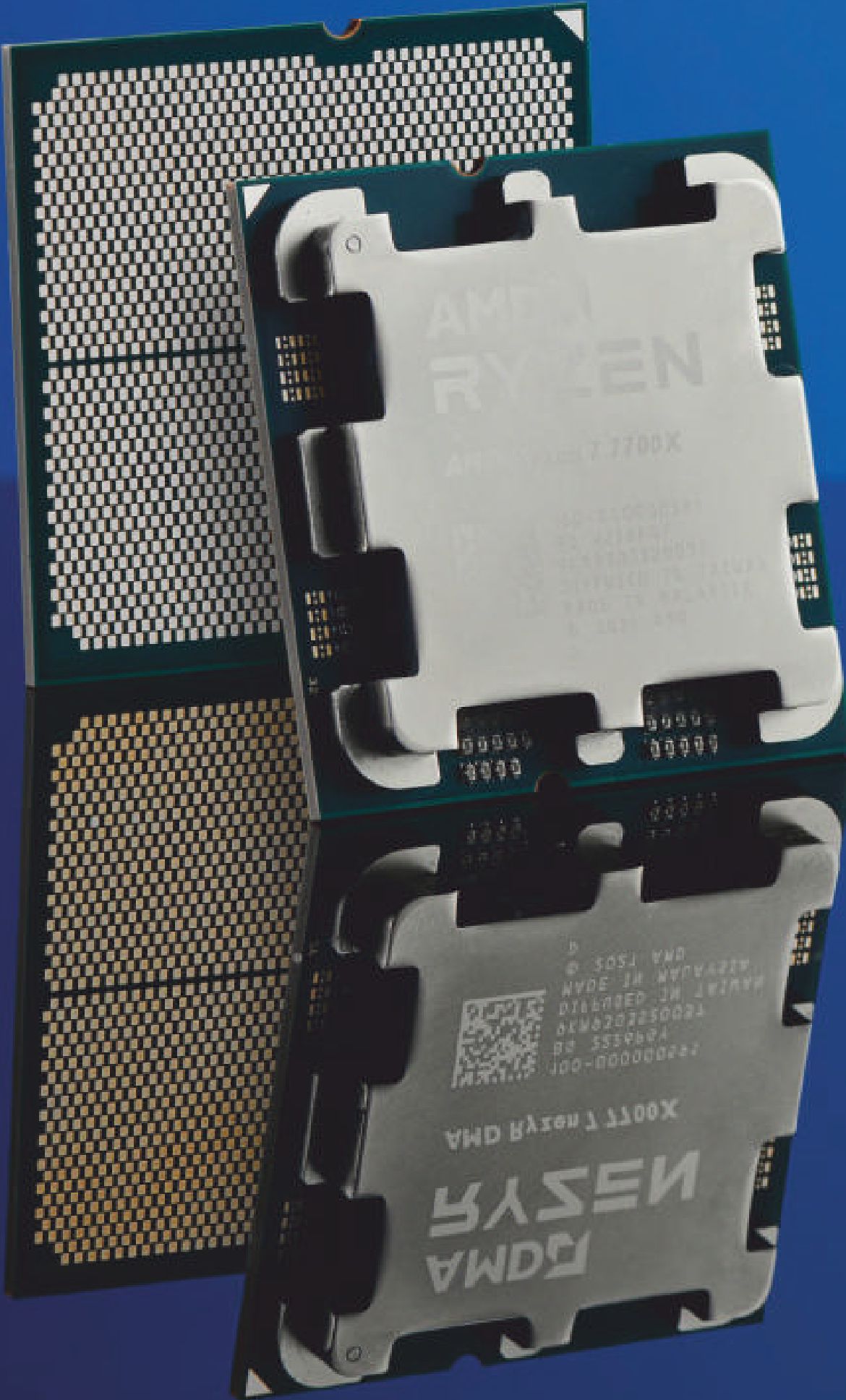 But a gap filler it most certainly isn't. Earlier in the year, AMD made a huge deal when it crammed a ludicrous amount of L3 cache into the Ryzen 7 5800X3D, making that chip the fastest AMD gaming CPU ever. However, fast forward to the present day, and (spoiler!) the Ryzen 7 7700X outperforms it in the majority of games. So there is certainly more to this chip than meets the eye.
Essentially, the Ryzen 7 7700X replaces the Ryzen 7 5800X in the AMD hierarchy. As mentioned above, this chip packs in eight all-new Zen 4 cores, and 16 threads, while offering an all-core frequency of 5.15GHz straight out of the box. That's some healthy stats right there—we even measured it running at 5.55GHz under single-core loads. This is last-gen overclocking performance from a stock Zen 4 chip. It contains the same 105W TDP as the Ryzen 7 5800X and 5800X3D, but its 5nm compute and 6nm I/O dies deliver efficiency improvements.
BENCHMARKS
| | | | |
| --- | --- | --- | --- |
| | AMD Ryzen 7 7700X | AMD Ryzen 9 7950X | AMD Ryzen 9 5950X |
| Cinebench R23 Single-Core (Index) | 1,970 | 1,934 | 1,617 |
| Cinebench R23 Multi-Core (Index) | 19,495 | 37,112 | 24,109 |
| Blender 3.3.0 (Samples per minute) | 89.3 | 174 | 124 |
| Metro Exodus (DX12, Ultra, 1080p) (fps) | 128 | 126 | 121 |
| Shadow of the Tomb Raider (DX12, Highest, 1080p) (fps) | 220 | 216 | 181 |
| Far Cry 6 (DX12, High, 1080p) (fps) | 145 | 152 | 136 |
Best scores in bold. AMD test bed consists of an ASRock X670E Taichi motherboard, Nvidia RTX 3080 10GB GPU, G.Skill Trident Z5 Neo DDR5-6000 CL30 2x 16GB RAM, 1TB WD Black SN850 SSD, Corsair H100i RGB cooler and NZXT 850W PSU.
We were particularly impressed by AMD's Eco Mode (enabled via the Ryzen Master software), which is able to deliver 95 percent or above of the chip's stock performance, but at much lower power usage. Thermal figures and power consumption are lower, which also results in a quieter system overall. So, that's a win-win for everyone, right? When testing on Cinebench at 65W, we see results that are 95 percent of what we got when testing at 105W. That's pretty darn impressive and begs the question, why AMD didn't just make this a 65W chip in the first place?
EARNING ITS SPURS
As impressive as the efficiency mode is, it's the out-and-out gaming performance where this Ryzen 7 7700X is going to earn its spurs. To put it simply, it's one of the best AMD gaming CPUs out there right now. This processor keeps up with the Ryzen 9 7950X and wipes the floor with the old Ryzen 9 5950X when it comes to frame rates, mainly due to its impressive single-core 5.55GHz performance. These results showcase how amazing the 5nm CCD of the Zen 4 architecture is when compared to Zen 3. The performance per watt delta of this new chip offers over twice what the Ryzen 9 5950X does.
Of course, not all gaming performance lies in the CPU, you can easily be GPU bound, so it's important to take this into consideration. When building a PC, it's always better to spread your money around instead of blowing most of your budget on one component.
Thankfully, this new AMD chip isn't crazily expensive and it makes the topend Ryzen 9 7950X more of a hard sell, considering its hefty $ price tag. The only issue we have is almost inevitable with new tech. To accommodate these AMD CPUs, you will need an AM5 motherboard and DDR5 RAM. So, unlike switching from Intel's 12th generation to 13th generation chips, where they both use the LGA1700 socket and can be used on the same motherboard, the same cannot be said about AMD's new range.
Should this put you off though? Not really. This processor has a lot going for it and is far from a gap filler, as we said earlier. It's a great example of generational improvement, especially when it comes to the efficiency of the processor. You can easily run this in eco mode without experiencing performance loss, that's a great move forward for this new generation of CPUs.
The AMD Ryzen 7 7700X is an example of a reasonably priced processor offering futureproofing and a generational leap in performance. Chalk it up as another win for AMD.
sam lewis
SPECIFICATIONS
| | |
| --- | --- |
| Cores | 8 |
| Threads | 16 |
| Socket | AMD AM5 |
| | |
| CCD lithography | TSMC 5nm |
| CCD die size | 70mm2 |
| CCD transistor count | 6.5 billion |
| IOD lithography | TSMC 6nm |
| IOD die size | 122mm2 |
| IOD transistor count | 3.4 billion |
| Max boost clock | 5.4GHz |
| Base clock | 4.5GHz |
| L2 cache | 8MB |
| L3 cache | 32MB |
| Memory support | DDR5-5200 (non-OC) |
| TDP | 105W |
VERDICT
Best AMD Ryzen 7 7700X prices ?

$

344.99

$449.00
3 used from $327.74
47 new from $339.00
in stock


£

354.32

£439.99
1 used from £325.71
60 new from £354.32
in stock


AMD RYZEN 7 7700X 8/16 105 AM5 40MB TRAY02PM65 General Specifications Platform: Desktop Product Family: AMD Ryzen Processors Product Line: AMD Ryzen 7 Desktop Processors # of CPU Cores: 8 # of Threads: 16 Max. Boost Clock : Up to 5.4GHz Base Clock: 4.5GHz L1 Cache: 512KB L2 Cache: 8MB L3 Cache:...

MORE DEALS