As we wrote this, the Core i9-13900K's usurper as Intel's mainstream flagship had just arrived, with the Core i9-13900KS being able to hit 6GHz out of the box. However, this new CPU is also likely to be very hot and power-hungry, and it also demands a hefty premium. If you're in the market for a powerful CPU that costs under £ though, the Core i9-13900K we're reviewing here is an ideal contender. Read our INTEL CORE I9-13900K Review.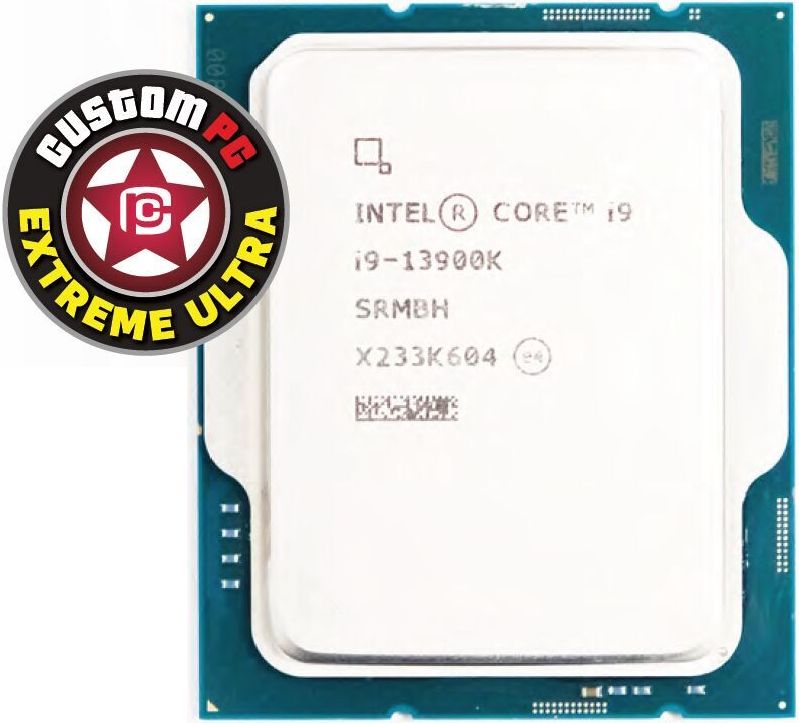 SPEC
| | |
| --- | --- |
| Base frequency | P-Core3.5GHz, E-Core 2.6GHz |
| Max boost frequency | P-Core 5.8GHz, E-Core 4.3GHz |
| Core | Raptor Lake |
| Manufacturing process | 10nm (Intel 7) |
| Number of cores | 8 P-cores, 16 E-cores, (32 threads) |
| Hyper-Threading | Yes |
| Cache | 36MB L3,32MB L2 |
| Memory controller | Dual-channel DDR4 and DDRS |
| Packaging | LGA1700 |
| Maximum turbo power | 253W |
| Features | Thermal Velocity Boost, Turbo Boost Max Technology 3, Turbo Boost 2, FMA3, F16C, SHA, BMI / BMI1 + BMI2, AVX2, AVX, AES, SSE4a, SSE4, SSSE3, SSE3, SSE2, SSE, MMX |
What's more, the Core i9-13900K has had a price cut from around £ all the way down to £ allowing it to sit level with the mighty Ryzen 9 7950X. The two CPUs couldn't be more different. With the Intel chip, its all about power, cores and frequency. Its eight P-Cores can hit a 5.8CHz peak boost in lightly threaded software, and we saw up to 5.5GHz across all eight of its P-Cores in multithreaded workloads.
Those are some big numbers, which mean the Ryzen 9 7950X has its work cut out. The AMD chip has fewer cores in total than the Intel one, thanks to the Core i9-13900K practically breeding E-Cores under its heatspreader, with 16 in total, giving a final sum of 24 cores. These are backed up by 36MB of L3 cache and 32MB L2 cache and if you were pondering what kind of power this requires, well, the maximum turbo power sits at a whopping 253W, which is double that of the Core i5-12600K.
Not surprisingly, the total system power consumption was huge at 546W, but even applying a manual 1.4V vcore and pushing the P-Cores up to 5.7GHz saw this figure fall to 525W, with temperatures falling a few degrees too. This was lower than the peak boost, so some benchmarks were slower, but Cinebench's multi-threaded score rose from 40,444 to 41,015.
Back to stock speed numbers, as you'd expect, the Core i9-13900K was never far from the top of the graphs. The Ryzen 9 7950X was quicker in our image editing and multi-tasking tests, but the Intel CPU had the upper hand in our heavily multi-threaded video encoding test and a sizeable lead in Cinebench's multi-threaded test too, with the two chips within spitting distance in the overall RealBench system score.
Games were the Core i9-13900K's realm too, thanks to that high clock speed, and only the Ryzen 7 5800X3D came close to matching it in Far Cry 5, although AMD's Ryzen 7000-series CPUs were mostly a match in Watch Dogs: Legion. That said, there's still little benefit of using this chip over the Core i5-13600K and Core i7-13700K in games – its the heavy multi-threading power that you're really buying.
Conclusion
Flagship CPUs usually come with compromises, and in this case, they're temperatures, power con sumption and price. Its cheaper than it was at launch, though, and £ for a 24-core powerhouse of a CPU is certainly a lot less than you'd have paid when Intel's HEDT platforms were around.
Thankfully, it does offer the speed to match, with monstrous multi-threaded performance that's a match for anything other than AMD's Threadripper CPUs, plus its one of the fastest CPUs available in games too. If you want the fastest CPU for pretty much everything, and have the cash, the Core i9-13900K is the current king of the castle,
VERDICT
Editor choice
INTEL CORE I9-13900K Review
AMD has better power efficiency, but there's no denying this is one seriously powerful CPU for just about any task you can throw at it.
PROS
Blisteringly fast in multi-threaded workloads
Excellent lightly threaded performance
Great in games
CONS
Cheaper CPUs are just as fast in most games
Very high power consumption at default settings
Limited overclocking headroom
Add your review
Best INTEL CORE I9-13900K prices ?
Power up your productivity gaming and content creation with the Intel Core i9-13900K 3 GHz 24-Core LGA 1700 Processor. This 13th generation desktop processor builds upon the Hybrid Core architecture and Intel 7 process by fitting 24 cores— eight more than the previous generation— onto a single...


$

569.99

$629.99
48 new from $564.58
in stock


£

578.41

£599.99
43 new from £578.41
in stock

MORE DEALS