Intel is keeping up the Raptor Lake momentum at the cheaper end of the scale, as the new Core i5-13600K isn't just a boring incremental bump over the excellent Core i5-12600K, which retails for around £ these days. As with the Core i9-13900K, the Core i5-13600K doesn't just have higher clock speeds than its predecessor but it has more cores too, even if they are only the lower-power E-Cores, rather than full-fat P-Cores. Read our INTEL CORE i5-13600K Review.

LGA1700 CPU
ANTONY LEATHER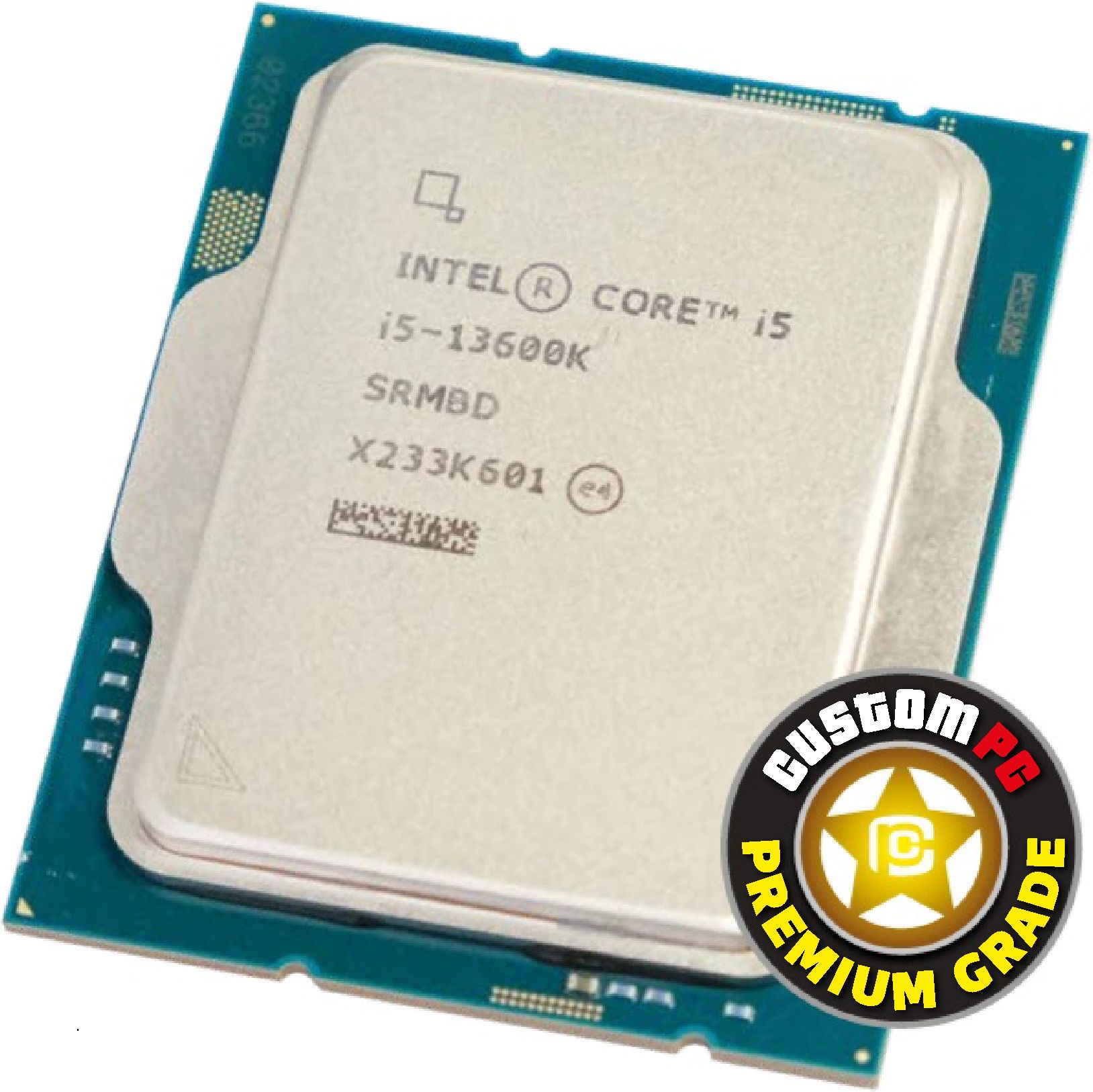 Its price of £ inc VAT might not be super-cheap, but it's competitive at today's prices, sitting between the price of AMD's Ryzen 5 7600X at £ and the Ryzen 7 7700X at £.
SPEC
| | |
| --- | --- |
| Base frequency | P-Core 3.5GHz, E-Core 2.6GHz |
| Max boost frequency | P-Core 5.1GHz, E-Core 3.9GHz |
| Core | Raptor Lake |
| Manufacturing process | 10nm (Intel 7) |
| Number of cores | 6 P-Cores, 8 E-Cores, (20 threads) |
| Hyper-Threading | Yes |
| Cache | 24MB L3, 20MB L2 |
| Memory controller | Dual-channel DDR4 and DDR5 |
| Packaging | LGA1700 |
| Maximum turbo power | 181W |
| Features | Turbo Boost 2, FMA3, F16C, SHA, BMI / BMI1 + BMI2, AVX2, AVX, AES, SSE4a, SSE4, SSSE3, SSE3, SSE2, SSE, MMX |
Out of the box, it will hit a peak frequency of 5.1GHz, giving it a 200MHz advantage over its predecessor, and our sample hit this boost clock across all of its P-Cores too in multi-threaded workloads. With the Core i9-13900K hitting 700MHz higher than this, there's an obvious question about overclocking potential too, which we'll come to later. Meanwhile, the Core i5-13600K's E-Cores went up to 3.9GHz and maintained this frequency in multithreaded workloads too.
Comparatively, the venerable Core i5-12600K had six P-Cores and four E-Cores, so while it offered far more multithreaded grunt than Intel's Core i5-11600K, for example, that lack of E-Cores compared with the higher echelons of Intel's product stack meant it lagged behind. Even so, it was one of the best all-rounders that Intel has produced and that's exactly a Core i5 CPU's purpose.
With the Core i5-13600K, Intel adds another four E-Cores to the equation, massively bolstering its multithreaded clout. In fact, this means it's only two cores short of the Core i9-12900K's core count in total. Like its more expensive sibling, it's received a generous helping of extra cache from Intel as well. The L3 cache rises from 20MB to 24MB, while the L2 cache doubles from 9.5MB to 20MB. This should help to cut latency, along with offering other performance improvements, as the CPU won't need to reach out to system memory as frequently.
The CPU also has a lower maximum turbo power of 181W than the other 13th-gen chips, although this is 30W more than its predecessor so it's unlikely to run cooler or be more power-frugal. It has a lot to live up to, then, and the competition is extensive, with the Ryzen 5 5600X costing half the price, the Ryzen 7 5800X3D retailing for around £ more and the Core i7-12700K sitting just £ above this new Core i5 chip's price as well.
Performance
As with the Core i9-13900K, the Core i5 13600K's result in our image editing test, which stresses single-threaded performance, was disappointing. It still beat the Core i7-12700K and Core i9-12900K in this test, and was significantly faster than the Core i5-12600K and all Ryzen 5000-series CPUs too, but every Ryzen 7000-series CPU was noticeably better here.
Thankfully, that was a rare blip, as the Core i5-13600K managed to beat the Ryzen 7 7700X in our heavily multi-threaded video encoding test, nearly matching the performance of the 16-core Ryzen 9 5950X and stopping just short of the Core i9-12900K too.
The multi-tasking test was more of a challenge, but it still beat the Ryzen 9 5950X, Core i7-12700K and Ryzen 5 7600X in this test, which is about right for its price. The overall RealBench system score of 372,186 saw the Core i5-13600K beat the Ryzen 7 7700X and Core i7-12700K as well, which are two huge scalps, and it added nearly 90,000 points to the score of the Core i5-12600K.
Cinebench was another strong showing, with the Core i5-13600K's score of 24,268 beating that of the Core i7-12700K, Ryzen 7 7700X and Ryzen 9 5900X, with its new Raptor Lake architecture and additional E-Cores really shifting performance up a gear. It was no slouch in the single-threaded Cinebench test either, beating the Ryzen 7 7700X and narrowly missing the Ryzen 9 7950X's result, while adding over 100 points to the score of the Core i5-12600K.
In games, it performed well too with its 101fps 99th percentile frame rate in Far Cry 6 putting it in third place behind the Ryzen 7 5800X3D and Core i9-13900K, beating every Ryzen 7000-series CPU, as well as the Core i9-12900KS. It was quick in Watch Dogs: Legion too – there are only small variations here, but the Core i5-13600K was still in the third slot overall.
However, power consumption was fairly high, with a total system draw of 331W, which was nearly 60W more than with the Ryzen 7 7700X and 80W more than the Core i7-12700K. Of course, overclocking only made this worse, but if you have a decent PSU, the Core i5-13600K can be a very willing participant, with our sample hitting 5.7GHz on all of its P-Cores with a vcore of 1.4 V. This saw the power consumption increase to 381W for the system, but temperatures only rose from the mid-70s to the mid-80s in degrees centigrade.
Performance was spectacular after overclocking, though, with the clocked-up Core i5-13600K claiming the third highest image editing score of any stock or overclocked CPU we've tested, adding more than 10,000 points to its score. The score in our video encoding test rose as well, although not as much as we hoped, but the system score of 390,305 was enough to beat the Ryzen 9 5950X and Ryzen 7 7700X.
The Cinebench score rose from 24,268 to 25,657 after overclocking as well, leapfrogging the stock speed Ryzen 9 5950X and Core i9-12900K, while also claiming one of the highest scores we've seen in Cinebench's single-threaded test and Watch Dogs: Legion. It also claimed the top spot in Far Cry 6 when overclocked.
Conclusion
Finally, there's a CPU that can excite us about overclocking again. The Core i5-13600K isn't only fast once overclocked, but it's also a match for AMD and Intel's previous flagships in many tests at stock speed too. Critically, it's cheaper and faster than the Ryzen 7 7700X and Core i7-12700K in a lot of tests, and keeps up with the Ryzen 7 5800X3D in games, while smashing it in application tests.
This is a fantastic CPU, and the only fly in the ointment is the high power consumption on our Asus test motherboard – otherwise, the Core i5-13600K is absolutely brilliant.
VERDICT
Editor choice
INTEL CORE i5-13600K Review
Excellent stock speed performance, plenty of overclocking headroom and a reasonable price.
PROS
Excellent overclocking potential
Fantastic gaming and content creation performance for the cash
Reasonable temperatures
CONS
Power-hungry, depending on motherboard power limits
Ryzen 7 5800X3D can be cheaper for gaming
Still quite expensive
Add your review
Best INTEL CORE i5-13600K prices ?

$

319.98
1 used from $538.68
37 new from $319.97
in stock


Power up your productivity gaming and content creation with the Intel Core i5-13600K 3.5 GHz 14-Core LGA 1700 Processor. This 13th generation desktop processor builds upon the Hybrid Core architecture and Intel 7 process by fitting 14 cores— four more than the previous generation— onto a single...


£

322.07
1 used from £325.71
42 new from £322.07
in stock

MORE DEALS