IT MAY BE powerful and perfectly capable, but the HTC U12+ strays a little too far from the path to earn our plug.
There are a few features from its predecessor, the U11+, that have been furthered with HTC's current flagship, and some of these we'd rather wish they hadn't.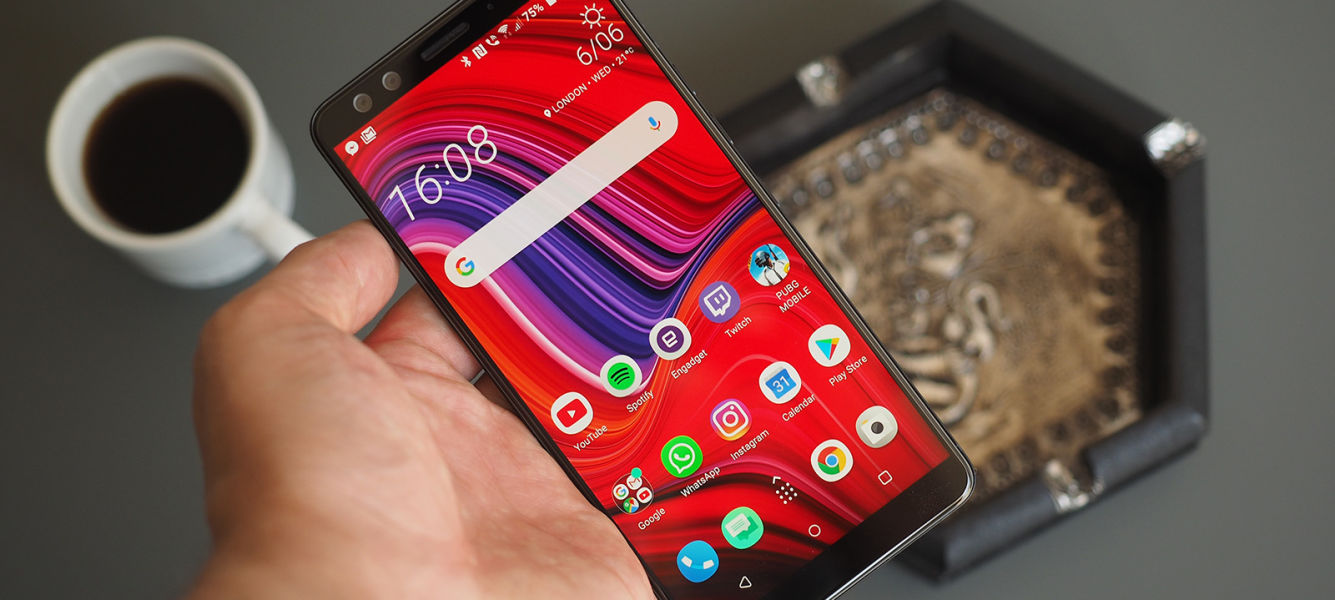 Unfortunately, the company has decided to double down on its Edge Sense technology (AKA the squeezable phone) and produced a sequel that no one asked for — Edge Sense 2.
While we applaud HTC for trying out something fresh in an industry that is otherwise prone to cloning designs, it's still rather awkward to squeeze your phone.
Whether it's taking a photo, activating Google Assistant, or using the new squeezy power and volume buttons, the degree of inconsistency in the needed pressure makes the experience less reliable than it should be.
Otherwise-neat additions, such as the ability for Edge Sense 2 to detect a 'tap' gesture, are squandered due to the uncertainty of activation.
HTC's take on the in-vogue, glass-back design is similarly fresh and disappointing, with a transparent finish that's reminiscent of cheap '90s plastic rather than contemporary gloss.
We'd be less harsh on these features if they didn't inevitably raise the handset's price, as many of its other aspects are top-of-the-line.
Its audio capabilities, for instance, are inspiring when compared to the current market, with its Boomsound stereo speakers giving budget Bluetooth speakers a run for their money.
While an IP68 water- and dust-resistance rating has likely been the cause for the removal of a 3.5mm headphone jack, the included USB-C Usonic in-ears are so impressive that we're willing to forgive HTC on this one.
Packing the latest octa-core Snapdragon 845 CPU and 6GB of RAM, the U12+ is a veritable powerhouse and, when partnered with its Adreno 630 GPU, can comfortably zip through everyday activity, high-end tasks, and mobile gaming alike.
Our CPU and GPU benchmark scores had it topping flagships from Oppo, Huawei, and even Samsung's latest Galaxy Note 9, but it was bottom of the pile when it came to battery life. While you'll get a day of average use out of this phablet, its powerful innards and gorgeous display seem to take a considerable toll on the 3,500mAh battery.
Speaking of the display, this is the best HTC has produced to date and, while it isn't AMOLED, the Super LCD panel is beautiful and vibrant.
An impressive QHD+ (1,440 x 2,880) resolution brings clarity to the 6-inch, 18:9 screen, and it's refreshing to see an absence of notches. he camera on the U12+ is similarly impressive, using some clever HDR tricks in combination with its dual rear sensors to deliver some really pretty shots.
While it isn't quite up to scratch with the likes of Huawei's P20 Pro or the Google Pixel 2 in daylight, its low-light shots are surprisingly great for a smartphone camera.
Realistically, there are a few other Androids we'd recommend at this price — the Samsung Galaxy Note 8, Google's Pixel 2 XL and Huawei P20 Pro are all excellent options. But if you're chasing top audio performance and an awesome screen, or are dead keen on translucent finishes and, er, squeezability, then you should pick up the HTC U12+.
[ HARRY DOMANSKI ]
CRITICAL SPECS
Android 8.0; 6-inch SuperLCD display @ 1,440 x 2,880; Qualcomm Snapdragon 845 2.8GHz; Adreno 630 GPU; 6GB RAM; 128GB storage (expandable via microSD); 3,500mAh battery with fast-charge; USB-C; 12MP + 16MP rear camera, 8MP + 8MP selfie camera; 156.6 x 73.9 x 8.7mm; 188g
Best HTC U12+ prices ?
MORE DEALS