A pleasant enough phone, but squeezable edges aren't enough to justify its price or its heft. Read our HTC U11+ Review.
While all its major rivals jumped aboard the 18:9 screen bandwagon in 2017, HTC decided to go slow: it launched the squeezable HTC U11 last June, and we've had to wait until 2018 for the 18:9 ratio U11+. You might think this seven-month gap would mean internal upgrades too, but no such luck: this is a refresh not a rehash.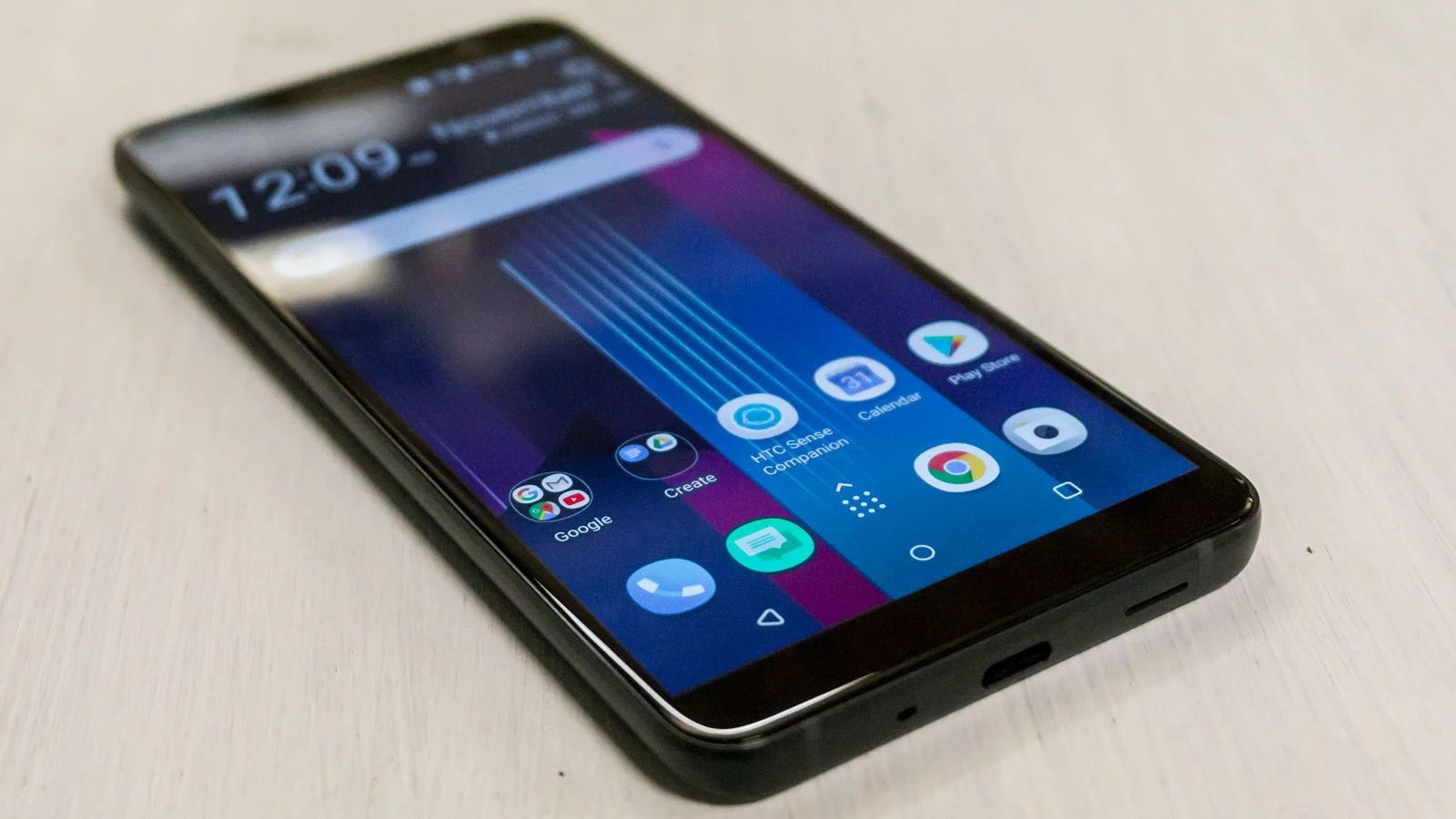 This isn't cause for concern. It means the same excellent Snapdragon 835 processor, same squeezable edges and same UltraPixel 3 rear camera – although, oddly, the front camera is downgraded from 16-megapixels to eight. In tandem with the appearance of Android 8 Oreo, HTC has updated Edge Sense. Now, squeezing brings up a rotary wheel of shortcuts to your favourite apps, and it's more customisable too.
The U11+ is currently only available in Ceramic Black, with the rear coated in the same mirror-finish rear panel topped with glass as the U11. It's a marvelous sight, veering between a subtle reflective grey and a darker black, depending on where you catch the light.
You'll be constantly wiping away fingerprints to keep it looking its best, though, and compared to the sleek Huawei Mate 10 Pro – one of the HTC U11+'s key rivals – there's more heft (9g), more thickness (0.6mm) and more height (4.3mm), all of which are noticeable when you pick it up.
HTC compensates for the lack of a 3.5mm jack by bundling its own Usonic USB-C earphones, which include active noise cancellation. Too much bass and a muddy sound means they aren't my top choice, so it's just as well that HTC also includes a 3.5mm adapter. The phone is dust- and water-resistant to the IP68 standard, and it has a microSD slot that doubles as a second SIM card slot.
The phone's front is dominated by its 6in QHD+ display (1,440 x 2,880). Unlike the Samsung Galaxy S8, you can't lower the resolution; this is useful for smoothing out choppy frame rates in demanding games and eking out extra battery life.
Another difference between this phone and its key rivals is that it uses an IPS-derived Super LCD panel instead of an AMOLED one; that translates into slightly lower sRGB and DCI-P3 coverage rates of 89.7% and 87.3% respectively. In comparison with the S8, colours look wan and washed out.
A bigger problem, however, is the display's brightness. I measured it at a maximum of 36scd/m2 in auto-brightness mode (it was even dimmer with adaptive brightness disabled) which means you'll struggle to read the screen in bright conditions. The Samsung Galaxy S8 peaks at well above 500cd/m2 when displaying an all-white screen, while the Huawei Mate 10 Pro hit 570cd/m2.
I've no complaints about speed, though, with that Qualcomm Snapdragon 835 processor and 6GB of RAM meaning it's a match for the best
ABOVE The squeezy edges of the original U11 have had an upgrade, but it still isn't enough to excite
LEFT HTC only offers black for now, but a blue version is due later this year
Even without HDR enabled, the HTC U11+'s camera picks up superb amounts of detail, and reproduces rich colours in low light
Android phones (see p69). With an Adreno 540 GPU, there isn't much that fazes HTC's big beast. Although the HTC U11+ didn't perform particularly well in our video rundown benchmark, lasting 11hrs 29mins, in day-to-day use I found it typically survived for a day and a half from the 3,93omAh battery.
One disappointment is that although the Snapdragon 835 chipset supports Gigabit 4G speeds, the U11+'s speed is capped at 8ooMbits/sec – that's a downgrade from the HTC U11.
Given that HTC is the company behind the superb Pixel 2, I expected a fine camera. And, largely, that proved to be the case. The 12-megapixel rear camera has an aperture of f/1.7, while dual-pixel phase-detect autofocus ensures snappy focus across the sensor. There's also optical image stabilisation and a dual-tone LED flash.
With and without HDR engaged, the HTC U11+'s camera picks up superb amounts of detail, captures scenes of extreme dark and bright shades sympathetically, and reproduces rich colours in low light without too much noise spoiling the show.
For video, quality is excellent with the camera recording crisp, colourful 4K footage at up to 3ofps. Where it falls down is handheld shots: you can't record 4K footage with EIS (electronic image stabilisation) applied, which results in shaky shots no matter how hard you try to hold the phone still.
And that's the story with the HTC U11+ as a whole: it's good but not amazing, and there are phones at least as good that cost less. The superior Samsung Galaxy S8 Plus is now available for around £580, while the Huawei Mate 10 Pro is slimmer, looks nicer, has a superior screen and beats it for battery life. NATHAN SPENDELOW
HTC U11+ Review: SPECIFICATIONS
Octa-core 2.45GHz/1.9GHz Qualcomm Snapdragon 835 processor • 6GB RAM • Adreno 540 graphics • 6in Super LCD6 screen, 1,440 x 2,880 resolution • 128GB storage • 12MP rear camera • 8MP front camera • 802.11ac Wi-Fi • Bluetooth 5 • NFC  •  USB-C connector • 3,930mAh battery • Android 8 Oreo • 74.9 x 8.5 x 158.5mm (WDH) • 188g • 1yr warranty