Apple has done the whole industry a sneaky favour by bringing out the iPhone X, but we're not fooled.
Just because something else is even more expensive, that doesn't mean the price is reasonable.
Still, it's not the only smartphone at this price. The P20 Pro owes something to the iPhone X's design, built around a tail-format 6.1in screen with a notch in the top for the selfie camera. It's not fully bezel-free (there's room for a fingerprint-sensing Home button at the bottom), but it looks very modem, with a high-gloss finish in black, blue, or an iridescent (and currently out of stock) 'Twilight' finish.
A silicone sleeve is supplied in case you find this hard to grip or prone to scratches.
Its triple camera gives you great images – especially night shots and zooms
The more-than-Full-HD OLED screen is reminiscent of Samsung's best, with inky blacks and near-perfect (or, if you stick with the default 'Vibrant' setting, oversaturated) colour. Brightness levels, though, are more limited, and although it's nice of Huawei to fit a replaceable screen protector rather than leave it to you, we almost immediately found ourselves catching the top edge when swiping down for notifications, so we suspect it won't stay pristine long.
On the back, though, you'll find the big selling point: a triple camera that really does pay off. The main colour camera has a – frankly excessive – 40 megapixels, while a 20-megapixel black-and-white unit expands its tonal range, or can be used on its own for arty monochrome shots. Then there's an 8-megapixel 3x telephoto. Combined, these will give you pictures in near-darkness, great zoomed shots and generally just excellent picture quality.
As we'd have guessed, the level of detail isn't really anything like 40 megapixels. Blow up the image and you find blotchy over-processing. Video is also weaker. Although it'll go up to 4K at 60 frames per second (fps), optical image stabilisation is limited to standard 30fps 1080p.
The Kirin 970 processor can't keep up with a Galaxy S9 or iPhone X, but Huawei's version of Android 8.1 runs very smoothly and the battery lasted 14 hours 30 minutes in our video-playback test. There's no microSD card slot, but with 128GB as standard, few will miss it.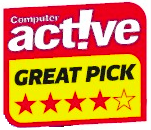 VERDICT:
This is a lovely phone with great cameras and only a couple of flaws. If it gets discounted, it'll be a real contender
Editor choice
Huawei P20 Pro Review
This is a lovely phone with great cameras and only a couple of flaws. If it gets discounted, it'll be a real contender
Add your review
|
Read reviews and comments
Best Huawei P20 Pro prices ?
MORE DEALS

ALTERNATIVE:
There's no zoom, but the 12-megapixel camera has the dynamic range to rival full-size cameras
SPECIFICATIONS
6.1in 2240×1080-pixel screen • 40, 20 and 8-megapixel rear cameras •24-megapixel front camera • 128GB flash storage • 802.11ac Wi-Fi • Bluetooth 4.2 with aptX • 3G/4G • 155×73.9×7.8mm (HxWxD) • 180g • One-year warranty